Here is My Woodturning!
By Paul Stewart
Germantown, NY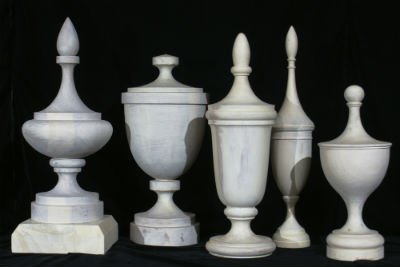 Click on any image to see a larger version.


I was introduced to woodturning in 1984 by Douglas Sigler at the School for American Craftsmen, part of Rochester Institute of Technology. Doug passed away in April 2018. I've always tried to mimic Doug's style of teaching the lathe to newcomers, by demonstrating turning a mallet as he would. And mallets are a wonderful form to practice blending elegant aesthetics and pleasing ergonomics, which was my main take away from Doug's teaching. I hope I can pass some of that on.


I built my first big lathe in 1986 as a sculpture student at the State University of New York at Purchase. Made of steel salvaged from a saw mill fire, I used the framing, arbor and pulleys. Due to budget constraints, I made it a single speed running at 80rpm. This was a good experiment in that I made large pieces, but 80rpm was too fast for roughing out a new piece and too slow to efficiently finish work. I made about a dozen pieces with this lathe, but when I graduated school, I put it down to build a career in woodworking. I set up shop to make architectural details in New York's Hudson Valley. After a while I had some money to build a second large lathe to replace the one I made in school. The new lathe is steel framed with a 3.5" arbor and threaded face plate to mount my work. Powered by a 5hp electric motor, reduced to run 16rpm - 60rpm by a pair of 4 speed standard truck transmissions giving me 16 speeds and reverse. The lathe is bolted to concrete and the tool rest is free standing.
My favorite wood to work with is green wood for all parts of my turning projects. Instead of driving to the lumberyard I'm more in favor of looking around my property and picking up fallen trees I can use for my projects. Carving green wood is easier than dried wood because the fibers are softer, and since the dust is wetter, dust control is easier. Working on a large scale has meant learning to work patiently and pay attention to the quality of cut. A small piece can be dominated and worked quickly, however a 40" diameter blank weighing 300lbs rotating at 16rpm is much more of a negotiation. An interesting conversation with interesting rewards.
I now have four lathes in my shop: Rockwell 1236 variable speed, Reed Prentice 24" x 72" capacity modified with a tool rest for wood work and variable speed, Gould Eberhardt 22" x 120" capacity modified from its original 16" x 48" for column work and electric power from its original overhead leather belt, and the large face plate lathe I built. I enjoy the lathe particularly because it seems very open to interpretation.
Most of my large work is carved with a 7/8" gouge, the chisel and handle measure about 40" in length. I hold the cutting edge at a very acute angle to the cutting surface and guide the chisel by hand along the tool rest without a leverage pin. The angle I cut at is often so acute that the back of the chisel can ride on the cut surface. This has led me to pay attention to the shape of the back of the chisel, which I make a gentle polished curve. I tried longer handles but found the excess length cumbersome and I tended to use the extra leverage to work more aggressively, which doesn't work for me.
---
Paul can be reached directly via email at paulsriver@hotmail.com. You can view more of his work by visiting his website.
Return to The Highland Woodturner front page
Click the images below to visit some of our most popular tool departments
| | | | | | | |
| --- | --- | --- | --- | --- | --- | --- |
| | | | | | | |
| Finishing | Books | Clearance | Festool | Planes | Sharpening | Wood Turning |
Highland Woodworking
1045 N. Highland Ave. NE
Atlanta, Georgia 30306
Tel. 800-241-6748
Email us at email@highlandwoodworking.com
Visit us on the web at www.highlandwoodworking.com
Copyright © 2018 Highland Hardware, Inc.

Errors regarding pricing and specifications are subject to correction.
SOME SALE QUANTITIES MAY SELL OUT and become unavailable at the advertised price.