Click on any picture to see a larger version.
Turning the Corner focuses on using woodturning on the lathe as a way of enhancing cabinetry, furniture designs, and architectural installations. Each article also suggests an important woodworking book to read, reread or listen to, and a link to an appropriate article in The Highland Woodturner. Along the way, these articles seek to inspire woodworkers (cabinetmakers, carpenters, and housewrights) to extend their skills into basic, novice, and advanced woodturning while discovering for themselves this particularly sensual and spiritually rewarding dimension of working with wood.
---
One of my regular contractor customers came by some time ago with an interesting problem that he decided I would be the perfect person to help him with. An elderly customer of his had a rotted porch post column base in the front corner of her garage where it was constantly in her sight as she drove away from or back to her home. While she had no real interest in replacing the other five column bases that are in equal deterioration further back, she wants this one repaired soon with as little fuss as possible.

The problem is that the second story and roof above is actually held up by Lally posts that are concealed by a typical white-painted 14" diameter tapered wood-stave column that sits decoratively on a 19" square base. There is no plan to remove the existing column; she simply wants that particular base replaced.

Fortunately, there is an existing sample base that my customer was able to bring to my shop for me to copy.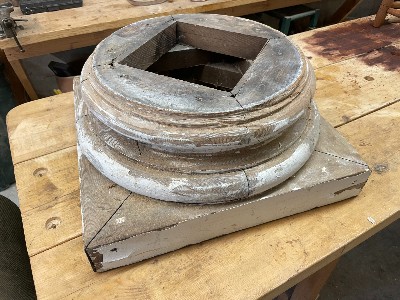 Similar in construction to other such column bases, there are four levels of finished blanks in the construction of this column base. The 19" square bottom is thirteen-quarters (13/4") thick with a shallow air vent sawn under the middle of the opposing pieces; the next level up bead is 8/4" thick; the middle cove is 7/4" thick; the top bead and stepped-shoulder is 8/4" thick. Given the current materials supply problems and that the sample base had unusual, finished thickness dimensions that are critical to the final overall height, I reached out to a friend with a bandsaw mill to get the raw stock sawn from local hemlock, our currently available "outdoor" wood. Happily, he fit my small job in his schedule and soon delivered the sawn hemlock ready for me to surface plane and prep to the desired thicknesses.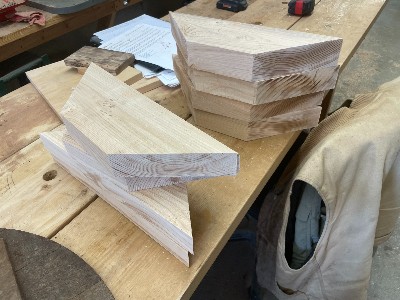 From the beginning, I realized that unlike the finished bases that in the past I have glued up and turned as one piece, this base would need to be assembled, turned to profile, and then disassembled to be reassembled on site (thank goodness for modern adhesive caulk) around the Lally post under the slightly raised column.

Many years ago when tasked with measuring the diameter of a large object, I figured out how to use two framing squares held together with a jam-block.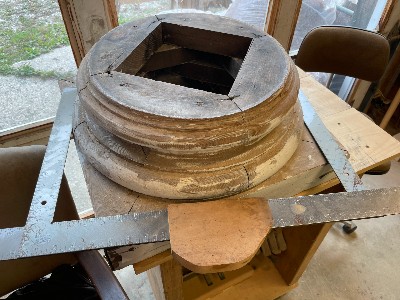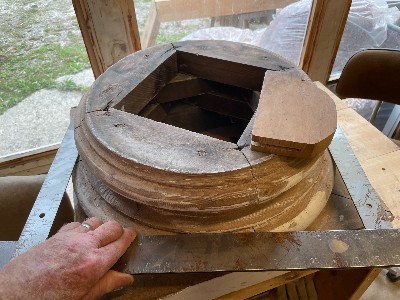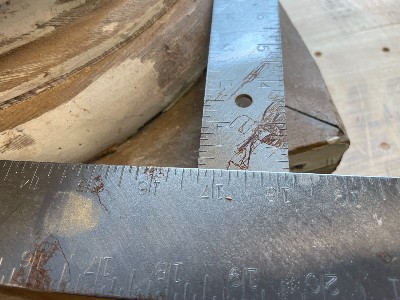 The safest way I could imagine doing this job was to turn one layer at a time using a temporary sandwich mounted with a faceplate and centered tailstock. To do this, I marked and band sawed a waste circle of plywood making its diameter one-quarter inch shy of the planned finished diameter. This allowed me to properly identify and screw it on to create the center of the first layer of 45 degree fitted blanks.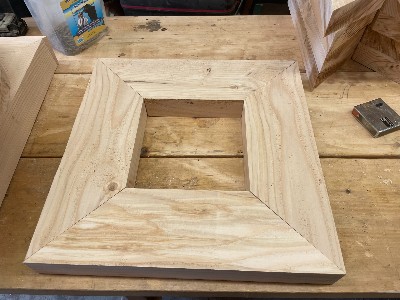 Using my "magic circle measuring/marking rule" (an amazing tool I have had for years but not seen one like it on the market since), I marked the actual diameter to band saw the blank round for turning. This rolling ruler can operate as a typical measuring tape or as a large-circle marker. It has an hinged pin on the bottom that flips out to stab a circle-center, and the extended measuring tape can be drawn out (reading through the top) to a specific radius (like the desired 19"), locked in place, and with a pencil point through a small hole at the 1" measure, an accurate circle can be clearly marked.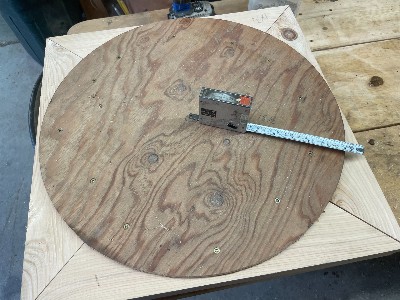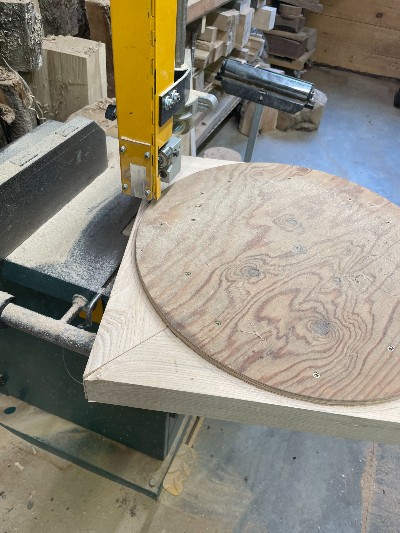 After centering and screwing an expanded headstock faceplate to the other side, I stacked each of the three turning "sandwiches" to be sure I kept mindful about which turning and dimensions were for each layer of profile.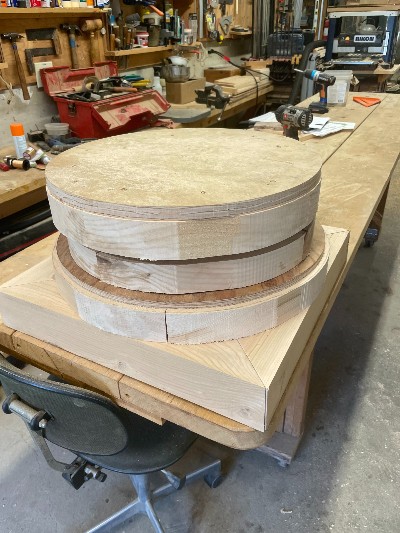 With both headstock and tailstock centers already established, it became a simple matter to mount the top-most sandwiched blank on the lathe for turning.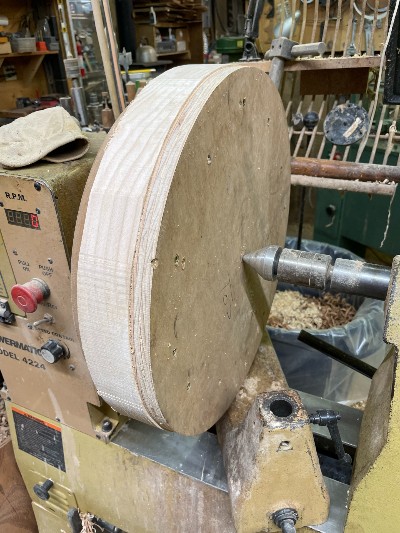 Using the dimensioned plywood wasteblock for both its outer circle and a pencil line measured inner circle allowed the turning to move rapidly with a 1/2" bowl gouge to near-finished size for the full profile.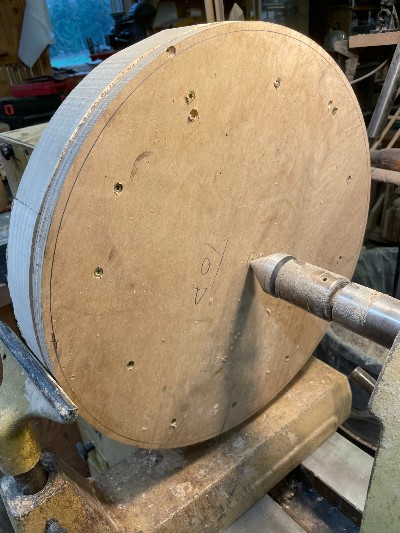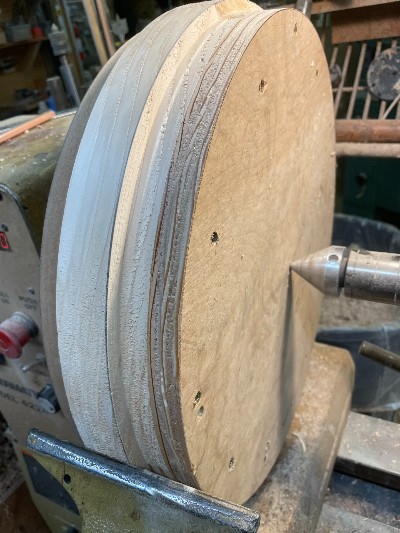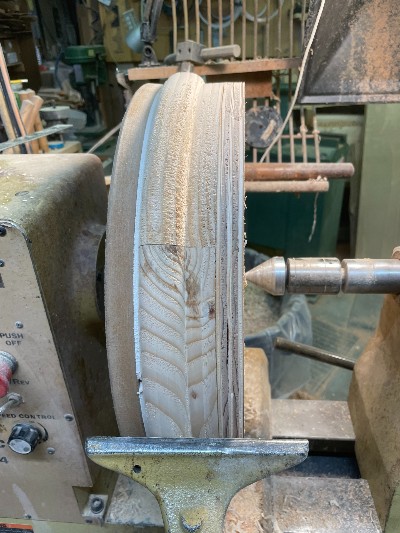 The finishing work for this type of turning works best using the heavy Sorby pattern-makers' scrapers.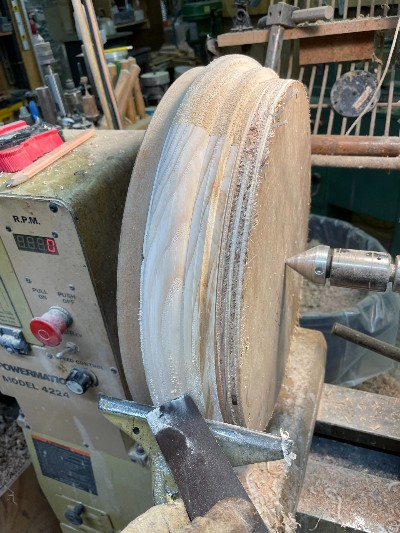 The middle section, only 1-3/4" thick, must mate cleanly with the top section and sit fully on the bottom section to support the sealing caulk in fighting the harsh weather of northeastern Maine.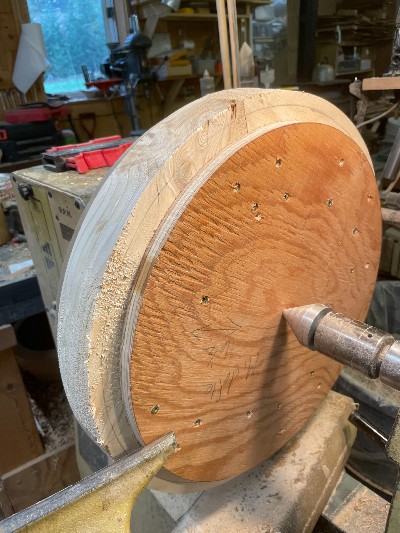 While this base will sit eight feet away from the next column base, getting a fairly true inner diameter for the cove is helped by taking extra measurements on the original, again using my pair of framing squares.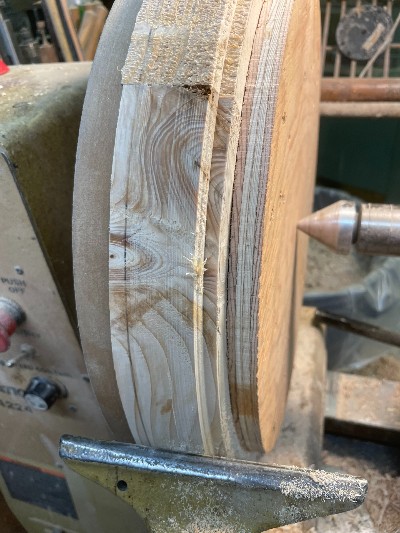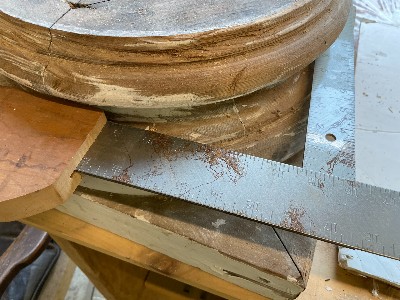 The large round-nose heavy scraper works well on this rough wood with its ever-changing grain and challenging knots.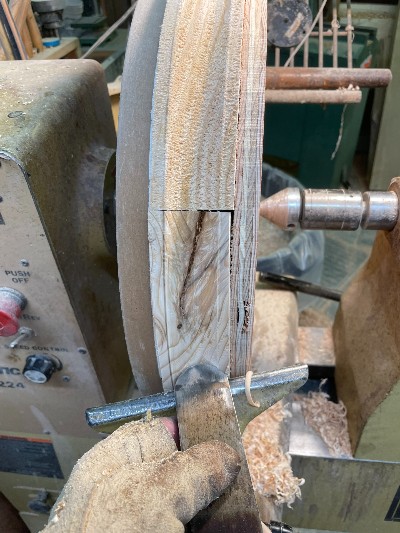 Turning the bottom bead goes quickly with the sandwich jig, again using the prepared plywood waste block to ensure the correct diameters to fit the square base below and the middle cove section above.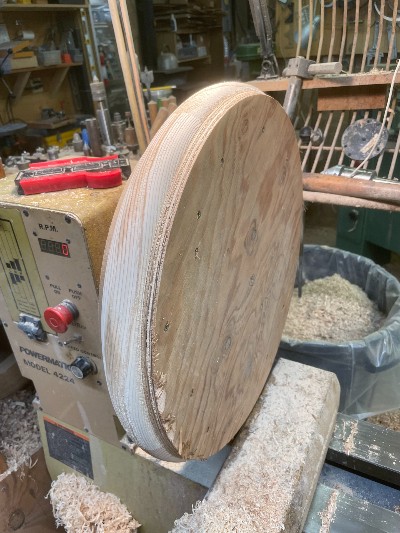 Like so many woodworking projects, the actual turning for this took little time.



The benefit of planning, taking the time to carefully make the plywood supports and mark them for centers and other dimensions will be particularly appreciated by my contractor friend when he goes to reassemble the parts, caulk, and then join the tall column on its new base.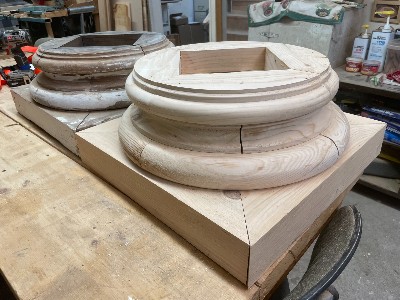 Primer and paint might just mean that his customer will decide to replace the other five rotting bases.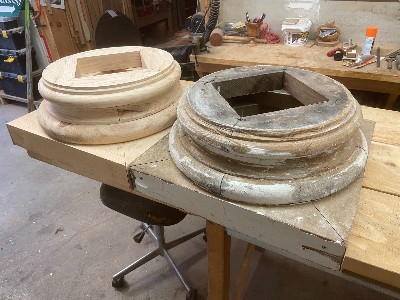 Click here to visit the Woodturning department at Highland Woodworking
---
Located in Castine, Maine, Highlands Woodturning gallery and shop offers woodturning classes and shop time, a gallery of woodturned art, custom woodturning for repairs, renovations, and architectural installations. You can email Temple at temple@highlandswoodturning.com. Take a look at Temple's Website at http://www.highlandswoodturning.com/