Click on any picture to see a larger version.
Turning the Corner focuses on using woodturning on the lathe as a way of enhancing cabinetry, furniture designs, and architectural installations. Each article also suggests an important woodworking book to read, reread or listen to, and a link to an appropriate article in The Highland Woodturner. Along the way, these articles seek to inspire woodworkers (cabinetmakers, carpenters, and housewrights) to extend their skills into basic, novice, and advanced woodturning while discovering for themselves this particularly sensual and spiritually rewarding dimension of working with wood.
---
Occasionally, I am asked to create a ceremonial gavel for an incoming or outgoing chairperson of an organization, and I find that one of the ways to make this especially notable is to thread the handle into the gavel head. This allows the gift-giver to make a nice box, unthread the handle to lay it parallel to the head in tissue paper in the box, and add a bit of class to the gift. The two-part gavel has another advantage to me because I try to keep one or two on-hand for those inevitable and desperate last-minute committee decisions to recognize someone. By unscrewing the handle, I am able to use the laser engraver to add the ceremonial wording or the title of the organization. For these gavels, I typically use a light-colored wood like white ash for the handle because the engraving shows up better and the contrast between a dark head and light handle enhances the effect.

In order to thread the handle and head the turner will need a Threading Kit. These kits are complete and come with excellent instructions. Acquire the kit before you turn the handle, because the diameter of the tenon is critical to success. For larger gavels, I use the 3/4" kit; for lighter, more delicate gavels, I use the 1/2" kit.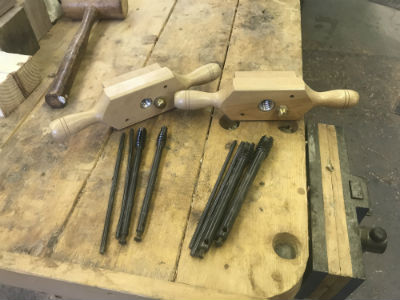 Next month at the annual meeting of the Wilson Museum in Castine, Maine, I will hand over the President of the Board position to my Vice President and will take my place for my final year on the Board as his Vice President, a well-planned and orderly transition of responsibility. To date, the Museum Board has not had a convener's gavel, so this seems like a good time to create a distinctive, engraved gavel that will be handed down in the future. For this project, I elected to make the head from the classic black walnut and the handle from white ash. Both are well-dried to about 8% which will limit further warping or shrinkage.

The first few project steps are highlighted below, which you want to do before beginning the series of cuts that for me begin with identifying the waste-blocks: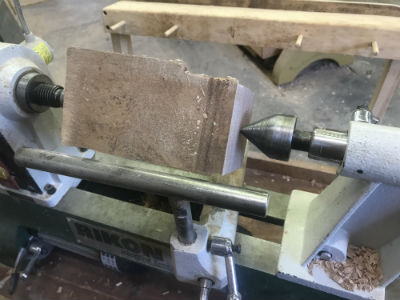 Round the gavel head to a cylinder.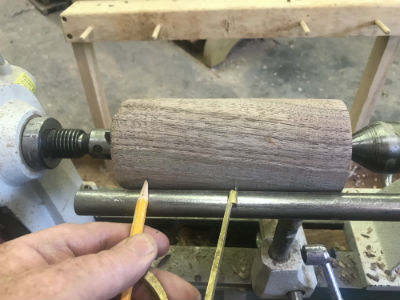 Mark it for its center (a vee-groove helps later locating the drill bit).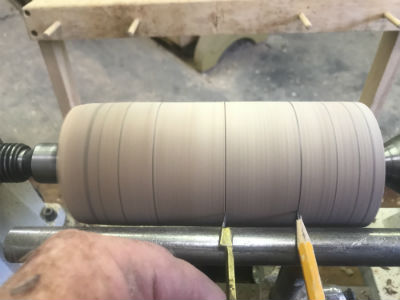 Mark its outside edges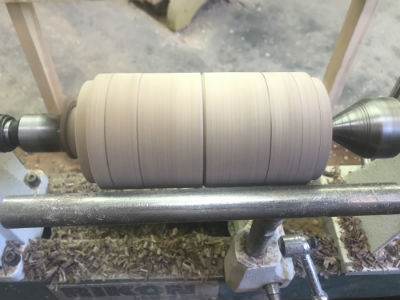 Mark its planned details


Based on my experiences with mallets and gavels in use, it helps to form a small shoulder on the outside edge to limit damage and split outs in case the user misses the center of the gavel face when calling for order.


For decoration, a small, well-located bead on each side mated with a severe cove establishes the design "look" that is ready for creating and smoothing the gavel's "face" – which should be gently "proud" or convex.


The long point of the skew works best for this.


An effective, alternative tool for this is the Fluted Parting Tool. The tool's leading sharp points sever the grain, and the long-angled side of the blade acts as a scraper leaving the face remarkably smooth.


With the waste blocks reduced to a minimum and a careful sanding 220, 320, 400, to 600 grit, a simple application of friction polish brings out the beauty of the wood.


Using a vee-block to stabilize the head, saw off the remaining waste blocks and hand sand prior to hand polishing the face.


One of the design challenges for creating gavels and mallets is the sizing of the head in relation to the handle. The head has a length (face-to-face) and diameter that paired with a too long or too short, too skinny or too fat diameter handle can ruin another otherwise well-done project.


To minimize this, I typically set the gavel head within my working sightline. As I round the handle blank, I work to gain a sense of its length and diameter, remembering always that I need an extra-long tenon to facilitate the work of the manual thread-cutter.


Using the secondary cutter, which typically is as long as the finished tenon needs to be, marking the tenon length at about double is simple.


After turning the desired detail on the handle, leaving a small waste block on the bottom end at the live center, it is critical to properly size the tenon diameter to fit the thread-cutting tool.


Using a 3/8" beading & parting tool or a 3/8" bedan tool paired with a 3/4" wrench (this measuring tool is absolute and not subject to unexpected self-altering its sizes the way adjustable calipers tend to do), finish the tenon.


Thoroughly sand and apply finish to the handle before cutting away the waste blocks.


Locating the drilled hole to be threaded is important. I tell my students to look for flaws in the wood or simply to find where the grain is discolored or boring. The selected place will essentially disappear from view when the handle is attached.


The trick is to avoid hiding the really nice grain by putting a hole in it. When the handle is screwed in, that part of the head will never really be seen, and the other parts will be presented nicely.


While the small center vee-grove helps locate where to drill the hole between faces, it does not locate the exact center of the diameter. In this case, the light rubber pads (blue) keep the positioned head from rolling or shifting while offering support.


Drilling a straight, clean 5/8" hole is critical to prep for the 3/4" threading.


It also helps to dribble some thin CA glue into the hole to crisp and firm up the support for the threads.


With the kit, there is a starter hole cutter that fits well into the 5/8" drilled hole. Be sure to firmly hold the gavel head to allow the thread cutter to do its job.


Twist/cut the initial threads to the edge of those threads being sure to position the cutter at 90 degrees.


When switching to the second threader....


Be sure not to bottom-out the threader because this might prove nearly impossible to remove without destroying the piece.


Run the threader in and out several times to get a clean, firm thread cut.


When moving to the male tenon threader, be sure to firmly hold the handle square to the tenon while starting it.


Run the threader in to fill the guiding threads and stop.


Unwind it.


Remove the extra guide block.


Carefully twist the cutter back on to the existing threads.


Complete the threading to the end. Typically, you may want to carve the last part of the incomplete threads with a hand-held, sharp bench chisel.


Measure for length to be sure the new handle will not bottom out in the threaded hole (major challenge if it does).


Trim to just shorter than depth of the hole and slightly chamfer the first thread to make an easy start.


Consider coating each part (male and female) with a lubricant such as Slide-all to ease the on/off capability.


Run the handle in and out of the hole several times to ensure its ease of assembly and disassembly.


If you have an available engraver, now is the time to do the engraving, which in the case of this project is specifically for the ceremony for the Wilson Museum Board of Trustees.


The assembled gavel is ready for presentation and use needing only wrapping paper and/or a ceremonial container.


Given the advantage of practice for skill-building, it might be a good idea to make a second, smaller one for a future request.


Threading it allows the engraving to be done later.


The overall project is rewarding and will be appreciated by many as unique, dramatically noticeable, and personalized.


This month's book recommendation to read or inspiring re-read: Turning Threaded Boxes by John Swanson.

Article link: Gavels with Threaded Handles by Temple Blackwood.



Click here to browse through Highland Woodworking's Woodturning department

---
Located in Castine, Maine, Highlands Woodturning gallery and shop offers woodturning classes and shop time, a gallery of woodturned art, custom woodturning for repairs, renovations, and architectural installations. You can email Temple at temple@highlandswoodturning.com. Take a look at Temple's Website at http://www.highlandswoodturning.com/