This past summer, I received an email inquiry from a fellow who, after finding my website, wanted to know if I would be willing to turn a series of 15 pocket toothpick holders he wanted as gifts for his group of friends. Intrigued by his request, I responded that I would be happy to talk further with him. Through the subsequent exchange of email messages, I learned that he has been carrying a toothpick holder that he got in Albuquerque, NM (stamped in ink on its side) for a number of years and that his buddies had teased him about it while also frequently asking him for a toothpick.

My response was multi-fold: first I sent him a sample and suggested that I would be willing to make his holders if he would let me know what colors he wanted – light, dark, reddish, greenish – and if he wanted them laser engraved with his initials, each of their initials, and/or some common phrase or saying they might share as a group. I offered a price for each option, and then I turned and sent him a sample with "Slim Pickin's" engraved on it. His response at that point was to explain he needed some time to think this all over.

About two weeks later, he emailed that he wanted fifteen light, reddish, and dark colored (maple, cherry, and walnut) holders engraved with his initials, with a particular word that unified them, and with each one of their initials in a larger size. He also wanted five additional holders with no engraving.

This project makes a fun and welcome (for many) gift, especially as we approach the big, Thanksgiving meal.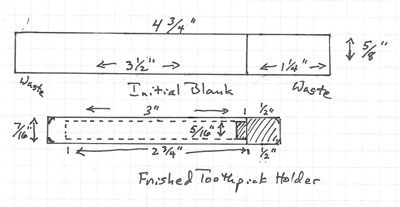 The initial blank includes waste-block ends that make it easier to finish the ends safely.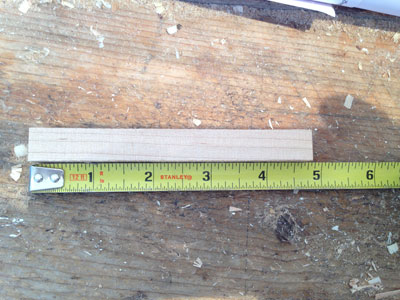 Planning an efficient approach from the beginning, I prepared 24 blanks in maple and cherry 5/8" square X 4-3⁄4" long.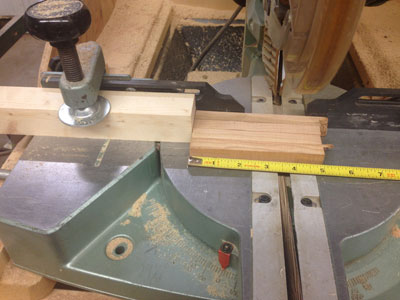 Cutting off the blank for the cap of 1-1⁄4" leaves a waste-block for the chuck without crowding the final parting cut and ensures the cap will match the body in color and texture. Given the consistent size of the hole to be drilled, the caps are actually interchangeable.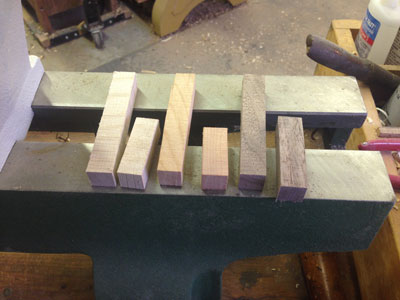 After cutting off the blank for the cap, the barrel-blank works well at 5/8" X 3-1⁄2"



Drilling the 5/16" hole absolutely straight is critical to making the barrel both light and useful.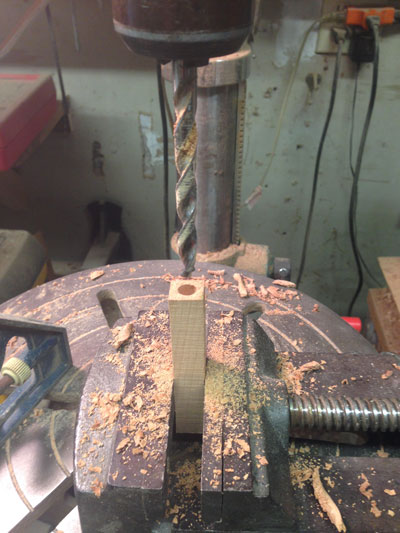 Drilling the barrel straight down to a 2-3⁄4" depth prepares the blank to hold about six or seven toothpicks that are typically 2-1⁄2" long, leaving room for the plug for the holder's cap.

Hint: After drilling, remember to blow out the remaining dust in the hole to avoid later embarrassment.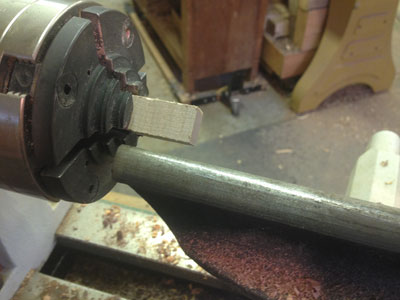 Mounting the blank for the cap in a chuck made sense as the most efficient way to begin.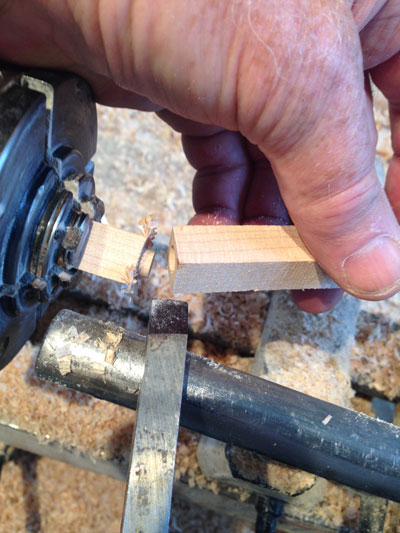 Using a 3/8" beading and parting tool, size the plug for an extremely tight fit. By making the plug taper slightly, the correct size can be quickly achieved.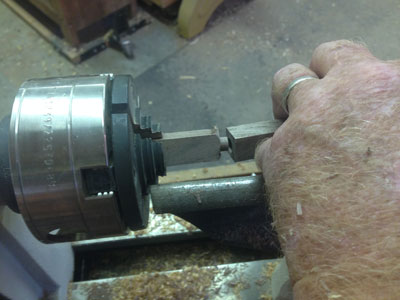 Check the fit periodically. A too-loose or sloppy fit will not work as the cap will come off in the user's pocket and spill the toothpicks.

The ideal fit is a slight taper to both sides with a full belly in the middle of the plug.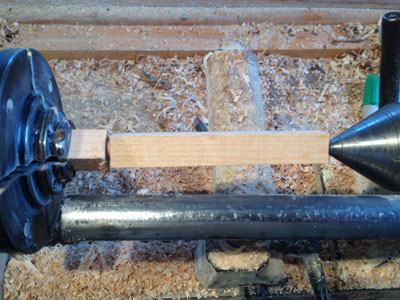 Once fit snugly, the holder is ready to turn as a unit. Mount the barrel on the cap and jam-chuck it by bringing up the tailstock with a live center.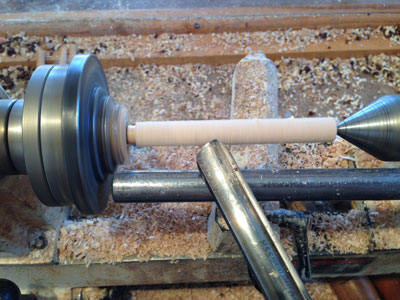 With a small diameter and short piece, turning works well at a fairly high speed of 1200-1400 RPM. Round the blank with a gouge down to about 1/2" in diameter.

As the turner progresses in skill, hand and eye become increasingly familiar to round the blank to near finished size without needing to measure.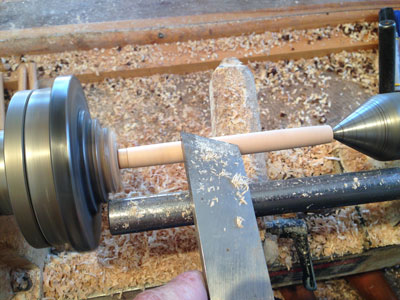 Smooth and finish to the desired 7/16" diameter with the skew.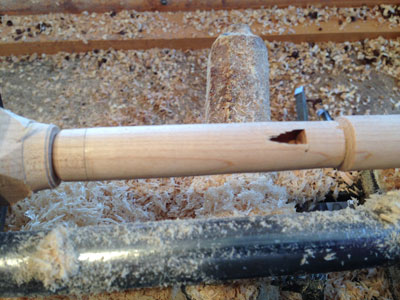 If the 3/8" hole was not drilled properly straight, the skew might reveal the angled hole destroying this particular blank, but not the cap. Discard the ruined body on this one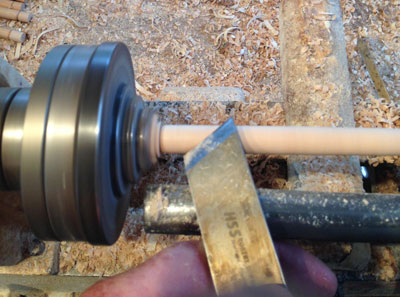 Initially sizing the finished turning with calipers or other measuring devices is necessary. Typically by the fifth or sixth copy, the turner's muscle-memory makes those pauses less necessary.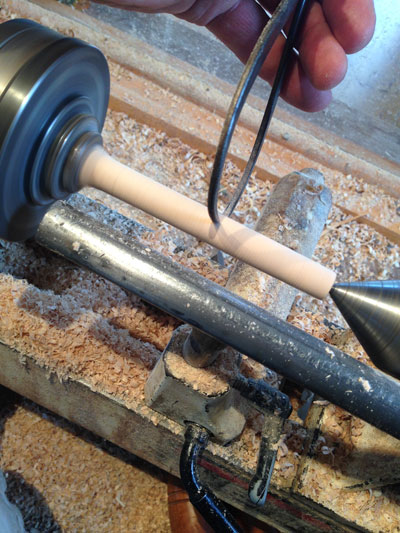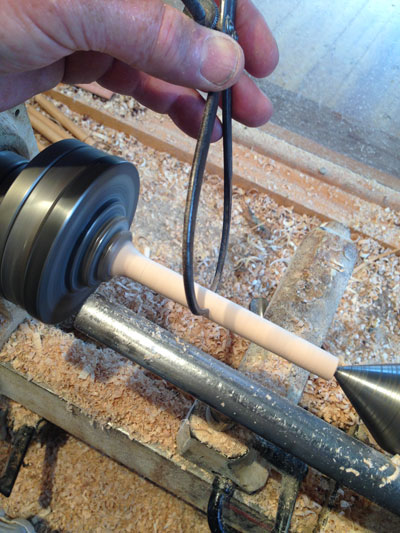 The most important note on this project is to be sure there is an even diameter over the full length and that it is smooth. While the turner might be tempted to stop at a 1/2" diameter, the holder at this size is too clunky, heavy, and large. The smaller diameter of 7/16" ends up being significantly better and offers a skill challenge to be mastered.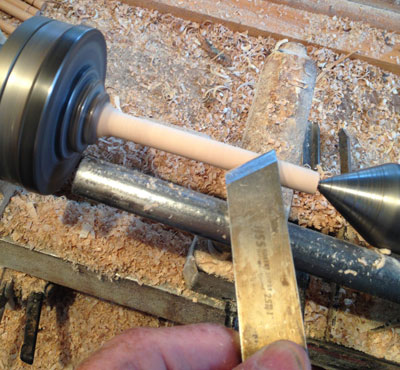 Smooth and finish any high points or "hills" with a sharp skew.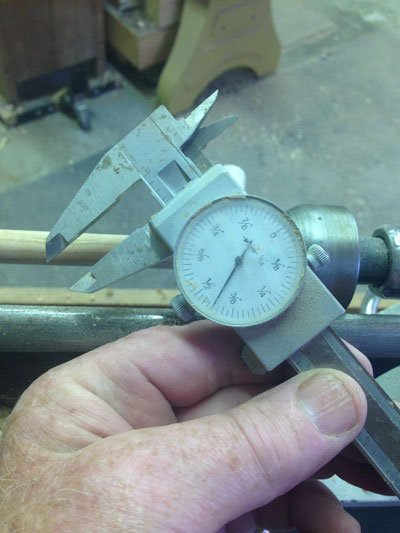 Beyond using adjustable leg-style calipers (which too often change slightly with use), a more specific and lockable gauge can be used...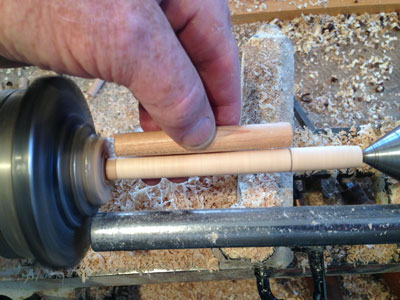 ... hand and eye can be powerfully accurate, especially when working from a correctly turned sample ...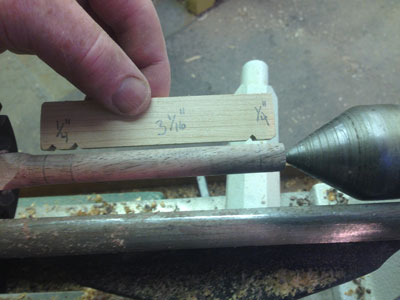 ... but a thoughtfully made "story-stick" can tell the story of specific measurements for each project determining correct end measures ...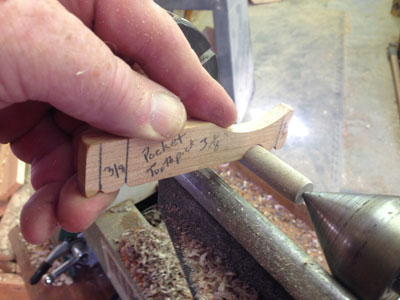 ... as well as the diameter, which in this case can include a sized half-hole of the correct diameter.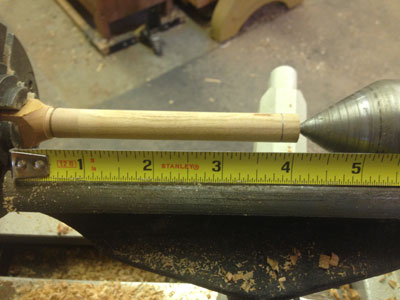 Working from a finished turning, properly smoothed by the skew and marked for length by whatever is the preferred means, allows the two ends to be partially cut (work on the right (tailstock) before working on the left (headstock)).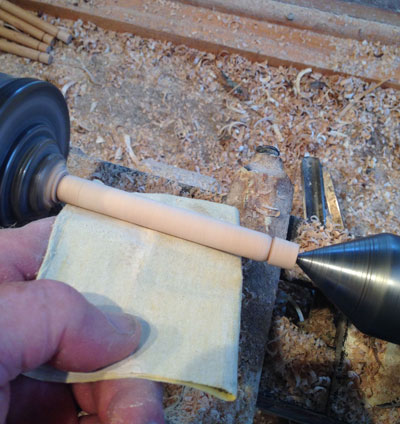 Sand lightly with 220 grit followed by 320 grit sandpaper.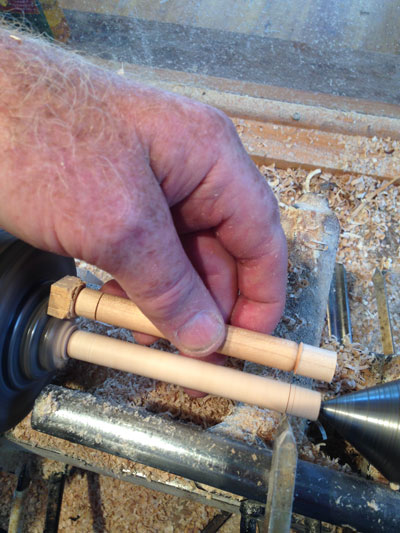 Checking against another correctly finished model is one way to feel confident before finishing and parting off.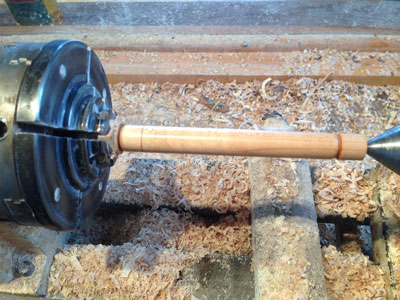 Once the turning and sanding is complete, three more steps remain.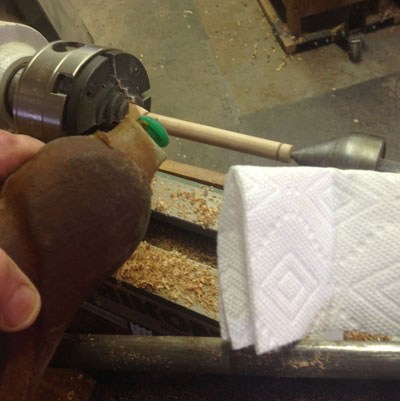 First, apply a proper finish. Using a tried-and-true friction polish (1/3rd each of shellac, boiled linseed oil, and turpentine mixed in a proper, air-tight bottle – keep the lid down!), finishing wax or other surface-finish will make handling the toothpick holder a pleasing, sensual experience.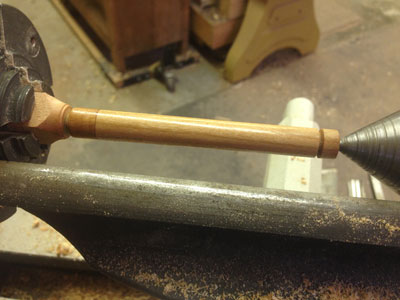 With the toothpick holder finished and finish dry, the turner can reduce the waste-blocks on each end (tailstock first) to a minimal tenon.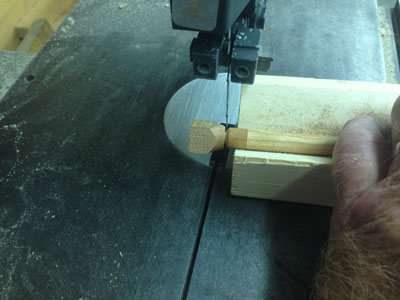 Using a V Block for stability and safety, saw away the remaining waste-block parts.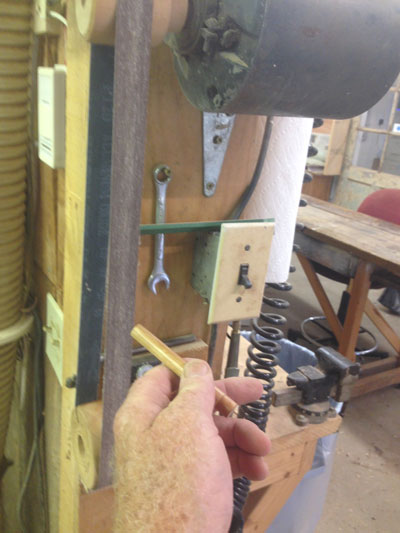 While it is possible to chisel or hand sand the ends smooth, the end-grain exposure easily smooths by whatever sanding equipment is handy. Apply the finish by hand to each end.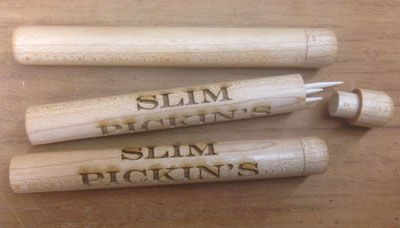 The final step is to add some toothpicks to each finished holder. Carving, burning, painting, or engraving some cute saying like "Slim Pickin's" or "Pickin' and Grinin" with each person's initials makes this project stand out.

One of my friends brought his toothpick holder out at the end of an especially nice dinner party and offered each of the guests a toothpick. He was greeted with merry appreciation and several takers. His surprised wife was not impressed and shared her feelings when they returned home.

I did hear back from the original fellow who wanted the 15 for his friends. Apparently, they were all delighted and amused at his clever gift. He reports that occasionally one or another forgets to bring his own when they are together but now there are many others from whom to beg a spare toothpick.


---
Located in Castine, Maine, Highlands Woodturning gallery and shop offers woodturning classes and shop time, a gallery of woodturned art, custom woodturning for repairs, renovations, and architectural installations. You can email Temple at temple@highlandswoodturning.com . Take a look at Temple's Website at http://www.highlandswoodturning.com/.
Return to The Highland Woodturner front page