Click on any picture to see a larger version.
Turning the Corner focuses on using woodturning on the lathe as a way of enhancing cabinetry, furniture designs, and architectural installations. Each article also suggests an important woodworking book to read, reread or listen to, and a link to an appropriate article in The Highland Woodturner. Along the way, these articles seek to inspire woodworkers (cabinetmakers, carpenters, and housewrights) to extend their skills into basic, novice, and advanced woodturning while discovering for themselves this particularly sensual and spiritually rewarding dimension of working with wood.
---
One of the most attractive features about woodturning is the general efficiency and speed of being able to create a finished project in a short period of time. Unlike many other aspects of woodworking, a woodturning artist/crafts person can begin and finish one or several pieces within several hours or a day. In my experience most woodturner artist/crafts persons generally fall into two categories:

1) Artists/sculptors who begin with a vision of their object of art, plan it, search for the right piece of wood, plan the tools and techniques needed to execute it, and then begin their work focused on staying true to the original vision. (I admire these folks for their creativity, vision, and discipline).

2) Artist/artisans (I am in this group) who begin with an interesting piece of wood and "plan" by saying, "Humm, I wonder what I might make with this," while mounting the blank and beginning to turn, looking often to the emerging shape, colors, and form. Many refer to this as "talking and listening to the wood."

Either way, we all begin with a desire to make something of value with our hands, our heads, and our hearts. The warmth of wood and the spiritual transformation of applying sharpened chisels "to cut the way wood likes to be cut" (Peter Child) in fashioning that new work of artistic expression or utilitarian functionality makes it all worthwhile.

Nearly a month ago, I received a call from a woman who had apparently read one of the local "who's doing what around here" in a popular newspaper insert. She told me that she and her husband had saved what they thought were valuable cherry burls from the woods near their summer home about two hours away from my shop, and they were hoping I might "turn them into something" – art? -- bowls? We arranged for them to come visit and to bring the burls for my thoughtful inspection. They came as arranged a week later but had forgotten to put the burls in their SUV. They were amused by this but had decided to continue on to meet me and poke around my gallery and studio/classroom. I liked them both for their interest and good humor. With their promise to pack and mail the burls to me, I agreed to see what I could do for them. When they explained they planned to head south, driving to their winter home within a couple of days, we agreed that sending them to me would be the most practical.

The two "cherry" burls arrived about two weeks later having been sent from their mid-Atlantic winter home.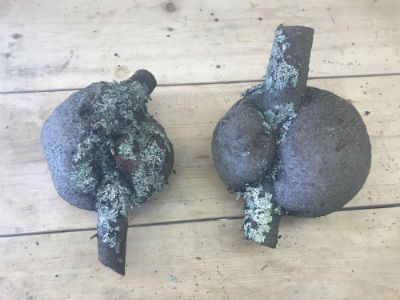 Upon inspection, they turned out to be pine burls that had fully surrounded a thin trunk/branch that hosted them.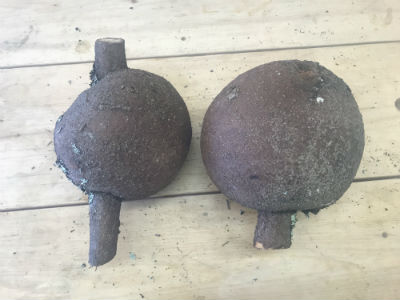 One of the fun things (interpret that as "challenges") to know about burls is that approaching them requires a blind first decision. The artisan can only guess where to make the first cut, and the surprise inside might be a totally rotten core, a vividly colored complex and beautifully colored grain, or just another "plain ol' piece of wood."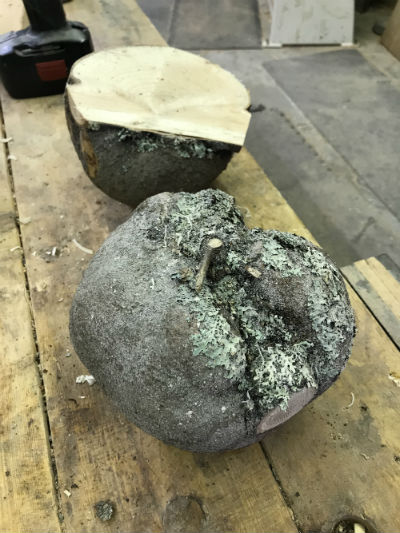 In this case, cutting the smaller piece revealed no rot, only a clean platform of pine with a little minor grain swirl.

That led to my decision to keep the larger piece whole and spend a day or two looking at it and turning it around and over searching for possibilities.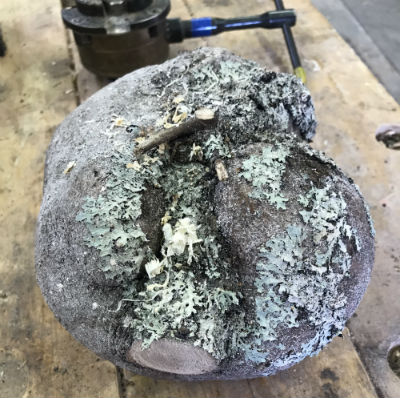 The bumps, bark, and relationship of the crotch connection to the through trunk portion offered an opportunity to imagine what final natural edge shape might offer the best possibilities.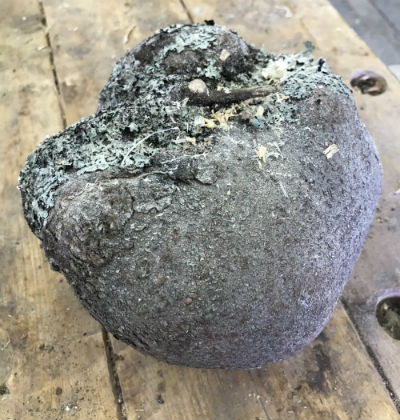 As part of that discernment and study, positioning the mounting angles on the lathe...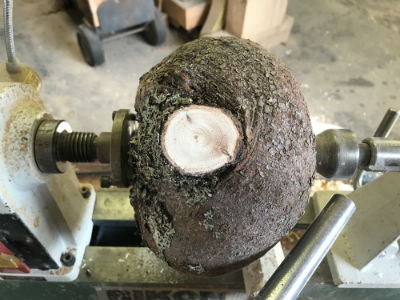 ...is as challenging and blindly decisive as making a first sawcut or rounding cut.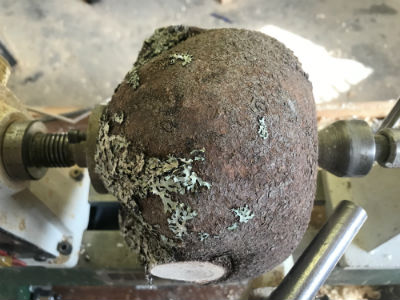 Typically, bowl turning begins with selecting the blank of wood, positioning it on the lathe, and turning the outside/bottom round between centers. This governs most of what will happen when hollowing the inside and bottom.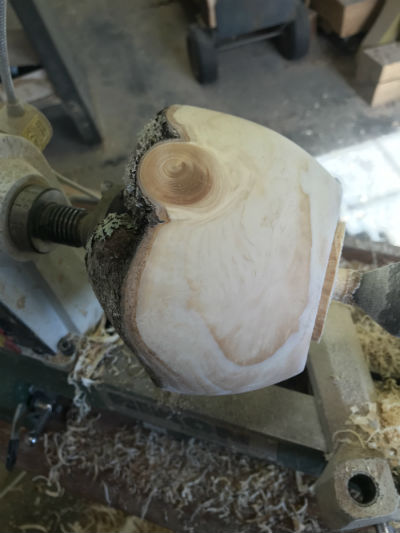 Working with an interesting natural-edge such as this (note the end-grain of the thin host trunk/branch that this burl surrounded) requires many stops and starts to inspect and discover the artistically pleasing features to accentuate by not cutting them away.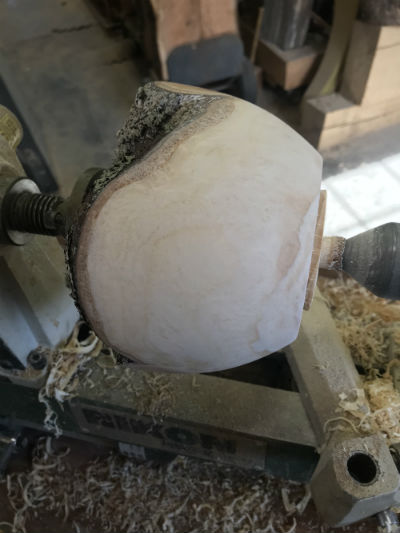 After defining the bottom and creating the tenon (to hold the piece in a 4-jaw chuck for hollowing), the eventual "top" and "bottom" and "profile" of the finished piece are established for viewing, decisions, and finally sanding with 120 and 220 grit paper on a self-powered flexible pad.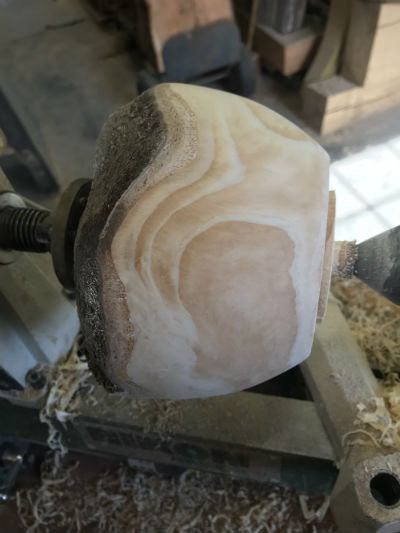 Remounting the piece for hollowing offers another opportunity to make an in-process ("field-adjustment") decision about how much bark to leave for the natural edge.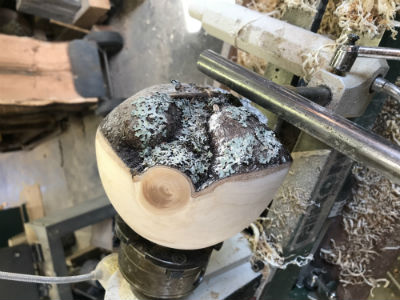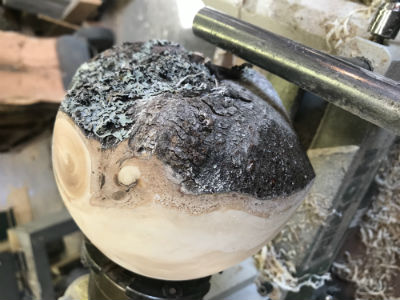 This process is outlined below: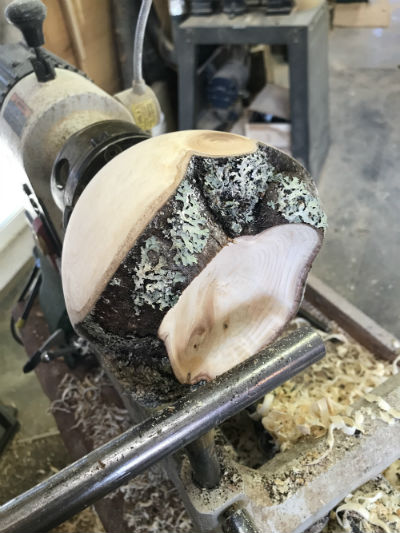 This process requires more stopping.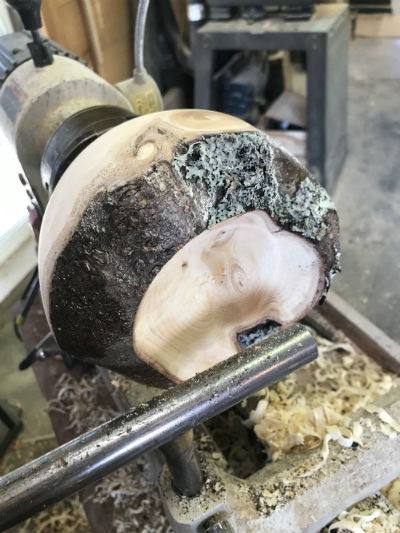 Then cut and stop to inspect.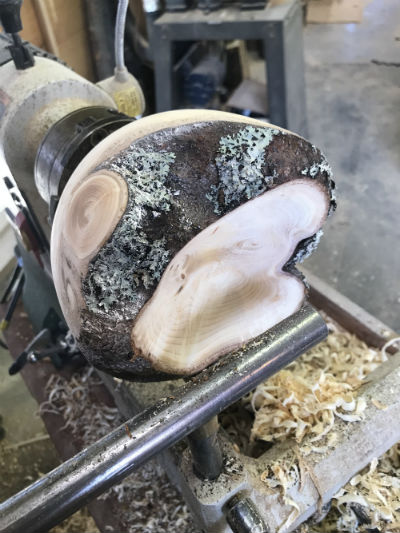 Then cut and stop to view what figure and character on the inside
are being exposed.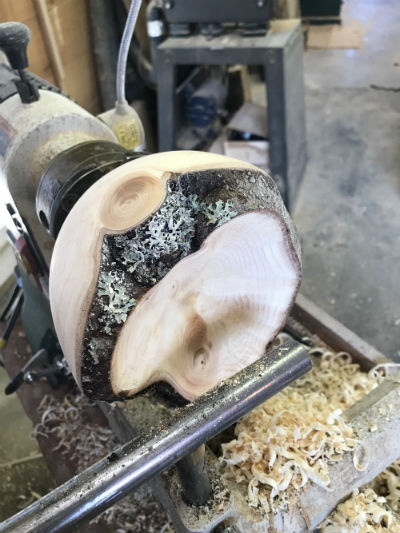 Examine the relationship between the outside features,
and the natural edge bark accent.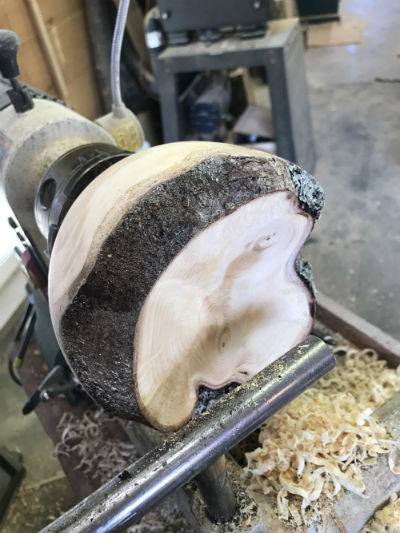 Take a look at the emerging features of the inside...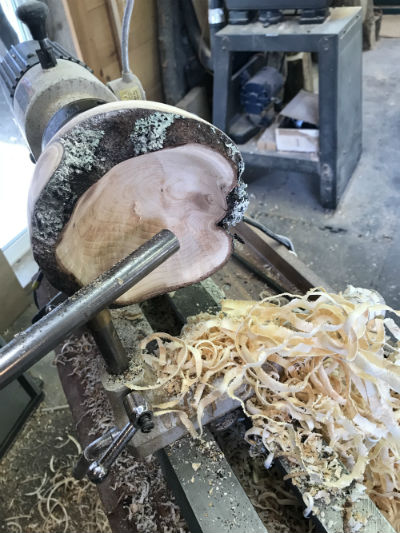 These features will begin to find a balance of symmetrical dark/light,
feature/void, and overall shape.


These in-process decisions make working with materials at the lathe exciting, rewarding, and pleasing when they work. This is the larger of the two burls they sent.



I count myself fortunate because I live and work in mid-coast Maine where a wide variety of wood materials are free and readily available. Sometimes I find my best blanks on the firewood pile – which creates a small problem in the winter if I over-indulge. Conversely, I occasionally spend most of a day with a creative effort at the lathe and realize at the end of the tiring and frustrating session, I ended up making a significant piece of wood-stove fodder. There are no "mistakes" in my shop. This particular split demonstration piece was destined for glory and warming our chilly day.


These two half sections created from cutting through the smaller burl ended up more useful and attractive than pretty.


Ten coats of danish oil with sanding, heat, and a week later, the finished pine (surprise for them) burls are ready to be shipped back to the owners weighing far less than when they arrived.


The fun part of working this way is that these materials are free and plentiful. This makes the apparently reckless plunge into them low-cost and low-risk with a potential for high-return. It will be interesting to hear from the owners how they feel about each of the burls or about the group as a whole.

In my world, the two kinds of artists – measured and careful and thoughtful; free-form and responsive and adaptive – are like the two kinds of cooks. Many wonderful cooks carefully research, plan, and shop with a list ready to attend to lengthy detailed recipes as they prepare. My wife, however, is amazing in her ability to discover what we have in the kitchen, fabricate an enticing meal from seemingly little stock, and deliver a wonderful, spur-of-the-moment meal that often allows for an unplanned family member or guest – magic! Personally, I find both styles admirable, delicious, and rewarding to both artist and audience.

More Woodturning Articles: The Highland Woodturner Archive includes a broad array of excellent articles dedicated to woodturning and woodturned projects that you might find interesting.



Click here to browse through Highland Woodworking's Woodturning department

---
Located in Castine, Maine, Highlands Woodturning gallery and shop offers woodturning classes and shop time, a gallery of woodturned art, custom woodturning for repairs, renovations, and architectural installations. You can email Temple at temple@highlandswoodturning.com. Take a look at Temple's Website at http://www.highlandswoodturning.com/