Click on any image to see a larger version.

Occasionally, I receive a commission where the customer gives me a wide range of creative control. These jobs are always fun but also a bit nerve racking not knowing if the customer will like what I make. A customer contacted me about turning a few items from wood collected from family property. My instructions were to see what I could create from the available material. They needed to be ready before Christmas.

The Material
The customer delivered several logs.
The wood species was unknown. After working with it, I think it might have been ash or possibly box elder without the typical red stains. It was too soft to be pecan. The wood was extremely dry and most certainly limb wood. The wood was cracked, contained old bug tunnels and showed signs of errant chainsaw cuts.

In other words, this wood was challenging to process and turn. I began by using a froe to split the wood along preexisting cracks.
I then used a hatchet to create flat spots so that the material could be further cut on the bandsaw.

This material yielded several small bowl and spindle blanks.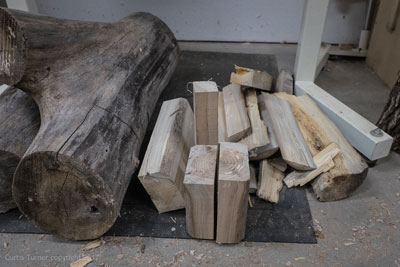 Educating the Customer

When a customer approaches me with similar requests, I try to educate them on the process, risks and rewards. Most non-woodturners think a large log is something that might fit into a fireplace. This is understandable given how few people chop and harvest wood. I explain that preparing material for turning requires cutting away the excess wood just to get down to a usable blank. The giant log they envision results in a much smaller usable blank. I also explain issues with limb wood like tension and compression. I also discuss how turners deal with wet vs. dry wood.

Most of this is usually first explained via email before I even see the material. This is all about setting the customer's expectation. Once meeting with the customer, I am able to address specific issues with their material. I show them how I cut and process a typical log. I also talk a little bit about the turning process. I also discuss with the customer what they would like to have made from the wood. I believe this helps the customer understand what is involved in creating a piece.

This Project

The wood in this case, was very interesting to work with. I was concerned about the various cracks and overall condition of this material. This customer was so nice and understanding that I just couldn't say no to helping her preserve a piece of family history. So, I crossed my fingers and began the process. I ended up losing the first small bowl. It developed a crack that looked too risky to finish turning. I didn't want to use CA Glue on these pieces. I wanted to retain the natural color of the wood. In my experience, CA glue can leave a tell-tale satin in light colored wood.

I did manage to turn two bowls, one with a natural edge and one from the crotch.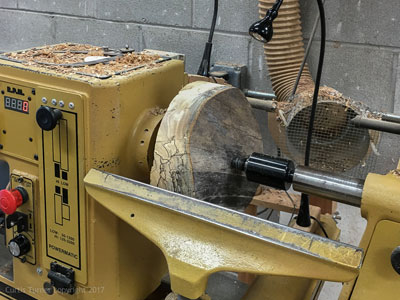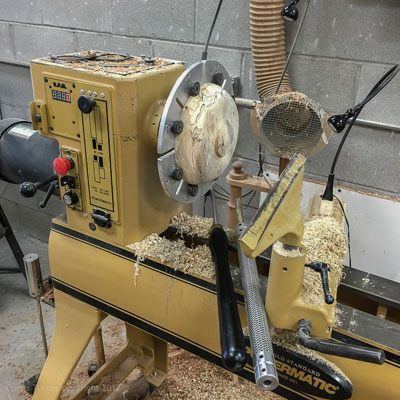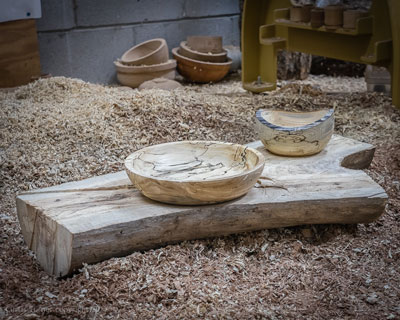 I also completed two small lidded boxes and a spindle ornament. I sprayed on a lacquer finish after sanding the pieces to 400 grit. I was very pleased with the results.
The customer contacted me later reporting that her family was very excited about their gifts!
---
Curtis was a former President of Central Texas Woodturners, is a member of the American Association of Woodturners, and is a member of Fine Woodworkers of Austin. Curtis teaches and demonstrates nationally for Lie-Nielsen Toolworks. He also teaches for TechShop. He owns a studio where he works and teaches. Curtis lives in Central Texas with his wife and four young children. Take a look at his website at www.curtisturnerstudio.com or visit his Instagram: tx_planes.
Return to The Highland Woodturner front page