Click on any picture to see a larger version.
Turning the Corner focuses on using woodturning on the lathe as a way of enhancing cabinetry, furniture designs, and architectural installations. Each article also suggests an important woodworking book to read, reread or listen to, and a link to an appropriate article in The Highland Woodturner. Along the way, these articles seek to inspire woodworkers (cabinetmakers, carpenters, and housewrights) to extend their skills into basic, novice, and advanced woodturning while discovering for themselves this particularly sensual and spiritually rewarding dimension of working with wood.
---
In order to woo grandchildren from their overwhelming array of wiz-bang electronic toys and age-group activities to spend some of their time in the shop with a grandparent, we need to think creatively about how to attract them by their own choice and intrigue them enough to be sure they have fun while building within them enough intrinsic rewards that they want to return.

In my own experience demonstrating each summer in the Wilson Museum's Living History project, I learned that one of the ways to attract young people to the shop is to intrigue them with puzzles and with fairly quick and easy take-home projects that they could share with their friends and make use of in their lives. Without question, the most successful of the puzzles is the "String 'n Ring" puzzle that I learned about many years ago from my woodturning friend, Alan Hockenbery. This puzzle appears to be complex, especially to analytic adults, but is actually quite simple, and once the kids learn the solution they are eager to challenge their parents and friends. It remains one of my two most responded to articles for the Highland Hardware publications.

One of the shortcomings of many widely available woodworking projects for kids is that they require more time, more materials, and more assistance than many kids are willing to commit to, especially at the beginning. Those of us who work regularly in the shop seek a level of accuracy and skill that can be difficult to control in our own desire to help the kids produce a "polished" end product, not realizing that the simple act of making something themselves that they can use or show off later is more important than the level of refinement. Engaging them in the activity and helping them find the self-rewarding satisfaction early on is more likely to lead to them wanting to further develop their skills and improve the end product in design, refinement, and accomplishment.

One popular and fairly simple woodturning project for young people is turning pens and mechanical pencils. The commercially available turning kits lend themselves to fairly quick success, and the activity can easily translate into a group of kids working together and challenging/rewarding each other. The advantage of this is that my granddaughter can bring her friends to the shop, turn a few pens in a short period of time, and then take them home and to school with bragging rights.

The problem with using the commercial pen kits is that even the simple "Slimline" requires a few exacting skill challenges, and the process of putting the small pieces together can be confusing and time-consuming. When my granddaughter decided to put herself into business making pens for a local store, the expense of the kits was far too high (she did not like having a materials expense – as in paying me back - come from "her money") and she was impatient with the intricacies of preparing and assembling the parts. She liked the creative turning activity.

The solution for me to satisfy her and her three friends was to develop a simpler version of the ink pen that would engage them in turning with fewer steps, shorter work time, and considerably less expense. Necessity does inspire invention, and the girls have since produced considerable product and satisfaction all around.

After researching the many ink pen refills available, I settled on the Bic "Round Stic" because of the perfect flange and its 1/4" seat. It is especially nice that it comes in colors: black, blue, and red! By buying the pen refills in bulk, my costs are $.27/each. All the wood comes easily from my scrap pile from other jobs. I believe my granddaughter sells them for $6, a nice tidy profit.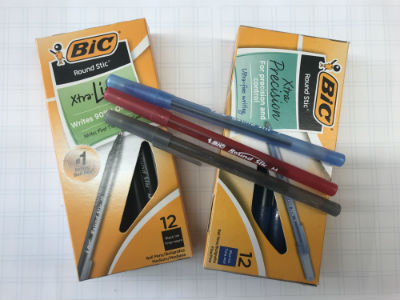 The Pen Turning Process

Cut out hardwood blanks that are 7/8" X 7/8" X 7" and use a pen blank drilling press to hold it vertical on the drill press. Drill a centered hole at least 4-1/2" deep.




The hardwoods – cherry, walnut, locust, mahogany – work best because they tend to grip the pen barrel firmly. A small dot of CA medium glue can correct a loose seat if necessary but would make replacing an empty refill difficult.

One of my granddaughter's friends chose to make her pen out of white ash, and she wanted an unusually short pen to fit into a small pocket in her backpack. That presents no real problem because the plastic refill barrel can be trimmed to a shorter size (thus possibly wasting a little ink and shortening the useful life, but this did not concern her).


Chuck the pen blank firmly with the live center in the drilled hole. There is no need to use a special mandrel for this project. Using a four-jaw chuck on the drive end helps ensure that if the beginner/novice turner forgets to rub the bevel and has a catch, the blank is unlikely to fly off. Using a mini lathe with lower power and moderate speed reinforces the comfortable, safe, environment. My students are especially proud when they have their own equipment: dedicated eye-protection, carpenter pencils, turning smocks, and medium and small turning gouges. Safety first. The goal is to build the child turner's confidence while building the skills as they build experience as woodturners.


Using a medium-size spindle gouge for rough-to-round and the small spindle gouge for details provides an excellent entry-level experience.


Adding a 1" skew and a parting tool for the older kids who have the aptitude gives them a challenge and an opportunity to make more decisions about which tool to use for each different effect.


Sanding at the lathe is clearly a favorite activity for turners, and for the new turners it is important to reinforce the importance of sanding from underneath.


Learning to stop the lathe and inspect the work carefully prior to adding the polish helps build the idea of making the project nicely completed and presented.


Second to sanding, applying the friction polish finish with the lathe running is a proud moment because the project is nearly complete and anticipation runs high.


We talk a lot about safety issues and using paper towels to apply the friction polish leads to a discussion about wearing closed shoes, avoiding loose shirt sleeves, tying up long hair, and paying careful attention to the well-sharpened tools. As the experience grows, the kids buy into all these ideas. I have never had to remind a young student to put on his/her eye-protection after their first introduction, and after a few lessons in the shop a number of them come proudly baring their own newly purchased face-shields.


Once the pen blank is taken off the lathe, the waste-block can be cut away with a small saw.


For older and more experienced kids, you can use the bandsaw. The importance and use of a vee-block to hold the work in both cases is useful and a safe practice.


Hand sanding the cut-off end completes the turning portion of the project and typically the kids do a more thorough job of this than adults.


For this shortened ash pen, the wood was still green. The barrel of the refill fit tightly seated to its flange, and we were sure that as the wood dried it would shrink enough to ensure a lasting, firm connection.


Similarly, we were fortunate that we did not need to clip off any of the ink for it to fit.


The young lady turner (age 11) completed her project by selecting the red refill, and she was quite proud of herself.


Some of the other kids had different ideas about their pens, and they departed with new tools for use at school and home. My granddaughter continues to build her inventory.


The only real drawback to this project is that these inexpensive ink pens do not have caps to keep the point clean and to avoid having it leave an ink mark in an unexpected place, but I was assured by the kids that this did not matter because they usually lose the cap anyway in the course of their use.

Solving the puzzle of understanding and responding to the audience's perspective is sometimes the most important dimension of teaching … in woodworking and in life.

Book Recommendation: All Screwed Up : Turned Puzzles & Boxes by Jerry Slocum and Jack Botermans.

Article Link: Turning a String and Ring Puzzle

Click here to browse through Highland Woodworking's Woodturning department

---
Located in Castine, Maine, Highlands Woodturning gallery and shop offers woodturning classes and shop time, a gallery of woodturned art, custom woodturning for repairs, renovations, and architectural installations. You can email Temple at temple@highlandswoodturning.com. Take a look at Temple's Website at http://www.highlandswoodturning.com/