Click on any image to see a larger version.

Last month, I had a private student who wanted to improve her turning skills. However, it became apparent that the height of my lathe was not ideal for her. The spindle height is very comfortable for me; unfortunately, it left my student reaching up slightly to achieve proper tool positions.

I scouted around the shop for a makeshift solution. I used a few boards stacked to raise her up just a few inches. She reported that it made a significant improvement in her position, comfort and tool control.

I needed a better solution. I decided to build a platform. I used the temporary set up as the benchmark for making a solid platform.

While it is obvious, creating a comfortable turning environment is instrumental in offering a proper learning environment. Comfort is more than just spindle height. For example, simple things like the fit of a face shield are important. A student distracted by an ill-fitting face shield will not be able to absorb information as well as a student without the same distraction. A proper fitting face shield allows the turner to focus on the turning and not the shield. Not all face shields fit everyone. Therefore I keep several different models in my shop. I also keep a few smocks on hand.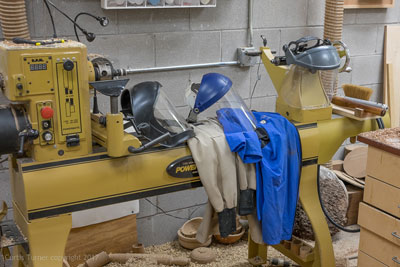 Confidence during the initial instruction and demonstrations allows the new turner to approach the lathe with a higher comfort level. Other elements that play a role in a student's level of comfort include temperature and lighting. These factors improve safety by focusing the student on turning rather than overcoming shortcomings in the environment.

So, what exactly is the correct height of the lathe? The most frequently offered benchmark is the spindle should be in alignment with the turner's elbow. Of course, this yardstick will vary slightly from person to person. I believe this is a good starting point.

On To The Build

I was able to build the project from supplies on hand. It is made from 3/4" plywood and 2x4's. The construction is simple and straight forward.

I placed an oversized piece of plywood on the floor in front of my lathe and tested common foot positions. I then cut the plywood down to an appropriate size. This size is also easy to move and store. I think it is just about perfect, not too big and not too small.

The 2x4's were then cut to fit the plywood platform.
I added a middle support stud to provide solid support in the middle of the step. I clamped the sub-frame together then used screws to assemble the frame.
Next, I clamped the platform to the frame and screwed the top to the frame.

Finally, I gave the top a light sanding.

The dimensions of the platform are 30"x20"x4-1/4".
At the next class my student tried out the finished platform. She reported that it felt solid and it was a much more comfortable working height!
---
Curtis was a former President of Central Texas Woodturners, is a member of the American Association of Woodturners, and is a member of Fine Woodworkers of Austin. Curtis teaches and demonstrates nationally for Lie-Nielsen Toolworks. He also teaches for TechShop. He owns a studio where he works and teaches. Curtis lives in Central Texas with his wife and four young children. Take a look at his website at www.curtisturnerstudio.com or visit his Instagram: tx_planes.
Return to The Highland Woodturner front page