Click on any picture to see a larger version.
Turning the Corner focuses on using woodturning on the lathe as a way of enhancing cabinetry, furniture designs, and architectural installations. Each article also suggests an important woodworking book to read, reread or listen to, and a link to an appropriate article in The Highland Woodturner. Along the way, these articles seek to inspire woodworkers (cabinetmakers, carpenters, and housewrights) to extend their skills into basic, novice, and advanced woodturning while discovering for themselves this particularly sensual and spiritually rewarding dimension of working with wood.
---
Demonstrating woodturning is an excellent way for woodturners and woodworkers to further develop skills and to share (enhance) the learning experience, a win-win for both demonstrator and audience. Within a woodturning club meeting, a turner enjoys an audience of other turners who understand the terminology, skill-challenges, and appreciation for the sensual rewards inherent in the process of spinning the wood and applying the cutting edge. Beyond a club demonstration in the public arena, the diversity of audience interest and pre-exposure experience broadens the perspective and adds to the opportunity to share as well as learn.

In my regular (twice weekly, Sunday and Wednesday afternoons through July and August each year) demonstrations in the Living History programs of the Wilson Museum in Castine, Maine over the past eleven years, my challenge is to develop new and interesting short-term projects (4 – 8 minutes turning) for the audience of returning summer residents and kids that will also appeal to the first time visitors – often families stopping in from a sailing trip around the world or just across the bay. For the youngest, a spinning top with chatter and Sharpie colors (they pick for themselves) steadily delivers a delighted response. Some returnees boast of how many tops they have and how long they will spin, a source of growing up pride and skill. Others boast of how many different turned items they have acquired over the years – tops, belaying pins, small dishes, natural edge dishes, lidded boxes, Harry Potter magic wands, mini-baseball bats, shallow cups, pocket tooth-pick (or needle) holders, colored/chattered buttons, and more. Over the years, adding a new "summer special" to the array takes most of the year to think up and prepare for.

Last winter, in an effort to boost seasonal Christmas holiday sales in our local gallery (it works), I re-imagined the Osolnik three stepped candlesticks as a tiered group of snowmen. Face it, people like people however far from their own image, and the natural warmth and beauty of wood with its lovely grain and odd markings attracts attention.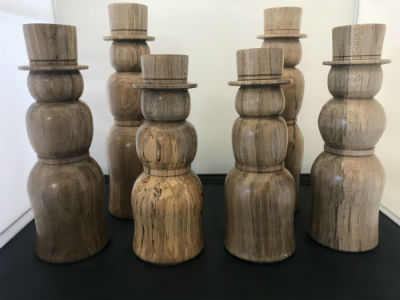 As a result of the success of the snowmen candlesticks, this summer, inspired by the constraints of the Pandemic and its innate "stay-home" isolation mandate, I decided to add to our offerings with the Oak Family, my model wooden Ozzie & Harriet with son and daughter family group. This turned out to be an inspiration for engaging my audience, old and new, young and old, in the production of what I think is a family of raw wood dolls. Upon request for a family member from the sample, I talk about and demonstrate woodturning. Once finished with polish, I then hand the wooden doll as a give-away to the deserving member of the audience. Taking a section of a tree branch, turning it into a recognizable figure/person as they watch, lightly sanding and polishing it (to prolong the suspense and anticipation), and then handing it to the delighted new owner in front of the audience pretty much guarantees popularity and respect.

One to a customer each summer means it will be four years before a visiting child will have his or her own signature family. Once I introduce the Cherry Family, Locust Family, Birch family, etc. I will achieve a high level of diversity and increase the range of my "collectability."

My 'stick', so to speak, is to have short-cut pieces (4" – 7") of a small branch of an oak tree, ideally with some spalting and bark, handy to mount on the lathe – "a real piece of wood" as one young man exclaimed to his mother several years ago.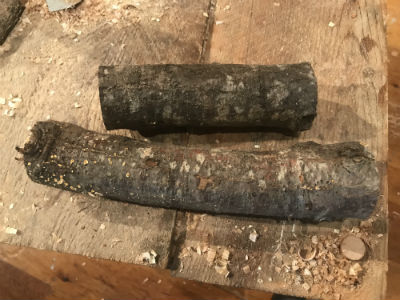 With "encouragement" from a youthful member of the audience who is asked to make a request for a particular family member – mother, father, daughter, son – proceed to turn that recognizable family member who will go home with the requestor.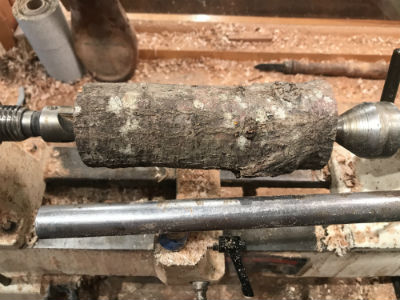 Mothers are fairly recognizable with their bonnets.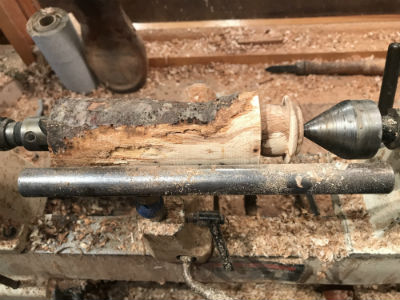 And I design them with a high bust and slim waist.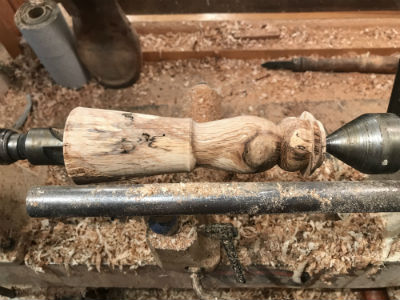 And also create a flowing skirt effect.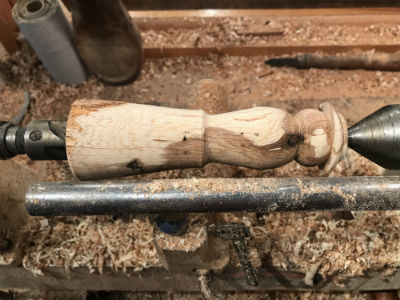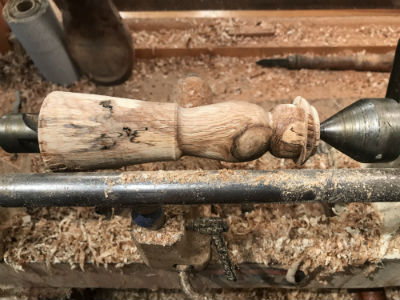 I design the Fathers with a more severe hat.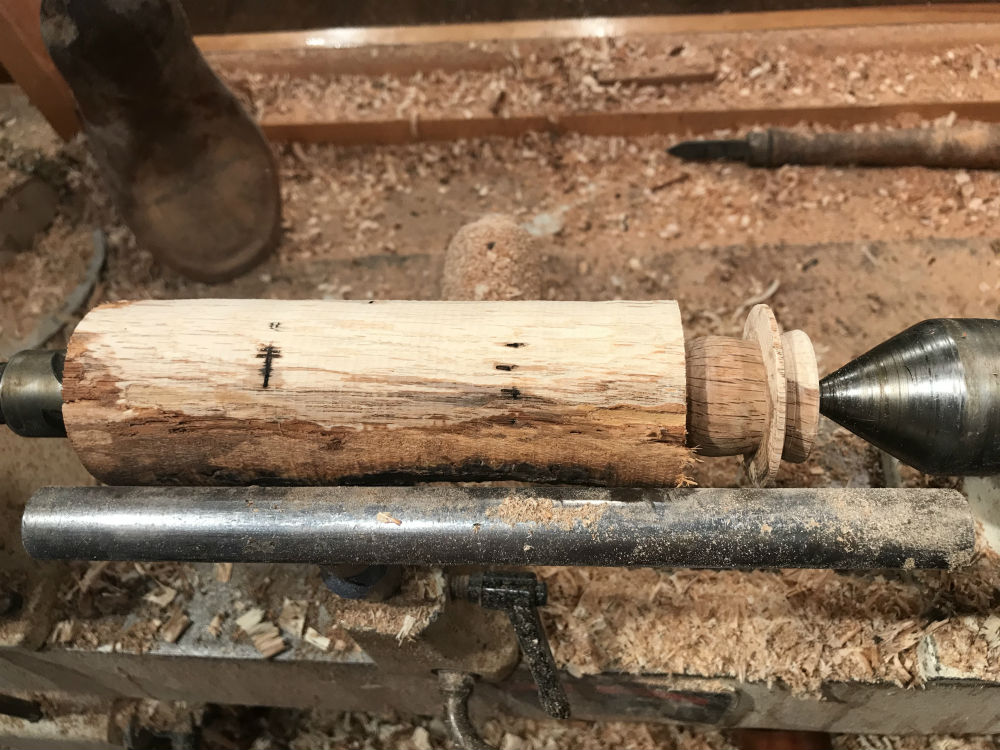 They are designed with a taller and more angular build with a lower paunch/potbelly and slim legs that flair to boots and are a distinctively different build.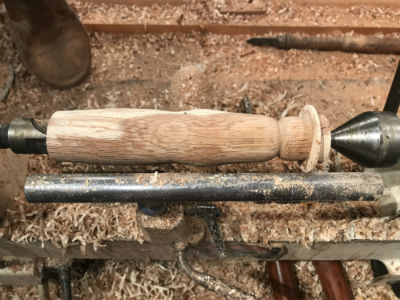 Children are definitely shorter and generally rounder (at least in this design world).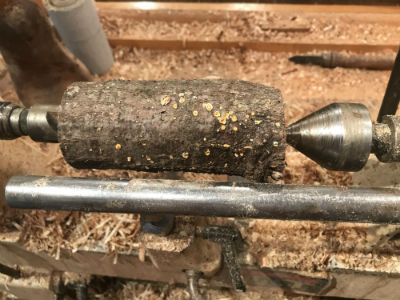 Perhaps the daughter has a bobbed haircut or hat like the mother; perhaps the son has no cap and a less-defined body shape.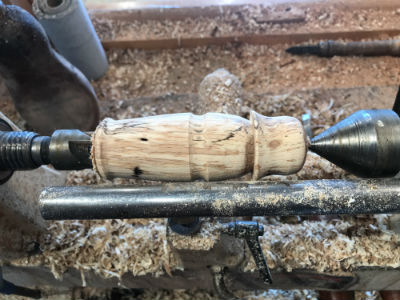 The end result is far better than an inert magic wand that "cleans your room, does your homework, and takes out the trash." This on-demand, personally requested, and uniquely designed wooden doll can grow into a name, an imaginative identity, and even a family history of similar nature-decorated, individually embellished dolls, all magically produced from a common small section of a tree branch.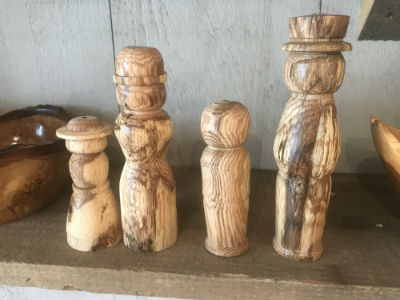 This summer's new addition to the demonstrations has been a success for a number of young people visiting the Wilson Museum, and the members of the staff have added to this display Oak Family's complete history with names, backgrounds, education levels, and even hobbies.

I know and admire several significant woodturner/sculpture-artists who imagine and envision their next work, search for just the right piece of wood to turn, figure out how to set it up and turn it to achieve their vision, and accomplish that goal. I am in company with other engaging woodturners who find an interesting piece of wood, mount it safely (or not) on the lathe, and say to themselves "I wonder what I will make from this wonderful piece of wood?" From the raw pieces of partially rotted branches of oak in my woodlot, I have an harvest of oak blanks from which I have turned many small dolls this summer, igniting the imagination and delight of my youthful audience. How could this be any more rewarding?

More Woodturning Articles: The Highland Woodturner Archive includes a broad array of excellent articles dedicated to woodturning and woodturned projects that you might find interesting.



Click here to browse through Highland Woodworking's Woodturning department

---
Located in Castine, Maine, Highlands Woodturning gallery and shop offers woodturning classes and shop time, a gallery of woodturned art, custom woodturning for repairs, renovations, and architectural installations. You can email Temple at temple@highlandswoodturning.com. Take a look at Temple's Website at http://www.highlandswoodturning.com/