Click on any picture to see a larger version.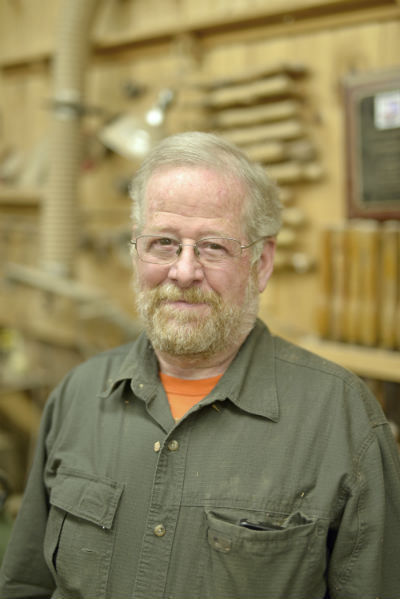 Photo by On-Point Photography
Welcome to the inaugural article of "Turning the Corner" a pilot column for the monthly Wood News Online with a focus on using woodturning on the lathe as a way of enhancing cabinetry, furniture designs, and architectural installations. In each article, I anticipate including an important woodworking book to read (reread or listen to), and a link to an appropriate article from the Highland Woodturner. Along the way, this and future articles seek to inspire woodworkers (cabinetmakers, carpenters, and housewrights) to extend their skills into basic, novice, and advanced woodturning while discovering for themselves this particularly sensual and spiritually rewarding dimension of working with wood.
Some time ago, I was approached by one of our local custom boat-building yards to help them out with a challenge. The designers had created a complex, fairly large teak molding for a new high-end boat for which they had made a custom cutter for their massive commercial shaper. The problem was that the molding needed to make four 90 degree outside corners which clearly on the shaper would be a challenge to accomplish safely because of the narrow throat, broad spinning shaper blades, and limited support for the small block of wood.

The solution from my perspective as a woodturner was fairly obvious. Working in my shop with one of their talented boatbuilders and measuring from a straight sample section of the new molding, I turned a full-size, fully-round profile of their teak molding using several scraping chisels in the tradition of professional pattern-makers...my apprentice had no time for method training. Most of our time together was spent discussing various methods of mounting the work, safety at the lathe, and the understanding of sharpening the scrapers to achieve a clean cut. He was an exceptional student, and we turned a second, just-in-case copy with him doing the work applying the measurements and tools. When our turned profile was complete and finish sanded, we sawed it like a pie into four even quadrants, each one representing the outside corner of the molding profile, and he took it back to the yard for successful installation.

Since that time, I understand that my apprentice has regularly used the lathe in their boat-building shop to turn those outside corners on a variety of custom moldings with great success. Although he has no real interest in pursuing other aspects of woodturning, his new skills expand his effectiveness as a builder, and he saves valuable time completing his work by being able to do the work when he needs it rather than subbing it out.

As a woodturner, I have often been asked to prepare the turnings for cabinet and furniture makers. While these are frequently small finials, stretchers, and decorative pieces, I have also turned major parts for pieces of new furniture. One extremely talented German furniture craftsman asked me to turn the parts for his commission, a king-size cannon-ball bed with a custom taller height. He supplied the wood and drawings, I supplied the long-bed lathe and turnings.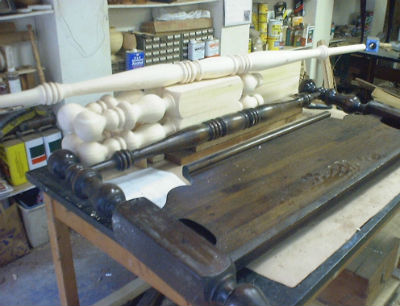 In spite of my efforts to persuade him that for about the same money I could teach him to turn his own bed-parts, he was determined to have me make the turnings and he would make and assemble the rest of the bed. We did as he wanted, and his customer was delighted. I contend that he would have been enriched as a craftsman if he had been willing to let me work with him and challenged himself. In the picture above, the dark pieces are the queen Bed he was asked to make over as a king.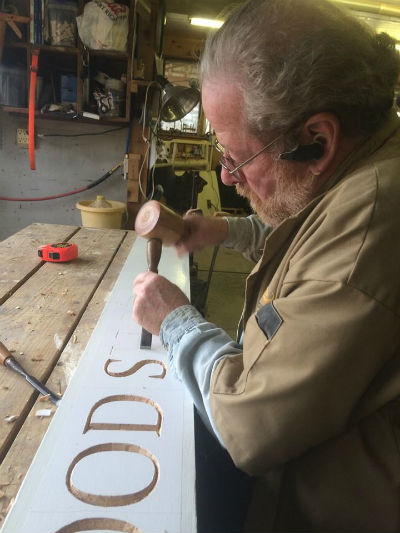 Photo by Victoria


From a different perspective, as I work to connect my woodturning passion with my pleasure pursuing my living working in wood more generally, in a remote part of rural, coastal mid-Maine, I expanded the classes I teach in my shop beyond woodturning to include such locally high-interest projects as sign-carving, hand-cut dovetail boxes, and (in collaboration with other skilled instructors) half-model carving, hand-carved oars and paddles. In coastal Maine we are a boating/water-oriented community. I also offer an assortment of projects designed to teach young school-aged students and some newly retired students the tools, techniques, skills and pleasure of working wood with high-quality tools.

Working in wood, especially with the hands-on experience of a well-tuned chisel, spokeshave, or plane is very satisfying to many of us as we feel the pleasure of a well-sharpened and well-applied blade sliding through the grain leaving a shiny, smooth new surface. Working steadily at a variety of projects adds the opportunity to rehearse a variety of skills and grow as a craftsperson woodworker as well as a person. An interest in woodturning often grows from attracting new folks to more generalized woodworking. Many find that the comradery of being together (particularly in our cold and isolating, long Maine winter), the personal challenges of learning new skills using high-quality tools and well-chosen wood, and the personal growth/self-fulfillment/satisfaction of completing a new woodworking project all make this a rewarding pursuit for both my students and for myself. I look forward to sharing some of those experiences over the coming months.

This month's book recommendation to read or inspiring re-read: A Reverence for Wood by Eric Sloan.

Article link: Turning Cherry Bed Posts.



Click here to browse through Highland Woodworking's Woodturning department

---
Located in Castine, Maine, Highlands Woodturning gallery and shop offers woodturning classes and shop time, a gallery of woodturned art, custom woodturning for repairs, renovations, and architectural installations. You can email Temple at temple@highlandswoodturning.com. Take a look at Temple's Website at http://www.highlandswoodturning.com/