Click on any picture to see a larger version.
Picnic tables for squirrels. Model railroad sets being brought out of storage. The coronavirus crisis is changing what we do with our spare time. Out here in beautiful Colorado, the sheriff at the trailhead says we can't all go hiking when we want. The City closed the playgrounds and the rec center and the library. What are we going to do? The April Woodworking poll asked, "How are you spending your time at home?" The two top answers were "working on shop improvements" and "working on long-term projects." One reader noted he finally had the time to finish a project with 84 dovetails!

In the 1930s people faced a similar situation with a dramatic change in leisure time. We all know about the incredible unemployment during the Depression (20-25% for several years). There was also significant underemployment. The National Recovery Act pushed many industries to reduce the hourly work week with the intent of creating more jobs or minimizing layoffs. One data series estimates the average workweek in US manufacturing dropped from about 48 hrs per week (1929) to 34 hrs per week (1934). People were looking for ways to fill their time with meaningful activity and many were looking for ways to find supplemental income.

Much like our current headlines about new-found interests and activities, the 1930s were a boom for home crafts and leisure activity. Look at some of the classic DIY magazines from the era (links below to Popular Science Monthly and Popular Mechanics). Home chemistry labs, photography, art, microscopy, and shopwork had regular "how-to" features and project plans. Specialty magazines like Home Craftsman (started in 1931) and Popular Homecraft (started in 1930) offered people lots of project ideas and tips. Jigsaw puzzles (cut from wood with the new electric scroll saws) were advertised as a way to cash in on the puzzle craze.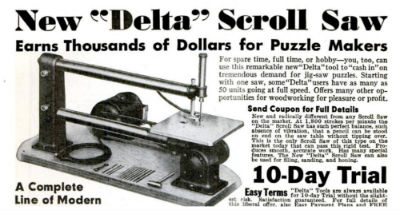 Figure 1 . Delta scroll saw ad from 1934 tying into the hand-cut
jigsaw puzzle craze of the time.


While the Depression gave people time to spend on hobbies, another important driver was the development of homeshop power tools. Delta Mfg Co was an early player in fractional horsepower shop tools. In 1930 they published "The Modern Motor-driven Woodworking Shop" with illustrations of ways to set up your dream workshop. Chapter 1 is titled, "The Value of a Workshop" and describes four primary benefits: 1) as a hobby, 2) for inventive and creative development, 3) educational value, and 4) profit derived from the workshop. A basic powertool setup included a tablesaw, a lathe, and maybe a bandsaw or jointer.

In 1934 the Rockford, IL workshop club started a new organization called the National Homeworkshop Guild (NHG). Their mission was "To promote and encourage the formation of clubs for the advancement of all classes of what may be called "homecraft" - all types of home workshop activities and all branches of amateur craftsmanship." In the first month, seven local clubs started under the NHG banner—Topeka, KS; Dixon, IL; Silverton, CO; Cody, WY; Amarillo, TX; Cincinnati, OH; and Fairfield, AL. Within 5 years there were over 300 affiliated local clubs. Popular Science Monthly was the official "magazine" of the Guild and featured regular news from clubs around the country.


Grandpa Rummer's workshop was a product of that time. He had a corner of the low-ceiling basement set aside for shop work. There was a long heavy workbench along one wall, a bench drill press, and a tilting top tablesaw. He had an old washing machine motor set up that he could use as a lathe on the workbench. Lots of glass jars hanging from the ceiling joists with odds and ends of screws and hardware, a low rolling assembly table for working on furniture, and his chair. The light in the center of the shop had a long pull string that ran across the ceiling to the door and Grandpa would use his cane to reach up and hook the string to turn on the light when we went down there. Dad wrote, "This house had a basement that I enjoyed tinkering in. Dad and I spent many happy hours there." Figure 2 in the Modern Motor-driven Woodworking shop (below) shows Grandpa Rummer's workshop - maybe a bit brighter and Grandpa wore a shop coat instead of an apron - but that was the glossy version of the happy place that Dad was talking about. This shop turned out boat models and clocks and furniture and soapbox racers.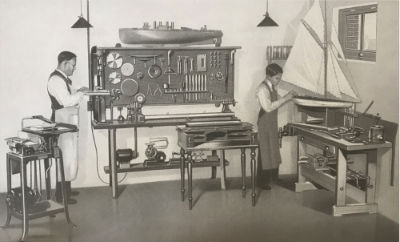 Figure 2. A 1930s workshop from the Delta Mfg Co guidebook.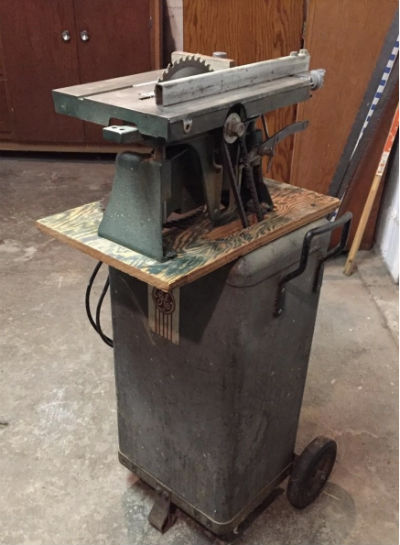 Figure 3. Grandpa Rummer's 1930s tablesaw,
mounted on an old battery charger stand.


The explosion of the home craft movement in the 1930s was certainly driven by the combination of new leisure time and the availability of new home-scale power shop equipment. But why were people motivated to take up woodworking or metalwork or quilting or weaving with their extra time? Steven Gelber, in his excellent review of American leisure (Gelber 1999), suggests that there is something special about such hobbies. Activities like woodworking are a lot like work - they aren't always entertaining, they can be challenging and frustrating, we commit long hours to completing the projects — to get the job done. Austen Fox Riggs, a psychiatrist that studied stress and work, said of hobbies, "In form it resembles work, but its spirit is that of play; it stands half-way, one might say, between the two and it may be the offspring of either."

Gelber discusses the idea that hobbies may be our attempt to find the perfect job. In our daily work most of us earn a living doing what someone else tells us to do. We are a cog in the machine of manufacturing or business. We work the hours we are told to work, we submit to the performance reviews of management, we accept the imposition of deadlines that require us to work on weekends and holidays, and the final product of our labor disappears out the door to some unknown consumer. In philosophy this is called the "alienation of labor" — a separation of our core being when we check our initiative and creativity at the workroom door.

Contrast that to your woodworking. You get to say when and how, you design and change your mind, you get to present the final product to the "customer." We work at our hobby and the compensation is pleasure and personal satisfaction rather than soul-less money. It is a pure and perfect way to spend our productive energy that engages our whole selves. Because we freely choose to spend our time in the woodshop, it is "a job that can't be lost" according to Gelber.

The home workshop movement took off in the Depression because people had the time and the tools. A whole support community grew up around that with magazines and plans and clubs and suppliers. I wonder, as I scan through old issues of Popular Science, what about our situation? Could we be on the cusp of a new revival of home workshops? A few quick takeaways for me:

a) Be ready to share your woodworking with newbies. Architectural Digest just ran an article on millennials discovering shopwork. What if the woodworking community doubled in size over the next 5 years? How would that change your world?

b) Join your local woodworking community. This could be a local club (mostly shut down right now), but it can also be things like online woodworking forums. Get to know some other woodworkers and share your knowledge, projects, and interests. Post some pictures on Instagram.

c) Finally, what a blessing to have the perfect "Job I Can't Lose" waiting for me in the shop. The more I read about craft and psychology and history, the more I appreciate the deep and meaningful place woodworking plays in our lives.

Punch in to your shop and have some woodworking fun and stay safe.

References

*Gelber, S. 1999. Hobbies: Leisure and the Culture of Work in the United States. Columbia University Press. 400 p.
*McInnis, R. A History of Woodworking. Accessed online at: Woodworking History
*Rutledge, A. 1933. Here's a job you can't lose. American Magazine, 116 (November): 80.
*Tauts, H.E. and Fruits, C.J. 1930. The Modern Motor-driven Woodworking Shop: How to plan, operate, and get the most out of it. Delta Manufacturing Co., Milwaukee, WI. 127 p.
*Popular Science Monthly. Back issues available for free on Google Books. 1872-2009
*Popular Mechanics. Back issues on Google Books. 1905-2005
---
Bob Rummer lives in Colorado and is a part-time woodworker. He can be reached directly via email at rummersohne@gmail.com. You can see his shop and some of his work at www.JRummerSons.com.