First off, I am, without a doubt, a woodturner and not a furniture designer or craftsman. Like my boatbuilder son, I prefer my wood round with curves. I am daunted by things flat, 90 and 180 degrees, and jointed other than with an internal pin and a matching diameter. I do my best to avoid nails and screws, which are lethal in my turning environment. My dusty tablesaw lives back in the corner of my shop and typically supports all manner of squared spindle blanks, rough log bowl blank sections, and other things that I have no other place for. But on occasion, such as this fall, a friend (and persuasive talker) has again pushed me out of my comfort zone, especially when she explained the surprise planned for her husband (also my friend and a fabulous restauranteur/chef).

Thus "encouraged" by my friend's sweet-talking words, I agreed to the challenge to "help her" create the best kind of advent calendar, a little cartoon-style "Advent Christmas House" to be filled with a variety of fine wines hidden behind a numbered cover for each of the 24 days of Advent in December and a special bottle of champagne for the New Year celebration. Not being fond of or talented with color choice and painting, I made sure that the deal included someone else designing and wildly decorating the ultimate "family heirloom" project.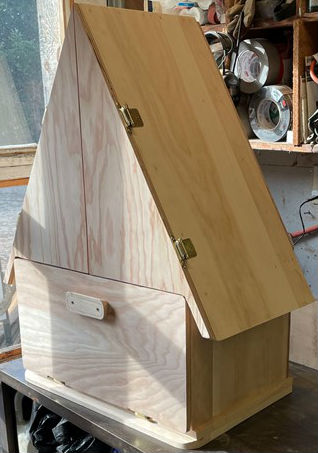 Years ago, I learned that designing a house from the inside out might ultimately end up creating potential disaster, such as a staircase crossing a front view window or an awkward roof-intersection that traps everything that falls from the sky. But this time, working with my friend (who initially promised to be present and work with me on the build), I realized that the project needed to be planned from the inside out to incorporate a tight fitting of the planned 24 bottles of wine with the lower set of cubbies narrow enough at 3-1/4" for a typical bottle and the upper set able to accommodate the larger bottles at 4", all to be hidden behind closed doors.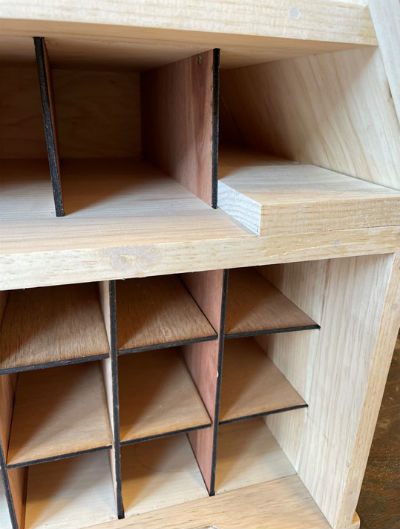 The critical design and structural element was to figure out how to make the cubbies for each bottle, and how to arrange the bottles allowing for a house shape so that number 24 would be on top with a space above for a large bottle of champagne.

After studying the arrangement of cardboard cuts in a typical case of wine, I cut out similar shapes in 1/4" lauan with a planned measure that allowed for 1/4" extra on each end to be set in a dado cut in the 1 X 12 pine boards that would become the house frame, upper floors, and roof. This worked out extremely well, somewhat to my surprise, and that took care of the first 18 bottles – the "foundation" to make this project stable and solid. Cutting the same 1/4" lauan individual sheets for the larger bottles above and staggering them across the three floors was a simple measure and brought the bottle cubby count to the desired 24 plus one. By making all of the lauan vertical walls 11" long, I could allow the neck of each bottle to extend out for the individual numbered covers that my client planned.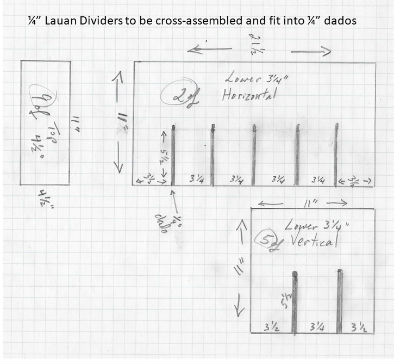 Joining a 3-3/4" board to the outside front frame, floors and roof effectively trapped each of the lauan dividers in place, left the bottle necks exposed, and provided a solid mount for the hinged front lower door and divided upper roof-door sections. I was lucky enough to find hinges that, by their internal magnets, force the doors shut as well as hold them open, particularly important for the upper pair of doors hinged to the roof.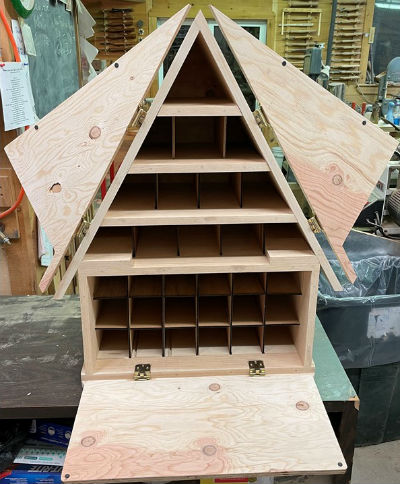 My lovely and persuasive client ultimately was not able to join me for the actual build, but working with her via text and email, the project evolved rapidly.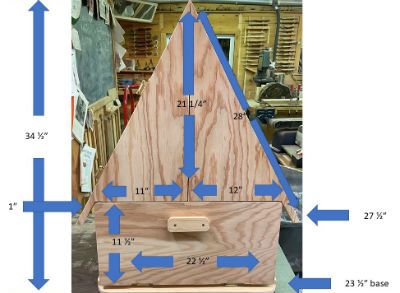 At one point, my wife stopped by, questioned if the cubbies were large enough for a wine bottle, and after slipping an actual bottle in, she declared the sizing exactly right.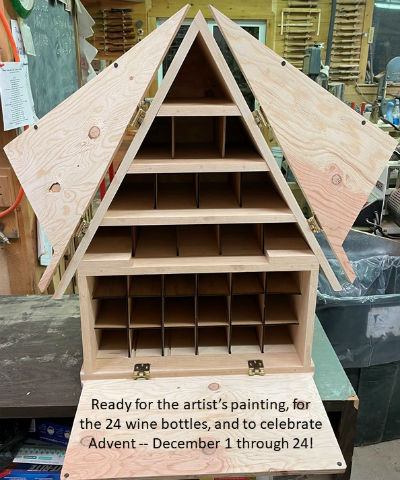 When complete, I thought long and hard about knobs and handles, deciding eventually on a single handle on the lower door that would be a support when the door was open (making it a shelf).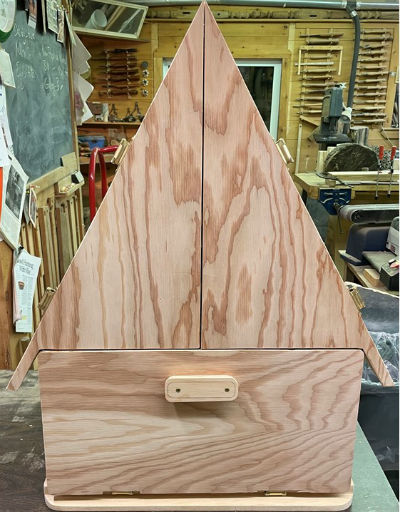 My client arrived, thrilled with the project and eager to move to the decorating stage, which ultimately she decided to do herself.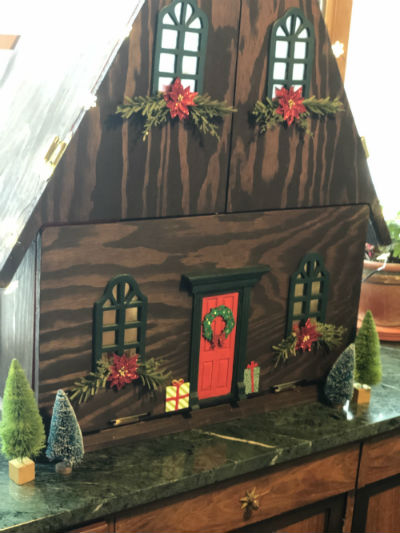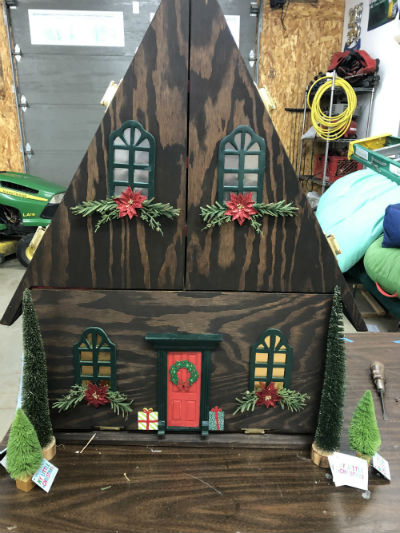 Once it was stained and enhanced, which clearly improved the look and moved the client's original vision to the "family heirloom" level, she stocked it with her carefully selected collection of fine wines, "masked" the bottle identities, and tagged each with its unique number.

Having completed the first one, I can already see ways to easily make the project more efficient and design-pleasing, but given the time crunch to the December 1 deadline and the enthusiastic delight my client expressed when she picked it up (and her subsequent enhancement), this one worked out pretty well.


---
Located in Castine, Maine, Highlands Woodturning gallery and shop offers woodturning classes and shop time, a gallery of woodturned art, custom woodturning for repairs, renovations, and architectural installations. You can email Temple at temple@highlandswoodturning.com. Take a look at Temple's Website at http://www.highlandswoodturning.com/