Here's My Woodworking!
By Ben Tyler
Vacaville, CA

My first stint into woodworking was in middle school. I made a few things in wood shop and thoroughly enjoyed it. I don't know why but I never pursued it when I went into high school. In the mid 80's, I watched a program on PBS about hand carving carousel horses. At the time there was a tree being removed on our property and I saved a few pieces and I thought I might try my hand at carving. What I hadn't learned yet was the proper way to dry out wood so it doesn't check and split...so the pieces I saved ended up being firewood. Jump to 1999 when I moved to Pennsylvania. I was tearing down an old shed and dividing the materials to recycle: steel, aluminum and wood, which I was going to burn in our fire pit. My niece Kayla looked at me and asked what I was going to do with all of the wood. I looked at the wood and looked at her and said I was going to build something. I did some research on the web and started making door harps. I just wish I had kept with it when I was younger.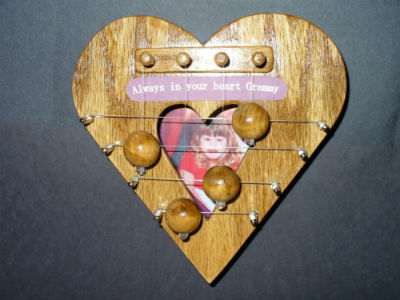 A heart door harp I made for my ex-wife. That is my granddaughter in the pic. It is maybe
the third thing I ever made.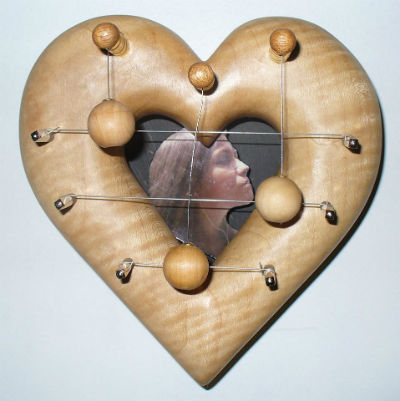 A door harp I made for my Step-nieces Mom, pictured is Kayla who had passed away.


My girlfriend and I were visiting my daughter and they were discussing the upcoming second birthday party for my grandson, Max. I have never been one for party planning so I was just kind of there. When my daughter mentioned it was going to be pirate themed I knew instantly that I wanted to make him a pirate ship. My daughter then said she was going to have nesting boxes made in a pirate theme for cupcakes. I thought for a few seconds and told my daughter not to worry about the nesting boxes and I would take care of it. I thought in my mind I wanted to make a multi tiered cupcake stand. I have to say it came out 95 percent what I saw in my mind. During the build I decide it needed a Lego pirate. I searched all over for plans for a pirate ship for the scroll saw or in intarsia and could not find anything. I finally settled on a cartoon picture that I used for my inspiration.




Below are some more projects I've made: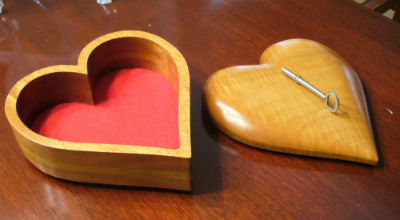 A jewelry box I made for my girlfriend. It has an antique key embedded in the lid.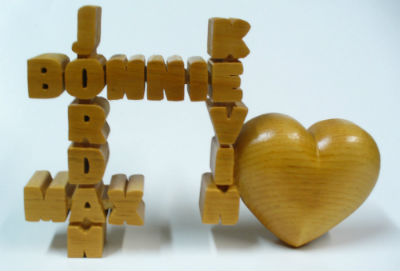 I made this project for my daughter and her family.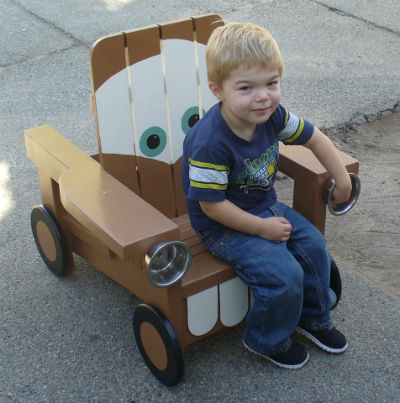 An Adirondack chair I made for my grandson from a plan I got on the web.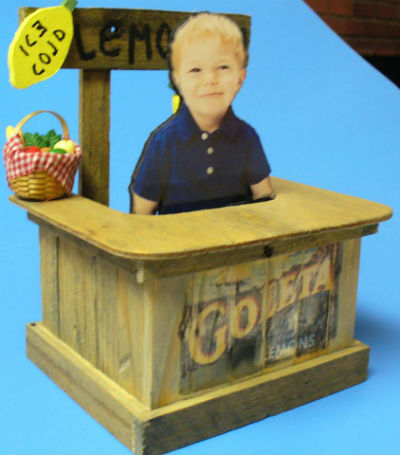 A diorama I made for my daughter.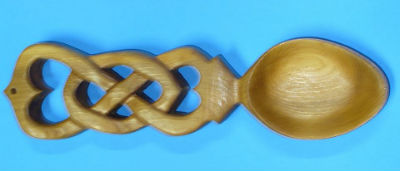 A Celtic spoon I made for my girlfriend.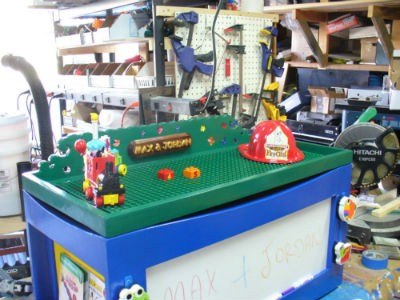 A toy box I made from a plan for my grandchildren.
---
Ben can be reached by email at btyler5360@yahoo.com.
Return to the Wood News Online front page
Woodworking Submissions

Would you like for your woodworking projects to appear in this column? We invite you to SEND US PHOTOS of your woodworking projects along with captions and a brief history and description of your woodworking. (Email photos at 800x600 resolution.) Receive a $50 store credit redeemable towards merchandise if we show your woodworking in a future issue.

Click here to submit
your woodworking projects




Show Us Your Woodworking
Archive Gallery

Want to see more woodworking projects? Check out our gallery of past Show Us Your Woodworking Columns from previous issues of Wood News Online.

Click here to view our archive gallery



Click the images below to visit some of our most popular tool departments
| | | | | | | |
| --- | --- | --- | --- | --- | --- | --- |
| | | | | | | |
| Finishing | Books | Clearance | Festool | Planes | Sharpening | Wood Turning |
Highland Woodworking
1045 N. Highland Ave. NE
Atlanta, Georgia 30306
Tel. 800-241-6748
Email us at email@highlandwoodworking.com
Visit us on the web at www.highlandwoodworking.com
Copyright © 2019 Highland Hardware, Inc.

Errors regarding pricing and specifications are subject to correction.
SOME SALE QUANTITIES MAY SELL OUT and become unavailable at the advertised price.