Here's My Woodworking!
By Bud Brook
Kennesaw, GA
My interest in working with wood began at an early age. I built my first project at the age of 10. It was an entertainment stand built out of 2 x 4s. It was a Christmas gift for my uncle and my father supervised the build. He was the Chief of Construction at the CDC in Atlanta for over 30 years and my grandfather was a master craftsman all of his life. Woodworking is definitely in my blood. I had architectural drafting in high school and college courses as well.

I worked construction jobs during the summers when I was in high school and years later I worked part-time at an Art Gallery, building picture frames. I also really enjoyed the Woodsmith Shop and watching Norm Abrams in The New Yankee Workshop. Over the years I would do small projects until my children moved out and then I decided to get serious with my woodworking.

I get project ideas from several different magazines, books and over the internet. I then design my own version, emphasizing simple but strong joinery, quality woods and durable finishes.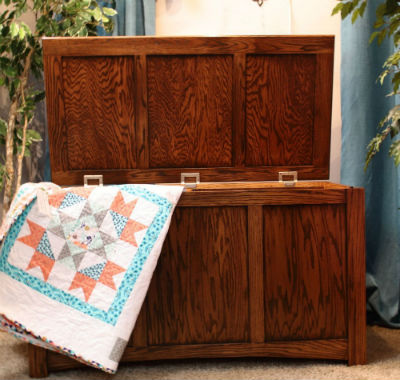 This blanket/wedding chest is one of my favorite projects and is built out of red oak and aromatic cedar, with a nutmeg stain and a java glaze. It also has a removable tray. The dimensions are 46" W x 24" H x 24" D. My mother makes beautiful quilts and her work has provided the main inspiration for this chest.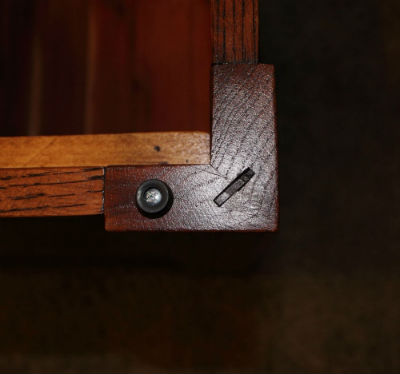 I started by milling all the wood to size. Then I began with the corners. They are 1" thick with splined miters for joinery. I used poplar for the spline, mainly for alignment, but it also improves the strength of the joint as well. Then, the front, back and sides are all frame and panel construction using mortise and tenon joinery.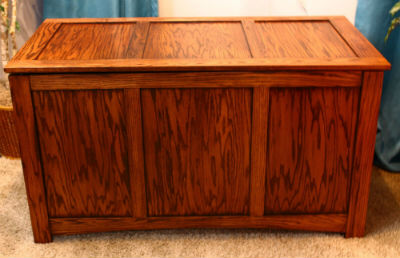 The rails and stiles are all 3/4" thick with 1/4" plywood panels. The stiles are offset from the corners, so extra care was taken to make sure the grooves and the mortises in the corners aligned correctly with the stiles. After the dry fit, I glued up the front, back and sides panels separately and then glued the whole chest together at the mitered corners.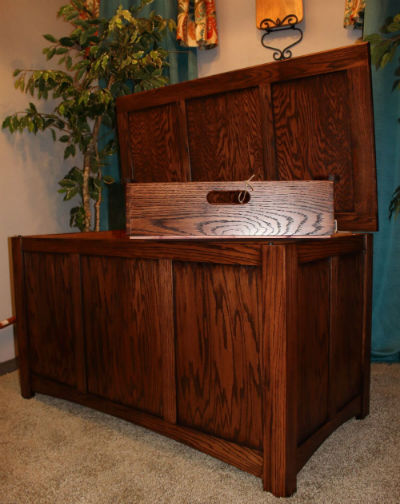 The top is just simple frame and panel construction as well, with stay-lid torsion hinges. The bottom is built out of aromatic cedar using ship lapped joinery. I used poplar cleats to nail the boards to. The tray is built out of red oak using dovetail joinery. It has an aromatic cedar bottom as well. The tray has cut outs for handles and rides on poplar cleats attached to the side.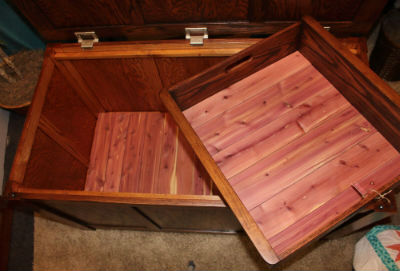 The chest is finished with a nutmeg stain, followed by 2 coats of shellac. Then a java glaze followed by a polyurethane finish.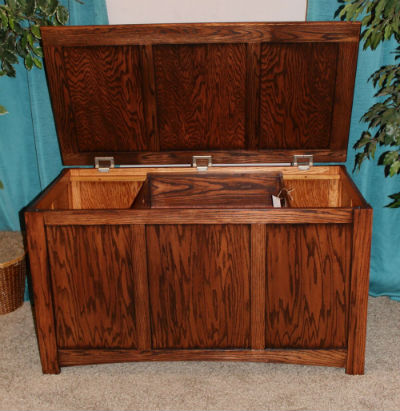 Below are more of my favorite projects that I have designed.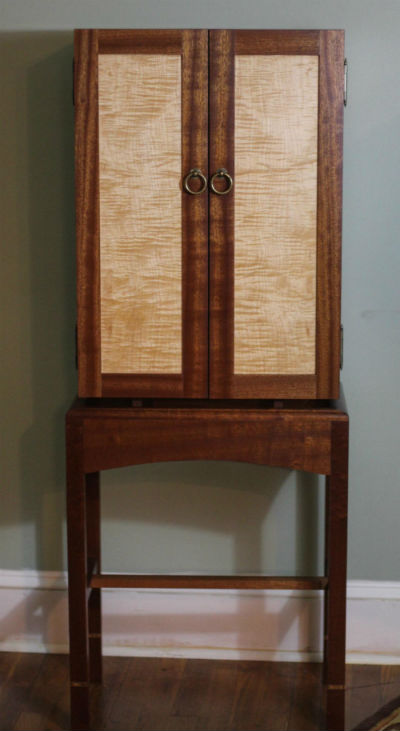 My most recent project is this Jewelry Cabinet on a Stand. It is built out of Sapele, curly maple veneers and zebrawood. This James Krenov inspired cabinet has hand cut dovetail joinery and is mounted to the stand on inner braces to create the illusion of a floating cabinet. I used stop dado joinery for the dividers to hold the 4 drawers and the shelf. The 4 drawers have zebrawood fronts as well as hand cut dovetail joinery with black velvet jewelry compartments. The stand has mortise and tenon joinery. The legs also have zebrawood inlay. The cabinet doors and back are frame and panel joinery, with Sapele frames and bookmatched curly maple veneered panels. The 3 necklace carousels can hold more than 18 necklaces. There are also 4 bracelet/necklace holders on both sides of the cabinet. The 2 small drawers each can hold 35 rings. The 2 large drawers have 6 compartments that can hold numerous earrings, bracelets, watches, and/or other treasures. The dimensions are 21"W x 54"H x 12-1/2"D. This was a challenging project that I really enjoyed building.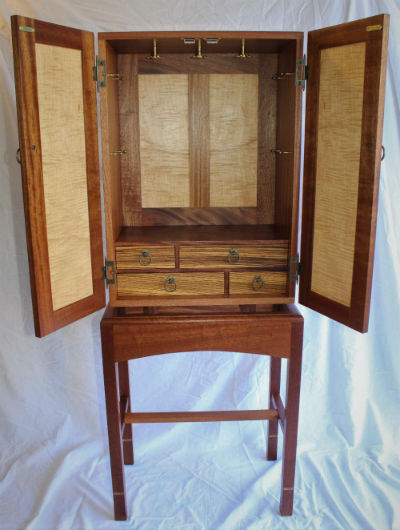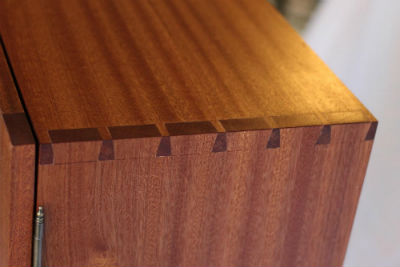 Another challenging project was this round cherry accent table. It is built out of cherry, curly cherry veneers and pine. It has hand carved legs and a brick layered apron made from pine and curly cherry veneers. The top is 16" and the bottom shelf is 11". The height is 24".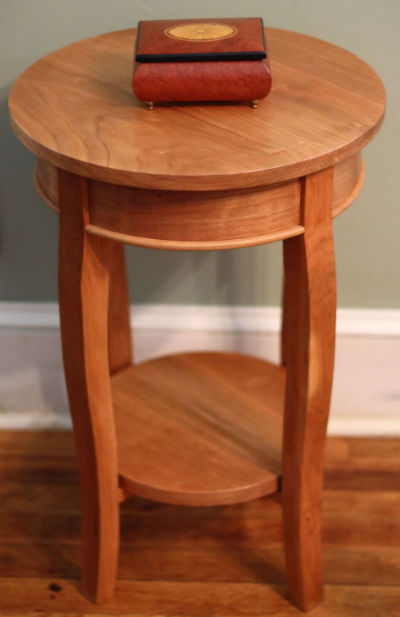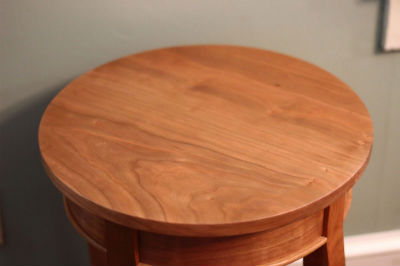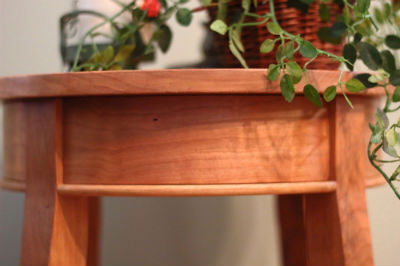 This kitchen pantry cabinet is built out of furniture grade pine, with an early american stain and a java glaze. It has plenty of storage with 4 raised panel doors and different sized shelving to accommodate many items. The raised panel doors and the crown cove molding were cut on the table saw. I designed it to be a country pantry with a modern feel to it. The dimensions are 71"H x 30"W x 16"D.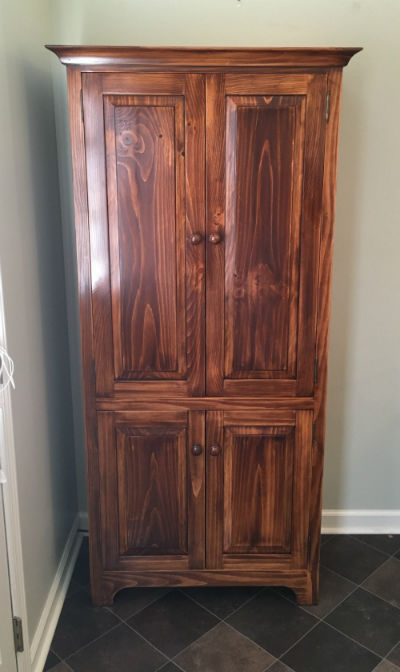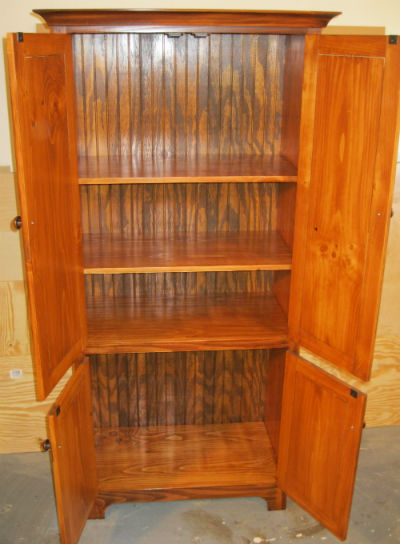 The bathroom wall cabinet is built out of birch and poplar with a custom gel stain. It has a drawer at the bottom and an adjustable shelf inside the 2 doors for storage. It is mounted using a French cleat. The dimensions are 28"H x 20"W x 7"D.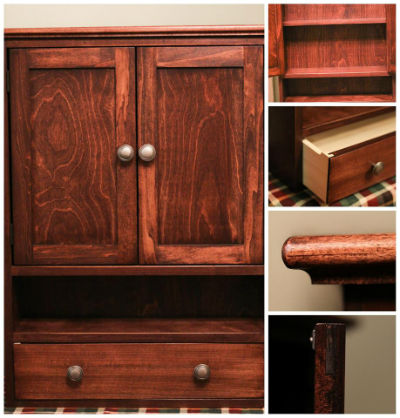 This wine cabinet is built out of birch and poplar with a cherry gel stain, shellac and polyurethane finish. It will hold 12 bottles of wine and up to 18 wine glasses. It also has to 2 drawers for bottle openers or other items. The dimensions are 36"W x 36"H x 13"D.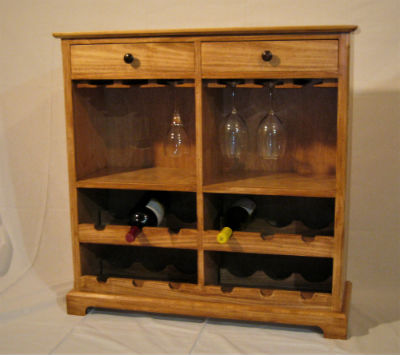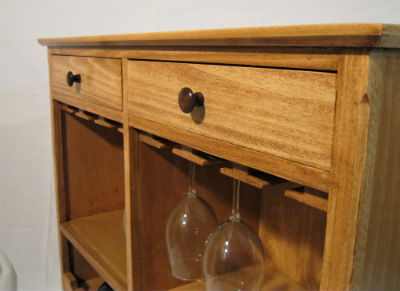 My goal is to keep learning as much as I can about woodworking and building quality furniture that people can enjoy for years to come. My shop does custom work by commission, so feel free to contact me (email and website are listed below) for your own custom design.


---
Bud can be reached by email at budbrook@att.net. You can see more of Bud's woodworking on his Etsy site. You can also visit his Facebook page.
Return to the Wood News Online front page
Woodworking Submissions

Would you like for your woodworking projects to appear in this column? We invite you to SEND US PHOTOS of your woodworking projects along with captions and a brief history and description of your woodworking. (Email photos at 800x600 resolution.) Receive a $50 store credit redeemable towards merchandise if we show your woodworking in a future issue.

Click here to submit
your woodworking projects




Show Us Your Woodworking
Archive Gallery

Want to see more woodworking projects? Check out our gallery of past Show Us Your Woodworking Columns from previous issues of Wood News Online.

Click here to view our archive gallery



Click the images below to visit some of our most popular tool departments
| | | | | | | |
| --- | --- | --- | --- | --- | --- | --- |
| | | | | | | |
| Finishing | Books | Clearance | Festool | Planes | Sharpening | Wood Turning |
Highland Woodworking
1045 N. Highland Ave. NE
Atlanta, Georgia 30306
Tel. 800-241-6748
Email us at email@highlandwoodworking.com
Visit us on the web at www.highlandwoodworking.com
Copyright © 2019 Highland Hardware, Inc.

Errors regarding pricing and specifications are subject to correction.
SOME SALE QUANTITIES MAY SELL OUT and become unavailable at the advertised price.