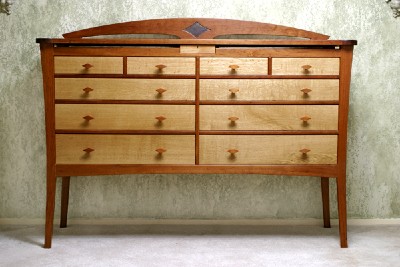 My first designed piece. Cherry and quarter sawn White Oak, with
distressed metal top and inlay. Drawer pulls are hand carved
Mahogany. Finished with a hand-rubbed wax.


I have been making furniture for about 8 years. I was a Creative Director/Designer in advertising for 40+ years at my own small agency. In 2003, I needed a dresser and could not find anything I liked that was well-made and what I did see was expensive and poorly made. The father of a man who was working for me at the time was a master furniture maker and I asked him if he would be willing to build something I designed and he agreed. When the piece was delivered, I was so blown away by it that I knew this is was what I wanted to do. For ten years, I designed pieces for clients and had other people build them for me until I designed something that couldn't be built as I had designed it, because I knew nothing about how joinery worked! I was designing from a purely visual standpoint. It was then that I decided I had to "go to school" if I was serious about being a furniture designer. In 2012, I dissolved my advertising business and began my first apprenticeship with Master Furniture Maker, Phillip Sell, in Wimberley, Texas.


I never expected that I would fall completely in love with woodworking, but that's what happened. At the end of my first year, Phillip challenged me to build a piece for the Texas Furniture Makers' Show, and with his guidance, I built a bed I had designed some years earlier (see the Dibello Bed below). I ended up winning my "Apprentice" category, and when the judges found out I was a first year apprentice, they created a "Special Judges Award", and presented me with that ribbon as well.

At about that time, I began my second apprenticeship in Fine Art Wood Marquetry with Master Artist, Spider Johnson, in Mason, Texas. I took to that so quickly that after a couple of years, we became business partners, making fine art and furniture together. (We've won a bunch of awards at the Texas Furniture Makers' Show as well).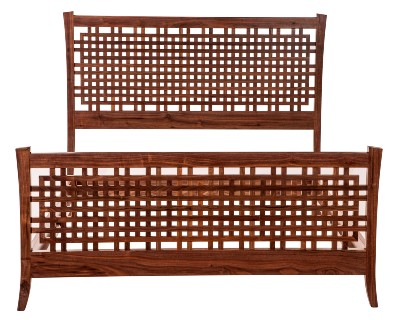 DIBELLO BED: First design/build. Queen bed frame in Solid Walnut.
Spray-Finished with conversion varnish.



I have since continued to learn with Master Furniture Maker friends. I quickly learned that we are a family, always willing to help one another in all kinds of ways. They have all allowed me to build in their shops when I had a job to do. Then, last year, my husband had a shop built for me at the back of our property. I now have a commute of 135 steps from my back door to the tools I need to make furniture and marquetry. Truly my dream come true!

Below are some more of my projects with descriptions.

TRANSITION:EQUINOXES


This is a collaboration with Spider Johnson for the Texas Furniture Makers' Show. There are two transitions expressed in this piece: From the raw wood at the bottom up through the sculpted base to the refined cabinet with meticulous wood marquetry. The second transition is revealed as the cabinet is opened, which moves the viewer from Autumn into Spring.


SPECTOR COFFEE TABLE


This is a solid Walnut live edge slab. The legs were turned by Bert Johansen from Austin, Texas. The table is finished with Waterlox, and then rubbed with Liberon Wax.


CHRISTOPHER BED AND HEADBOARD


This client wanted a very rustic King platform bed and a woven leather oversized headboard, 10.5' wide x 58" high. I decided on White Oak, which worked well with the Japanese Shou Sugi Ban method of wood burning to create a wonderful rustic texture for the bed and headboard frame. The platform frame has large box joints, and the headboard frame uses bridle joints. The heavy hides were cut into strips and woven. I chose hides that had scars and even brands on them, as opposed to upholstery leather, to keep the feel rustic. The piece is finished with General Finishes Flat Out Flat, with black aniline dye added.


MYERS HEADBOARD


This headboard is made out of solid, book matched Texas Pecan slabs with live edge top and bottom, and solid Pecan cantilevered night stands with dove-tailed drawers (even the drawer bottoms are Pecan). I used bow tie joints to reinforce a large crack at one end, also made of the same Pecan (I didn't want to call attention to them by using a contrasting wood). The piece is finished with General Finishes Sanding sealer and Arm-R-Seal Topcoat. A fun part of this project was that, before flattening, the boards were scanned at the mill and they pulled out THIRTY bullets! I polished up three of the largest bullets and put them back in before doing the epoxy work. The client LOVED it and has already made up some great Texas Ranger stories to tell about his piece!



---
Cindy can be reached directly via email at cindy@cavudesign.com. You can also visit her woodworking website here and her marquetry website here.
Return to the Wood News Online front page