Click on any picture to see a larger version.
I wanted to present some thoughts about wood selection for a project. I recently taught a class on building a Keepsake Box and the class is geared towards moderately experienced woodworkers. It is a two day class and I usually make a box along with the students so I can show them each step on my box and they can repeat that step on their boxes. At the beginning of the class there is usually a pile of rough cut wood on the workbench that the students can look at and get an idea of what we will be using.

I recently overheard one of the students in my class say, "geez, I hope I don't have to use this board because it is all messed up and looks a little crappy." At the end of the class the same student looked at me and said, "you know, I didn't like that piece of wood before the class but it looks amazing on that box." Below is a picture of the Ambrosia Maple Keepsake Box put together at the end of the class before any final sanding and finishing.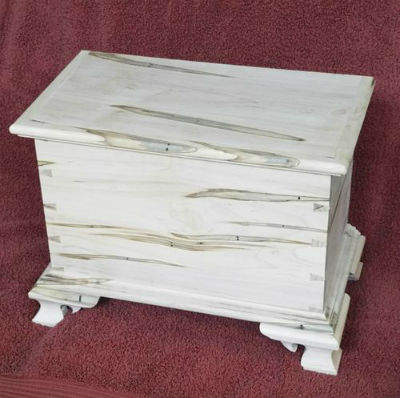 On the way home I was thinking about what the student said and thought it would make an interesting discussion article. One of the points I usually make during the class is that one person's defect is another person's feature. For example, if you go into a large commercial furniture store they will have some very nice looking furniture using, maple, walnut, or cherry among other woods and when you pick out a piece of furniture to order, via a piece on the floor or through a catalog, you want your piece to look like the model. Below is an example of a coffee table we bought a long time ago from a furniture store.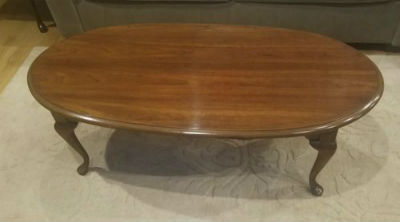 It is a traditional style cherry table and probably looks like 1000 other cherry coffee tables. Manufacturers of this furniture want plain, vanilla looking wood that makes each piece repeatable. Any kind of figure, knots, worm tracks or other 'markings' are considered defects and discarded. However, you as a custom woodworker can take advantage of all those 'defects' and add character to your pieces. Their waste is your prized possession!

Professional custom woodworkers can use these defects, which I will now call features, to their advantage. I am very good friends with Charles Neil, a professional woodworker here in Virginia, who has made a career out of using extremely outstanding woods like Tiger Maple to set his furniture apart from other woodworkers. Below is an example of a corner cupboard he made using Tiger Maple.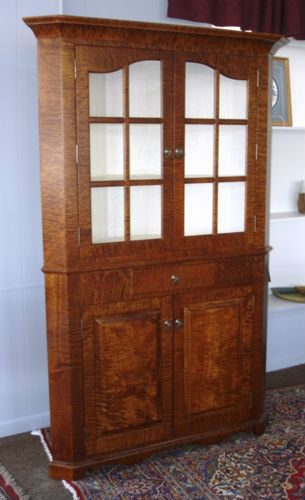 Although Charles has added some of his own details to the design, this can be considered a typical corner cupboard. What sets it apart is the selection of the wood and the enhanced finishing to highlight the features in the wood. You, making your own furniture in your shop, have the opportunity to move your furniture to the next level by the wood that you choose. Making this out of plain maple or cherry or walnut would not have the same impact.

What do I mean? Here is a piece of nice plain cherry.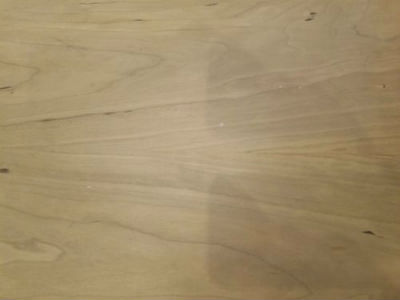 It is a nice piece of wood but lacks any character or pizzazz. Why use this when you can use wood like this?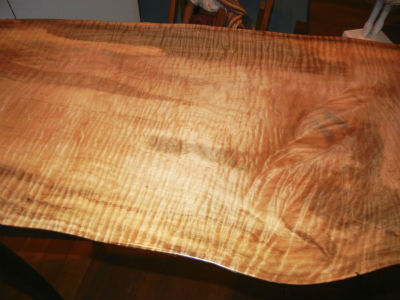 I used this in a table where I had a simple painted base and this beautiful tiger maple natural-edge top. The defects, or rather features, make the wood and the table.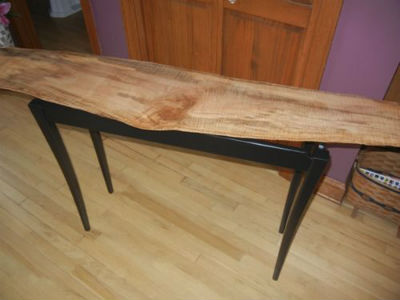 Another example is a Sam Maloof style rocking chair. Again, I used tiger maple (I seem to like tiger maple!) to set off what is a well known style of rocking chair.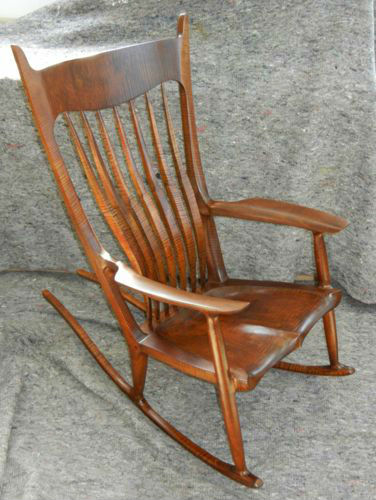 A close up of the tiger maple wood.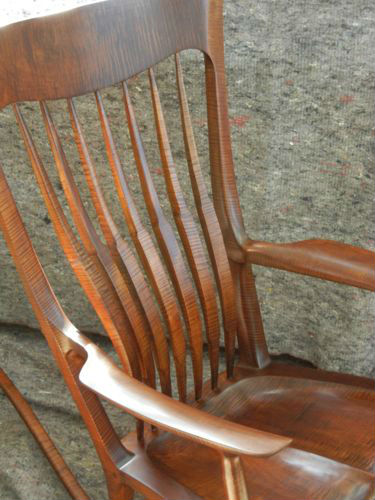 Granted, the Sam Maloof style rocking chair is a beautifully designed chair and I have seen beautiful versions in walnut and other fine woods, I think adding a beautiful wood just moves it to that next level.

So how do you find these woods? Most likely you can find them at your local hardwoods store or by traveling to stores that claim to carry highly figured woods. Search for them on the Internet and then GO THERE if at all possible. You really need to look at the wood yourself. I have often looked through a large pile of wood at a sawmill/lumber yard and found one or two pieces that are a step above the rest. Be patient, get to know the dealers and the inventory they carry. If a place carries a variety of wood but never that really nice piece then don't go there because you know they are not looking for that type of wood. Find a few stores that will have the gem piece periodically and that is the store to keep going back to.

You should also be opportunistic. If you see a beautiful, one of a kind, piece of wood....buy it. The right opportunity, or customer, will come along and you will have the wood on hand to be able to show what a piece might look like. The extreme of this is this piece of wood below. I was at a woodworking show and it was laying on the floor. It was the most beautiful piece of wood I had ever seen. It is a piece of maple with burls along the edge, tiger stripping, amazing color and many other features. It was rough cut so I had to scrap away some of the top layer to really see the beauty, but I knew it was special...I knew some people that were interested in tables and this would make a fantastic one.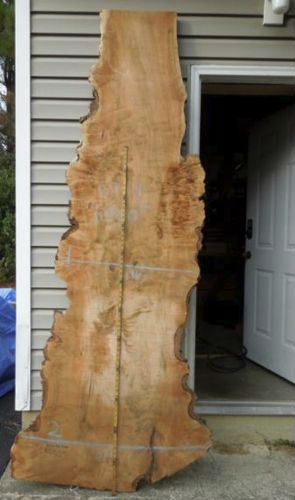 When I had a potential customer come out and look at it I put some mineral spirits on the burl edge and below is what it looked like.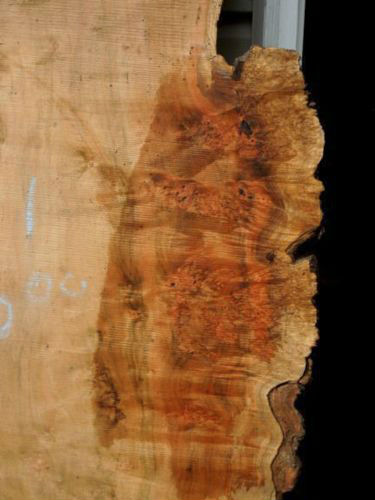 Below is the final table. The large piece was cut down to about five feet long and it is about 3 feet wide at the largest point.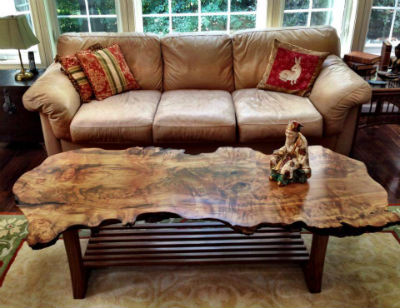 This is a once in a lifetime piece of wood and you would not see this table in the furniture stores I mentioned earlier. They would discard this wood because they cannot make a table with it that is in their catalog. But this is exactly the type of wood you should search for to use in your custom furniture and to move your pieces to a new level of detail.

Well, I am back to my initial statement...."one person's defect is another person's feature." There are beautiful pieces of wood out there, so do not settle for that plain, vanilla board when you can use some tiger maple, quilted maple, figured cherry, wood burls, wood from the crotch of the tree or some exotic woods. Oh, and looking for them is half the fun as well. Good luck hunting!!
---
Jeffrey Fleisher has been a woodworker for approximately 20 years and a professional woodworker for the past 6 years. He is the president of his local woodturning club, the Woodturners of the Virginias and past president of the Northern Virginia Carvers. You can see some of the furniture he has made at www.jeffswooddesigns.com. He can be reached by email at furnmkr@gmail.com