Here's My Woodworking!
By Donald Sulltrop

My Grandfather, Father and Stepfather have built furniture for years. As a kid, I turned a couple of bowls and then lost interest. Then we had some cabinets built last year and my wife suggested I try woodworking. So I bought Paul Sellers book and started cutting joints with hand tools in old two by fours. They fit pretty well so that was motivating. Then I read a design article using the golden triangle. I used this principle to design this staircase.





I was also inspired by visiting a man named Steve Riemer's studio and house. He had built most of the furniture and now builds kinetic metal sculptures. I asked him about the golden triangle and if he used it. He showed me a piece where he simply cut some pieces to the golden triangle and randomly put them together. It was amazing.

Below are a few more of my projects: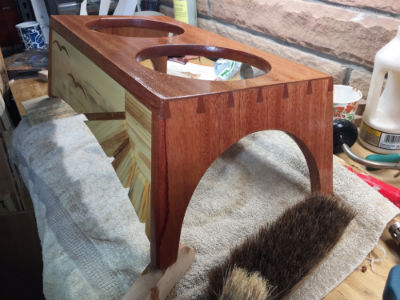 Dogbowl holder made from Mahogany and Pine pallet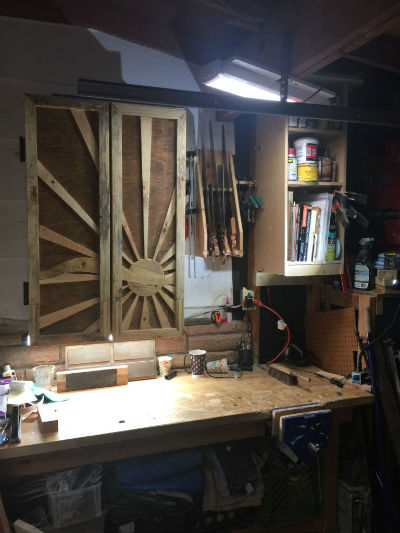 Tool case made from Pine pallets, door jams and dresser drawer backing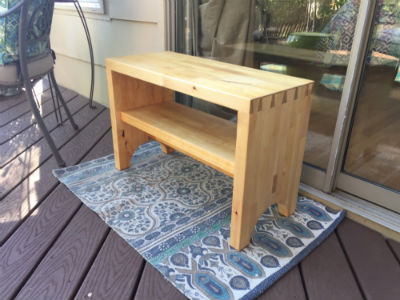 Shoe Bench from our old butcher block counter top
Cherry Barstools with tapered mortise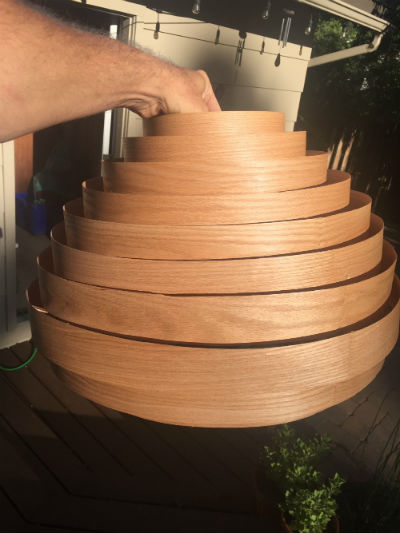 Hanging lamp with Cherry and Red Oak laminate rings
---
Donald can be reached by email at drdsulchiro@gmail.com.
Return to the Wood News Online front page
Woodworking Submissions

Would you like for your woodworking projects to appear in this column? We invite you to SEND US PHOTOS of your woodworking projects along with captions and a brief history and description of your woodworking. (Email photos at 800x600 resolution.) Receive a $50 store credit redeemable towards merchandise if we show your woodworking in a future issue.

Click here to submit
your woodworking projects




Show Us Your Woodworking
Archive Gallery

Want to see more woodworking projects? Check out our gallery of past Show Us Your Woodworking Columns from previous issues of Wood News Online.

Click here to view our archive gallery



Click the images below to visit some of our most popular tool departments
| | | | | | | |
| --- | --- | --- | --- | --- | --- | --- |
| | | | | | | |
| Finishing | Books | Clearance | Festool | Planes | Sharpening | Wood Turning |
Highland Woodworking
1045 N. Highland Ave. NE
Atlanta, Georgia 30306
Tel. 800-241-6748
Email us at email@highlandwoodworking.com
Visit us on the web at www.highlandwoodworking.com
Copyright © 2019 Highland Hardware, Inc.

Errors regarding pricing and specifications are subject to correction.
SOME SALE QUANTITIES MAY SELL OUT and become unavailable at the advertised price.