Here's My Woodworking!
By Gary Macy
Eugene, OR
It's always been the wood that got me into woodworking. I loved wood. Trees are the most magnanimous of creatures. Alive, they act as carbon sinks, shelter humans and animals, produce fruit and provide beauty. Once cut down, they can be shaped into almost anything useful to humans and these objects can last for hundreds of years.

Despite that appreciation, I had no training or experience in making things out of wood until about six years ago. I started taking courses, reading all I could and practicing, practicing, practicing. Since I am still just beginning to learn, I only make things for myself or for others as presents. I have one motto, "Don't ruin the natural beauty of the wood." I never stain or paint hardwood. I love it just the way it is.

Four years ago, I moved to a house surrounded by woods in Eugene, Oregon. The house came with a room specially built for a woodworking shop. How perfect.

I have always been a fan of art nouveau furniture with its elegant curved lines and asynchronous form. I had no teachers who followed that style, so I adopted what I learned to approximate the woodwork from that period. I produced a small bowl then a larger set of bookshelves (both pictured below). Finally, I had the nerve to design and build my own art nouveau piece, the curved and inlayed shelves. When we needed new shelves for our video equipment, I decided to design shelves using that style. A friend generously gave me some beautiful figured maple for the project. I combined that with dark Peruvian walnut to accomplish the look I wanted. The inlay is copied from actual art nouveau patterns. Few woodworkers seem attracted to art nouveau, but it offers its own particular and unusual challenges. Here it is fulfilling the function for which it was intended.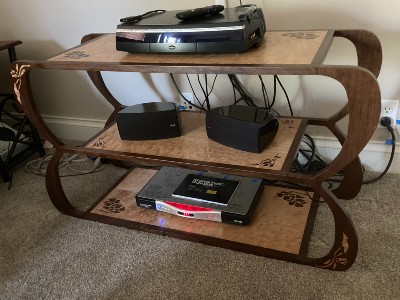 The bowl below is made from maple and purple heart using a scrollsaw.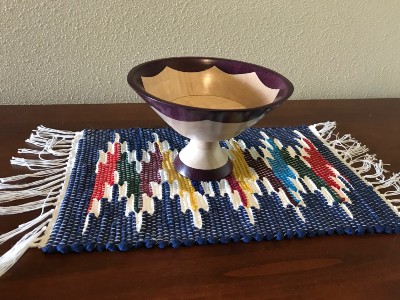 The bookshelf is made from walnut and zebra wood. Each cut out takes four hours to make.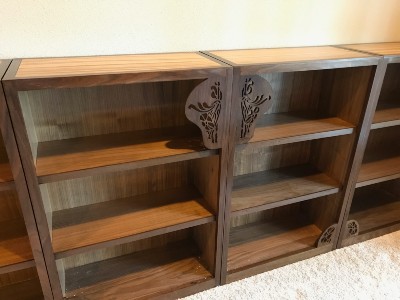 Still working at it with my most recent inlayed serving tray board. It is made from walnut and figured maple. The maple naturally has this lovely sheen.



Still a beginner; still loving it.


---
Return to the Wood News Online front page
Woodworking Submissions

Would you like for your woodworking projects to appear in this column? We invite you to SEND US PHOTOS of your woodworking projects along with captions and a brief history and description of your woodworking. (Email photos at 800x600 resolution.) Receive a $50 store credit redeemable towards merchandise if we show your woodworking in a future issue.

Click here to submit
your woodworking projects




Show Us Your Woodworking
Archive Gallery

Want to see more woodworking projects? Check out our gallery of past Show Us Your Woodworking Columns from previous issues of Wood News Online.



Click here to view our archive gallery



Click the images below to visit some of our most popular tool departments
| | | | | | | |
| --- | --- | --- | --- | --- | --- | --- |
| | | | | | | |
| Finishing | Books | Clearance | Festool | Planes | Sharpening | Wood Turning |
Highland Woodworking
1045 N. Highland Ave. NE
Atlanta, Georgia 30306
Tel. 800-241-6748
Email us at email@highlandwoodworking.com
Visit us on the web at www.highlandwoodworking.com
Copyright © 2021 Highland Hardware, Inc.

Errors regarding pricing and specifications are subject to correction.
SOME SALE QUANTITIES MAY SELL OUT and become unavailable at the advertised price.