Here's My Woodworking!
By Jim Tackett
Lexington, KY

When I was about 14 or 15 years old I was learning to play chess. My dad gave me a nice wooden set of chess pieces that I still cherish. I really liked those little carved pieces of wood but the regular checker/chess board with all the black and red squares was boring. I decided I had to do something about that.

In our basement I found some scrap 1 x 2's and some 1⁄4 inch plywood and went to work. I built a 12 x 12 x 1 inch box with a padded interior (green velvet) and elastic straps (from my mother's sewing kit) to hold the pieces in place. I topped it off with a hinged lid with the new board on top, but no squares. My new chess board had circles in place of those boring squares. I thought it was great but it drove my friends crazy. In the following years I made boxes, chests and other minor objects.

My first foray into serious woodworking began after I encountered some ladies playing the mountain dulcimer at a folk music festival. I had no idea what it was but I liked the sound and I liked the instrument itself and decided I had to have one. With some research I found a gentleman about 40 miles from my home who was building dulcimers. He was very gracious and willing to share information with a curious youngster. As we parted, he gifted me a pattern he no longer used. It now proudly hangs on a wall in my computer room.
For many years, through constant study and experimentation, I've concentrated on building high quality mountain dulcimers using cherry, walnut, maple, butternut and other wood species indigenous to the Appalachian Mountains where the mountain dulcimer was born.
Part of my dulcimer-making process is shown in pictures below: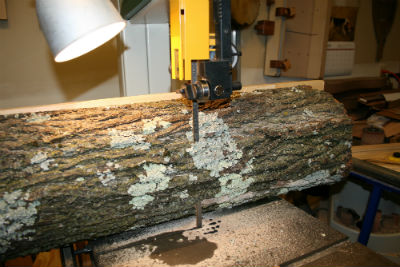 Beginning to cut wooden pear log to square.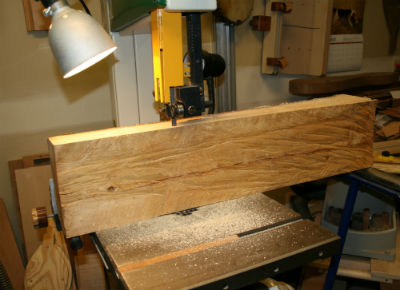 Resawing the log.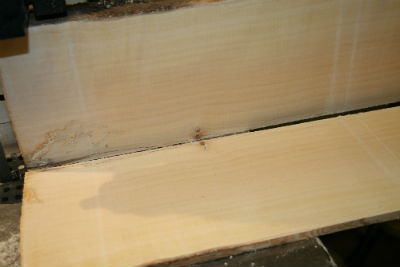 First slice off a pear log.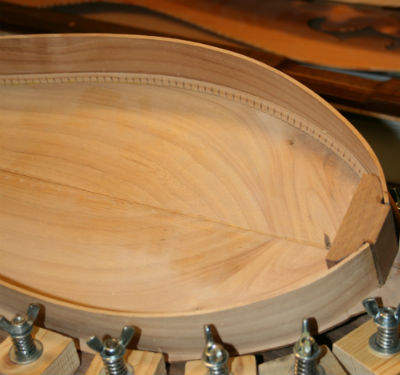 Beginning stages inside of a walnut dulcimer.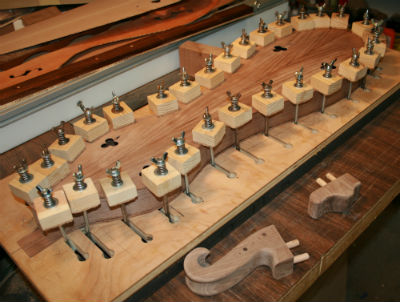 Walnut dulcimer in clamps.
---
Jim can be reached by email at info@jimtackett.net.
Return to the Wood News Online front page
Woodworking Submissions

Would you like for your woodworking projects to appear in this column? We invite you to SEND US PHOTOS of your woodworking projects along with captions and a brief history and description of your woodworking. (Email photos at 800x600 resolution.) Receive a $50 store credit redeemable towards merchandise if we show your woodworking in a future issue.

Click here to submit
your woodworking projects




Show Us Your Woodworking
Archive Gallery

Want to see more woodworking projects? Check out our gallery of past Show Us Your Woodworking Columns from previous issues of Wood News Online.



Click here to view our archive gallery



Click the images below to visit some of our most popular tool departments
| | | | | | | |
| --- | --- | --- | --- | --- | --- | --- |
| | | | | | | |
| Finishing | Books | Clearance | Festool | Planes | Sharpening | Wood Turning |
Highland Woodworking
1045 N. Highland Ave. NE
Atlanta, Georgia 30306
Tel. 800-241-6748
Email us at email@highlandwoodworking.com
Visit us on the web at www.highlandwoodworking.com
Copyright © 2020 Highland Hardware, Inc.

Errors regarding pricing and specifications are subject to correction.
SOME SALE QUANTITIES MAY SELL OUT and become unavailable at the advertised price.