Here's My Woodworking!
By John Dunne
Glendale, CA

20+ years back a buddy made a napkin drawing of an exterior bench he was considering to have made to complete a recent home remodel. I asked him to allow me to have a go at it. I made a steel sub-structure (High School metal-shop class had taught me basic MIG welding) then clad this steel chassis in white oak slates. The bench turned out better than I expected!

As my friend loved to entertain at his home, and the bench was a hit with his guests, I received new commissions. In time, I organically moved from making photographs to making custom furniture. The more pieces I built the more I was attracted to building with wood as the center piece to my designs. Ash, walnut, maple and mahogony are my favorite hardwoods with which to work.

Laminated ash is what I used for this table project, "The Bite Table". The home for which this piece was designed, The Wave House, incorporates serpentine lines forming curved walls and architectural details throughout. The curved ash base has vents in the bottom and the perimeter of the base top to allow for even transfer of heat generated by radiated heat floor tiles. The table was completed with a nearly 7'L x 48"W x 3/4" thick slab of marble laminated to a 1/4" aluminum plate.

Below are pictures of the construction process.






Below are a few more projects I've made: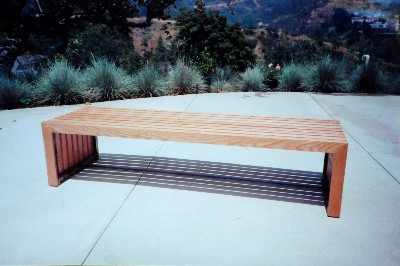 Slatted Oak Bench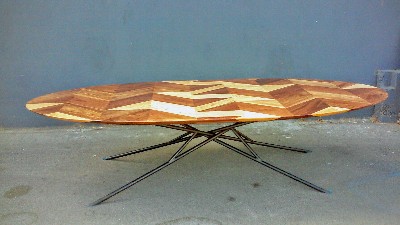 124 Dining Table made of walnut, bleached walnut and ash
plus black oxide steel. 108" x 54" x 2"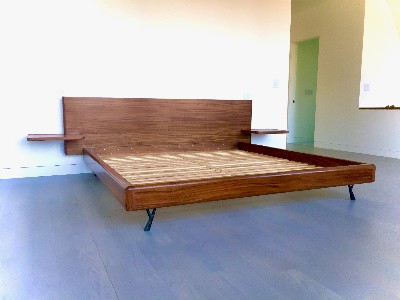 Iluminada Bed (California King size). African mahogany headboard,
frame and wing tables. Ash slating. Hand-forged steel legs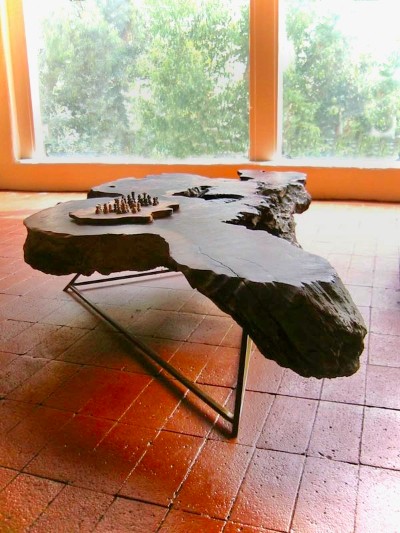 Barca Coffee Table made out of a large red wood burl
with a bronzed steel base.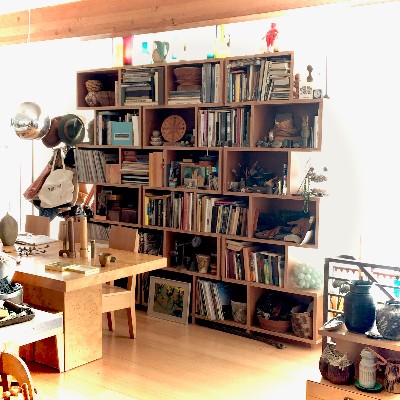 Collectors Book Case made with apitong ply.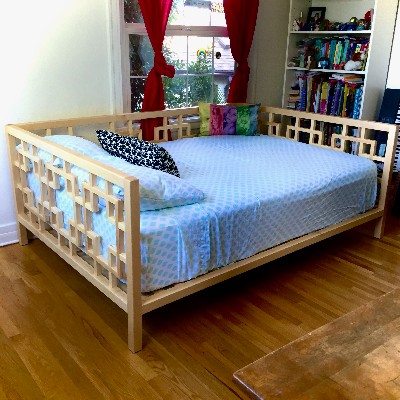 Lattice daybed made from hard maple and ash splines.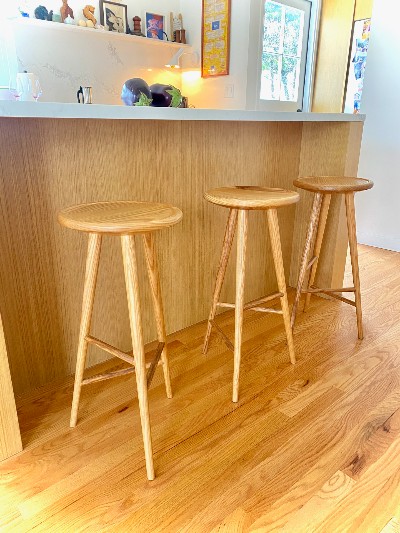 After Mim Sihvonen Bar Stools made from ash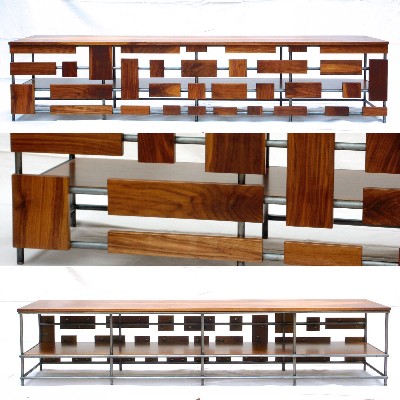 Too Pieces Credenza made from walnut with
patinated gun metal steel tube, brass hardware.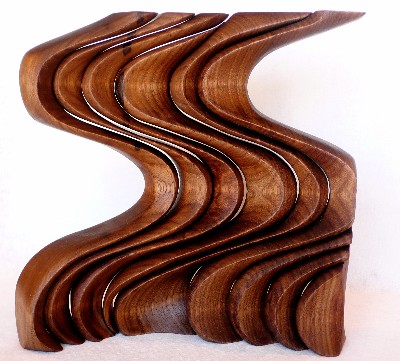 Dunes Sculpture made from walnut
---
John can be reached directly via email at dunne524@gmail.com.
Return to the Wood News Online front page
Woodworking Submissions

Would you like for your woodworking projects to appear in this column? We invite you to SEND US PHOTOS of your woodworking projects along with captions and a brief history and description of your woodworking. (Email photos at 800x600 resolution.) Receive a $50 store credit redeemable towards merchandise if we show your woodworking in a future issue.

Click here to submit
your woodworking projects




Show Us Your Woodworking
Archive Gallery

Want to see more woodworking projects? Check out our gallery of past Show Us Your Woodworking Columns from previous issues of Wood News Online.



Click here to view our archive gallery



Click the images below to visit some of our most popular tool departments
| | | | | | | |
| --- | --- | --- | --- | --- | --- | --- |
| | | | | | | |
| Finishing | Books | Clearance | Festool | Planes | Sharpening | Wood Turning |
Highland Woodworking
1045 N. Highland Ave. NE
Atlanta, Georgia 30306
Tel. 800-241-6748
Email us at email@highlandwoodworking.com
Visit us on the web at www.highlandwoodworking.com
Copyright © 2022 Highland Hardware, Inc.

Errors regarding pricing and specifications are subject to correction.
SOME SALE QUANTITIES MAY SELL OUT and become unavailable at the advertised price.