I first became interested in woodworking when I was 8 years old and would take the train to visit my Grandfather in Magherafelt, Co. Londonderry, Northern Ireland. My Papa Mac used to give me a saw, a hammer, some wood and a few nails. Goodness knows what I made but I had fun and usually cut myself a bit. In later life I immigrated to Australia when I was 19 and took a degree in Electronic Engineering at Adelaide University. I worked as an engineer in electronics hardware design and telecommunications all my working life until retiring in about 2010. I still do a bit of consulting to large engineering companies.

Throughout my early life I was keen on sailing and as time went on I built two racing dinghies, re-built a 26 ft timber Gaff Cutter and re-designed and built the internal furniture of my and a friend's 40 ft yachts. I had built up a substantial workshop by then and slipped into furniture design and building as the boats were eventually sold.

These days, as I am sadly ashore, furniture has become my interest. I have several projects in mind for the new house, one being a cabinet following James Krenov, which I will design. Below are a few of my past projects.
Small Lounge Table

This table was designed by me from scratch, no model, just some ideas and a request from my daughter-in-law that she would like a small table for her lounge. I looked at available timber in the shop and had some left-over Camphor Laurel, Blackwood and Celery-top Pine (Tasmanian species) so I went from there. I drew out an idea and basically made it up as I went along. The tops were all edge jointed and fixed with Festool Dominos. The skirts, similarly, used Dominos into the leg top. The shelf was simply cut into the legs to accept the shelf corners, no fixtures used. Glue was Titebond II (Excellent stuff).
Waterfall Stool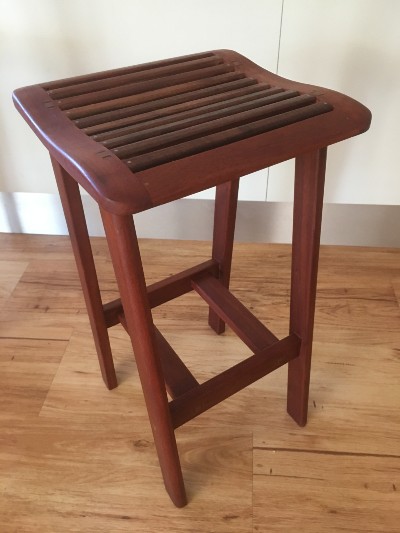 There is some history behind these stools. I first saw them in an Australian woodworking magazine in an article by their designer, Evan Dunstan. Evan runs a very successful high end furniture design and manufacturing business in Queenbeyen, near Canberra. I sent him an email asking if he minded my using his design as a model to make a similar stool. To my surprise he was most accommodating and using the Australian vernacular he essentially said "Go for your life, you will have trouble with the joints using the Ferstool Domino." He did not provide any dimensions so I took the overall published dimensions and designed my own version, which was very close to the original I might say.

The long and short of it was my stools turned out very well. I sent a couple of photos to Evan Dunstan and he was gracious enough to say "You have indeed captured the essence of the Waterfall stool." I did add an additional lower crossmember to my final design, which makes it easier to sit on. As a matter of record I had no difficulty at all with the tenon joints. I did have to make some longer trenons on the router table but that was no problem. Where I did have some fun was cutting the wave shaped seat side pieces. Up and down the grain with standard router bits did not work. I had to make jigs so I could cut "down-hill" on each cut. Evan uses a huge diameter commercial machine, which was way out of my price range. BUT I made them and they look great. I have made 11 so far, kept 4 and given the rest to friends.

Lounge Coffee Table


I designed this project from scratch after a general idea seen on an Internet site. Apart from the general shape, mine is quite different from the commercial unit. It comprises three levels, each using about 1" thick white cedar boards flattened by hand (yes they were hugely bent when I got them), edge jointed and glued with Festool Dominos and Titebond.




The lower intermediate spacers were drawers (four, one on each side) made from Caphor Laurel, hidden hand dovetails at the front, another cedar layer on top and then "L" shaped Silky Oak spacers (4) to separate the cedar top from the drawers. The biggest struggle was VERY careful cutting of the Festool Domino mortises and the whole thing was held together with these. There are no metal fixtures in the whole piece.

The finished unit was EXTREMELY heavy. I had to make a trolley to get it into my lounge. BUT once there it was not going to move anywhere! The Drawers were a trial to fit too, they have metal roller runners and soft closing...very nice!

For all of these projects I used Pure Tung Oil for finishing. I sand to about 300 grit paper, clean off all the dust, then apply 2 coats, 24 hours apart, making sure there is no pooling of excess oil as I apply the coats. Two coats seems enough but some authors recommend many more. No problem in doing so, it just takes longer. Tung oil is great as it can be re-applied easily. It is a good sealer too as it is a chemical hardening process, not an evaporative "drying" process. Smells nice too!


---
John can be reached directly via email at mcbratneyjohn@gmail.com.
Return to the Wood News Online front page