Click on any picture to see a larger version.
In years past, people acquired skills through a slow process of apprenticeship. Long hours under the watchful eye of a master craftsman. Today some may still follow that path though traditional apprenticeships are not as plentiful. But there are many other paths. Some of us were lucky enough to have spent time in shop classes that used to be common in public schools. Shop classes planted seeds, exposing students to the rudimentary skills and crafts that could become theirs. Others were exposed to the crafts on family farms, by older family members or friends who possessed the skills and were willing to teach.

My path began in a shop class many years ago. The intervening years I became friends with people who passed on skills, and sometimes old tools to me. I met a fellow in the early 1970's that I only knew as Griggs. He was a finish carpenter. He gave me some advice that I did not really understand or appreciate until many years later. "Learn to use hand tools well, and you will understand and use power tools more skillfully." He passed on my first antique tool, a Stanley number 80 scraper. Took me years to really learn to use it, but I think of him every time I use it.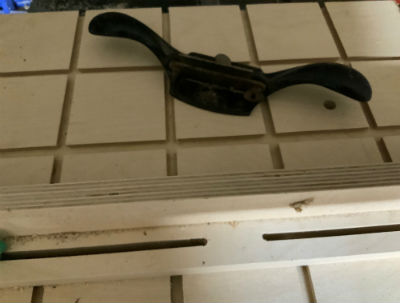 I learned to build small things like picture frames, bookcases, and a myriad of other small simple projects. Each of them were learning experiences and skills learned were the building blocks of more complex skills. Then I found a magazine that fed the passion. I read an early issue of Fine Woodworking Magazine. That opened my eyes to the possibilities. It also began my thirst for more and I began to read anything I could put my hands on.

Years passed, then the May, 2013 issue of Fine Woodworking Magazine arrived. It contained an article about building a Hayrake Table, written by Michael Peckovich.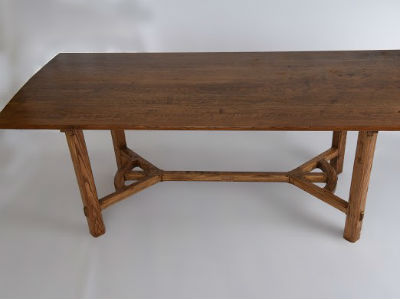 Photo by Frank Knox.


I was mesmerized. The design captured my imagination, as I read and reread the article. At the time, I remembered a strong desire to build the table and doubted I possessed the skills needed to build it. Then, as a part of my subscription to Fine Woodworking Online, I watched a series of video workshops. that Michael Pekovich produced, that detailed the skills needed to actually build the table. I watched, and studied them until I felt I had digested every single point of its construction.

My next step was to purchase the plans from Fine Woodworking. I studied it for several weeks. I was asked to build a table by my step daughter. Over the next several months, I worked on the table, one small step at a time. My shop was a crowded one car garage. I started with the legs and stretchers, made some mistakes, and learned to think through a part, and trust both my skills and the plans. The stretcher with the signature hayrake pattern was the point where I first saw hope.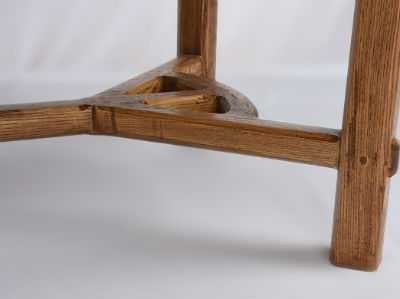 Photo by Frank Knox.


I also realized something important. All of the people that I had met over the years who were woodworkers had imparted knowledge and skills. Small projects taught me the use of both hand tools and bench tools and related skills. The books and magazines were treasure troves of inspiration. Subscriptions like Fine Woodworking Unlimited completed the circle. The combination of all of these took the place of a master in allowing this apprentice to gain some degree of skill in woodworking.

Then I took the plunge. I drove to Mayodan, North Carolina to Wall Lumber Company and returned home with a pickup filled with some ash and quartersawn white oak. Over the next couple of years that lumber slowly took the shape of a Hayrake Table. I started with the legs, and then the stretchers. I would go to the plans for dimensions and shape, then to the videos and watched them over and over again. I worked slowly, methodically visualizing the project hiding in each piece of wood. Power tools making the first cuts to size followed by antique tools taking each piece to its final size and shape. The tools rapidly became old friends, and at the same time, my touch became much surer as I learned to use them.

Each project leads to the next. The table needs a place to sit to be useful, and I was inspired by a bench design I saw in Fine Woodworking.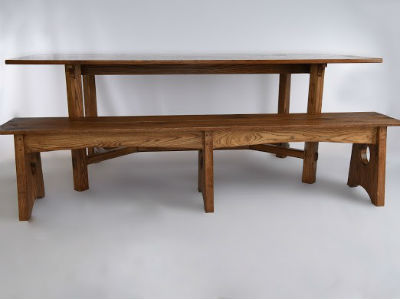 Photo by Frank Knox.


Now that it is complete, I have to clean the shop to prepare for the next project. A small shop space requires organization. But each day I enter the shop, there are many people with me. Mentors I have known and learned from. Their only charge to me was to use the skills, learn and pass them on to another person.


---
You can email Marshall at mbknox@hotmail.com. You can also view his Show Us Your Shop column in the October 2019 issue of Wood News Online and his Show Us Your Woodturning column in the December 2015 issue of The Highland Woodturner.