Click on any picture to see a larger version.
Grandma and Grandpa Rummer's house in Wichita was furnished with an interesting mix of antique furniture. There was an Eastlake bedroom suite, a veneered sleigh bed, a Jenny Lind twin bed on the upstairs sleeping porch, an oak washstand in the big upstairs bathroom with the clawfoot tub and much more. All of it had been carefully repaired, refinished, and restored. So many memories of growing up were connected to their furniture. There was the time I got my finger stuck in the carved lion, or spinning on the swivel chair until we had vertigo, the feel of the scratchy upholstery of the living room sofa when we watched the Ed Sullivan show, and family dinners at the big dining room table. Grandma and Grandpa were pretty intentional about tagging their furniture (literally) for distribution after their passing but the problem was there was only one oak washstand and there were seven grandkids. Grandpa's ingenious solution was to start making dollhouse furniture copies for everyone.

It started with a 1/12th scale version of the washstand. Then, each Christmas, we would all get additions to the miniature furniture collection. Sometimes it was versions of pieces they owned, sometimes it was furniture they remembered or wished they had. The collection grew to include a four-poster bed, dresser, side table, kitchen table, pie cupboard, upholstered sofa, braided rug, dining chairs, grandfather clock, cradle, lots of accessories, and the washstand that started it all.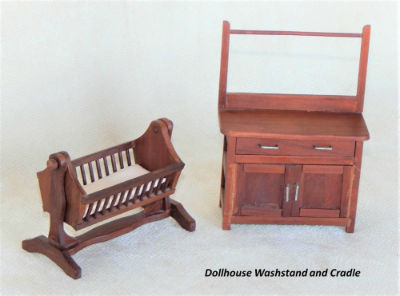 Figure 1. Miniature versions of full-scale furniture at Grandpa's house


Grandpa really enjoyed the challenges and creativity of building miniatures. He came up with an indexing fence for the tablesaw so he could safely rip 1/16" thick strips (the 1/12th scale equivalent of 3/4" stock). His drillpress served as a "mini-lathe" for turned parts like legs and bedposts. For the washstand he used 3/8" staples for pulls and handles and made small magnetic latches to hold the doors closed. Hinges were made from fabric glued to the wood. He used a hole saw to cut out the circular frame for the mirror on the walnut dressers. Then he turned the pile of walnut disk cutouts into tabletops for side tables.

Grandpa's miniatures are on the borderline between playable dollhouse pieces and display shelf art. Over the holidays I had a chance to see masterpieces of miniatures at the National Museum of Toys and Miniatures in Kansas City (see the link below). With over 70,000 objects in their collection, NMTM is the world's largest collection of fine-scale miniatures. The exhibits showcase craftsmanship in metalwork, woodworking, painting, carving, printing, and ceramics.

The challenge of fine-scale craft is to see how closely you can replicate something at a tiny scale. Many of us have made Chester County spice boxes and practiced cutting dovetails for small drawers. These are a challenging exercise for intermediate to advanced woodworkers. However, there is an example of a spice box in the NMTM collection that is just over 1" tall -- with fully functioning drawers, dovetail joinery, and tiny metal hinges! There are over 100 pieces in this miniature version made by Bill Robertson.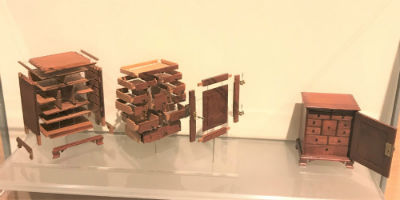 Figure 2. A 1/12th scale spice chest at the National Museum of Toys and Miniatures.
Made by Bill Robertson


I do some marquetry (and aspire to do a lot more). Consider the craftsmanship in this secretary that is less than 8" tall. I went from piece to piece in the museum with awe and wonder.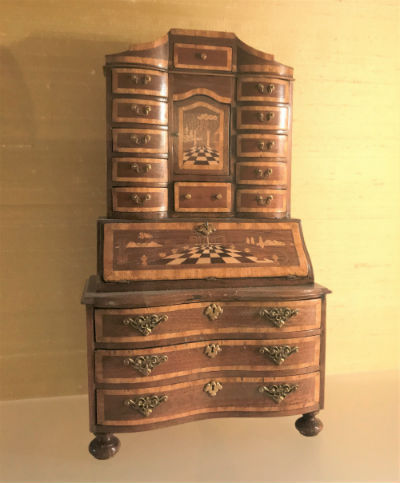 Figure 3. A secretary with marquetry panels in the collections at the
National Toy and Miniature Museum.


As I wandered through the NMTM there were several things that came to mind.

Paul Schurch, a master marqueteur, once talked to our Guild about the difference in precision and craftsmanship required on large casework (intended to be viewed across a room) and small boxes (where people will look closely at your work). He called it "6-foot work vs. 6-inch work." Miniatures invite being viewed through a magnifying glass! I worry about gaps in my joinery on full-scale pieces, but miniaturists strive for invisible joints.
The craftsmanship and creativity of master miniature woodworkers is amazing. They need to know everything about how full-scale furniture is made, and then they have to invent techniques to replicate it all at small scale. Their wood selection is not just about finding species that are workable, but also finding wood that looks like the small-scale version in grain and color.
Miniatures are often playful. They invite the viewer to be surprised by something, some detail or hidden feature. "Can you believe that little key actually works?" Grandpa made a cake cover out of an old pill bottle and then made a tiny chocolate layer cake to go inside. All of that was hiding inside the pie safe!
There is a wide range of things you can do with miniatures. You can make individual pieces of furniture. You can build dollhouses. You can make shoebox rooms with lighting and wallpaper and windows. You can make things meant to be played with or things to display on the shelf. In the NMTM collection there is a miniature luthier's shop built inside a full-size violin. High-quality miniatures can sell for as much or more than the real thing. Do an online search for "fine-scale miniatures" sometime.
How do you learn how to do this kind of thing? There are books and classes and workshops if you look around. Visit a toy or miniature collection in your area. Grandpa started out buying a kit and then quickly decided he could do better just going into the shop and making some sawdust. Buy a large magnifier and be creative!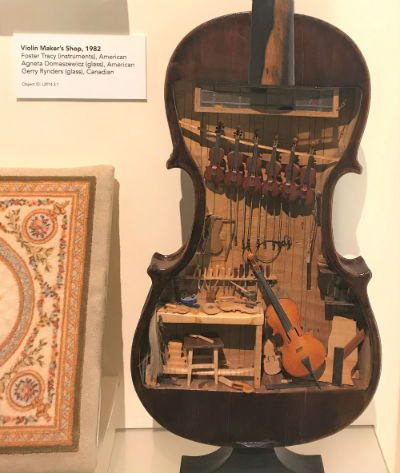 At first blush you might wonder why anyone would spend so much time and effort making tiny things. Grandpa loved making tiny furniture, maybe as much as making the full-size versions. He was always in his basement shop working on something. When I listened to Bill Robertson's TED talk I was struck by his comment that his pursuit of craftsmanship and mastery is a continuous journey of discovery. When people ask him what is his favorite piece, his answer is, "The next thing I make." Isn't that what draws us all back to the shop? Whether it is miniatures or woodturning or casework or whatever--to make the next thing, to make something better, to use the new skill that we have learned or to try something different. I don't think I will ever say that I have had enough time in the shop, that I am done. My journey of discovery goes on every time I open the door.

References
Frankl, Paul. 1928. National Museum of Toys and Miniatures.. 5235 Oak St. Kansas City, MO

Gilsdorf, Bob. 2009. International Guild of Miniature Artisans.. Check their listing of Fellows to see more work by masters


---
Bob Rummer lives in Colorado and is a part-time woodworker. He can be reached directly via email at rummersohne@gmail.com. You can see his shop and some of his work at www.JRummerSons.com.