Click on any picture to see a larger version.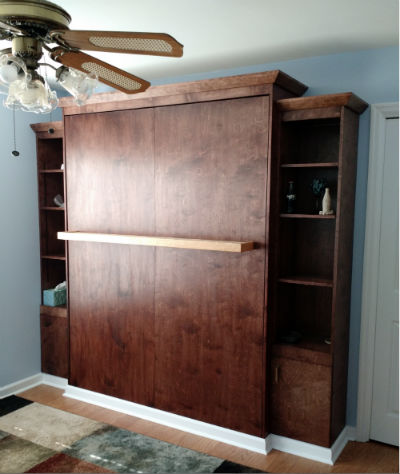 My wife wants a multi-use room for sewing in addition to being a guest bedroom. However, the queen-size bed occupies a major portion of the room. We decided a Murphy bed would be the answer. She can fold the bed into the wall when sewing and fold it out when we have guests.

I researched spring and piston mechanism ideas. There are interesting DIY ideas out there, but I concluded time-tested hardware from a reputable vendor would be safer.

I found well-reviewed hardware from a company in Louisville, KY. Without getting too gushy, these folks and their products are awesome. Not only do you get the hardware, you get very detailed instructions and a video to build a typical bed. A LIVE PERSON answers the phone, and almost every employee knows the intricacies of constructing beds using their hardware.

But of course, I could not stick with just a bed frame...I think our guests want shelves, bedside lighting, a comfortable headboard and power outlets.

You see where this is going...from a simple weekend project (so said most of the reviewers) to something more substantial, but hopefully even more useful and spouse/guest-friendly. AND, I wanted to take on a few challenges, like making my own cove molding, using soft-close adjustable door hinges, some simple upholstering and applying iron-on veneer.
Upper Cove Molding
Machining the upper cove molding out of solid birch was easier than I thought. I absolutely love my Makita compound miter saw! There are detents for both miter angles...it was awesome to cut the compound miter in one pass.
Door Hinges
The soft-close door hinges from Blum are adjustable in every direction, including the closing speed. They were worth the price, especially when adjusting the bookcase door which opens fully against the side wall.
Leather Headboard
Local upholsterers did not have access to real leather large enough to cover a 24" x 66" headboard expanse in one piece. I finally found a leather seller in Minnesota. Their website shows pictures of the actual hides they have in stock. Holes and blemishes are clearly marked, as are the usable dimensions.

A DIY-oriented upholsterer was positive I could do it myself, even lending me the tools she uses! I purchased the foam padding from her and went to town. The results were better than I expected.
Plywood Edges
All the exposed plywood edges are covered with pre-glued veneer banding, which was a breeze. I found the best adhesion was to use a household iron set on COTTON with a 20-30 second press time. That melted the glue without burning the veneer. Yes, I stayed away from our home iron and purchased one from Goodwill...now I have a SHOP iron.

Getting our mattress out of the room was quite a feat...it is extremely heavy! It is also thicker than recommended by the plans, so I called the factory, and I was very patiently walked through my options.

I chose to add 1" to the depth of the main frame, thus accommodating at least the mattress and foam topper, maybe even the sheets and bedspread. The extra weight concerned me, so I opted for the adjustable piston hardware. We were fortunate to donate the box spring to a local charity...they even picked it up!
Finishing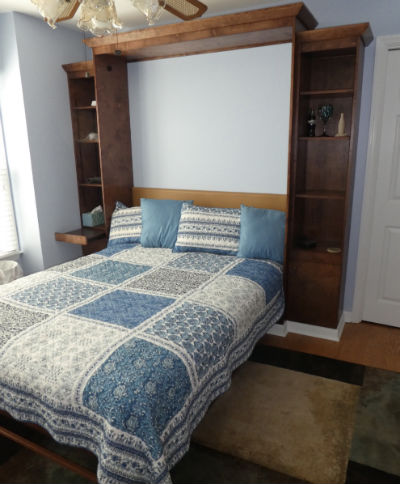 We originally planned to paint the project white, to make the room look larger. I purchased Baltic birch plywood – it's easy to machine and takes paint well. But then my Wife decided she wanted a stained wood finish.

Birch is not easy to stain. It gets blotchy. I researched and found I could eliminate most blotches by pre-conditioning the wood. I mixed three-parts water to one-part Varathane water-based satin polyurethane. I experimented with letting it dry a short time and letting it dry overnight before staining. The overnight results were better looking.

While pre-conditioning eliminates most of the blotchiness, it also prevents the stain from fully soaking in, which gave us a lighter color. It required two coats of MinWax Red Oak stain to (almost) get back to the shade my wife wanted. I tried three coats with no better results.

After that, I applied three coats of Varathane water-based satin polyurethane.

Every coat of whatever I applied was "buffed" with 600 grit sandpaper (except for the final coat of poly). The humid spring contributed to longer drying time between coats – the finishing phase took almost three times longer than the building phase!

The lighter colored, full width shelf is just that, a shelf. It is not designed nor needed to support the bed when it is down; the frame and leg design provides plenty of rigidity. The bed does not sag nor squeak when used!

The pullout shelves use full-extension drawer slides, inset within a double-thick shelf. At the preference of our most frequent guests, our Austria-based middle son and his family, we opted for no handles for now.

The ceiling fan is being replaced with a bladeless fan (Exhale Gen 4) as soon as the product ships. I will be installing LED reading lamps on the outside of the main bed frame sides.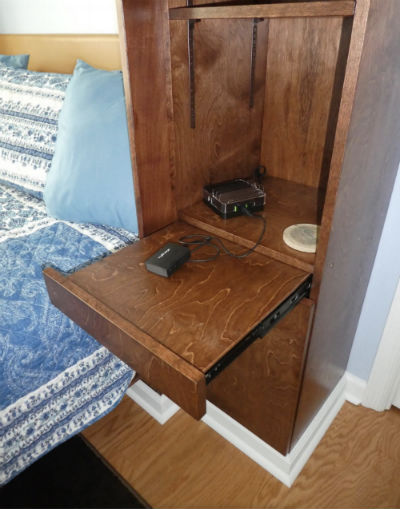 Costs
The cost of the bed and bookshelves ran about $850. This includes the plywood and hardwood, half a cowhide for the headboard, top-mounted LED lighting, "fancy" power outlets with USB ports, adjustable bookshelf standards and various fasteners (mostly SPAX screws...they are awesome!).

It's best to purchase the matching screws and hooks when selecting the bookshelf standards. I went on the cheap, thinking I could source those items from my shop or elsewhere-NOT! It is hard to find the right screw length and color in smaller quantities without paying a premium.
Items to Consider
I cannot say enough about adequate marking and labelling of matching pieces, edges, tops and bottoms. In an existing room with its square/plumb issues, even paired pieces are not always identical. I do not rely on my memory as much anymore.
Very little plywood is a true 3⁄4" thick anymore. I chose Baltic birch plywood, only to discover it is almost 3/32" shy of a full 3⁄4"! While it did not affect the structural needs, it DID affect some of the cuts. Read the instructions carefully and make adjustments where overall length or width will be affected by the plywood thickness.
The adjustable folding mechanism is worth the extra money. This mechanism makes lifting and lowering the bed easier, even for petite folks.
I tried to keep the bedroom mess to a minimum. I staged, built and finished many components in my shop, and then I carted them up to the bedroom and assembled them. Of course, a fan blade arm became a casualty when I carelessly snapped it and the blade off with a tall component. The fan is over 35 years old, the manufacturer does not exist, and there are no compatible fan blade arms with a matching rotor bolt pattern to be found. We wanted a new fan anyway...
---
You can email Dave at ranalloatl@yahoo.com.