Click on any picture to see a larger version.
A Note from Bob Rummer: This month's column is by Ken Rummer, my big brother. Ken is a retired pastor and avid woodworker living in Ankeny, IA. Bob misses the opportunity to get together with the Des Moines Woodworkers Association.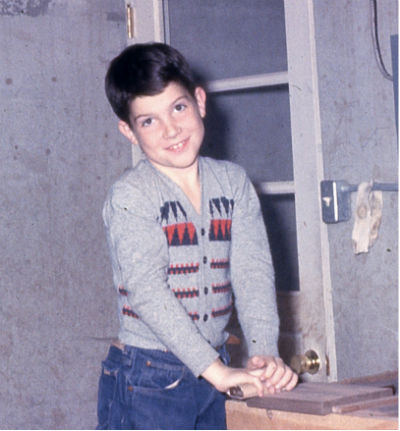 The author in 1959 rocking a sweater and a sanding block


An eruption of barking and a flurry of dog nails scratching on oak floors announced the arrival of the grandparents. I was in the basement with my dad at the time. Grandpa came down to see what we were doing. Normally, I would be glad to see him, but this time it was awkward. I was in the middle of building a Christmas present for him and Grandma.

I don't remember how I managed the moment. Did I swear him to secrecy? Or did I talk about the progress of the project while omitting the detail that it was to be a present with his name on it?

He did take a few pictures at the time, photos I discovered this week while going through a box of old slides.

For those imagining that slides must refer to playground equipment or brass trombones, the slides of which I write were small cardboard frames holding a bit of see-through film carrying a picture taken with a non-digital camera. A strong light and a big lens could project these slides onto a four by four foot screen in a darkened living room so the whole family could see them together.

One of Grandpa's projects in his retirement was to sort through all the slides he had taken of us grandkids and put together a metal slide box for each of us—a partial record of the single-digit years of our growing up. That was the box I was sorting.

I found pictures of birthday cakes, pet dogs, sand piles, swing sets, cousins and siblings, and once-favorite toys looking new at Christmas opening. Here's a shot of me and my dad in the basement shop working on my top-secret Christmas present for the grandparents.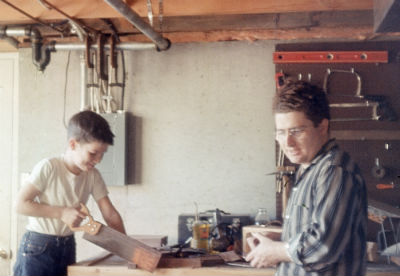 The author with his father, working on the Christmas project.


Our old workbench is in the photo. It stood on pipe legs and was so tall I had to stand on a box or stool to use it. The top of that bench is still with me, rip-cut to make tops for two narrow workbenches I use today.

The peg board in the picture holds hand tools. The first saw I got permission to drive unsupervised is up there, a coping saw. And above it I can see the red paint and gold pinstripes of Dad's wooden Belknap level. I deployed it a couple weeks ago to hang a new shelf.

In case you hadn't guessed, I'm the one in the photo wearing the white t-shirt and pushing the back saw.

The photo captures three generations in the shop—my dad, overseeing and advising; my grandpa behind the camera, documenting the moment and asking questions; and my almost nine-year-old self, making sawdust and a Christmas present.

The project, now declassified, was a napkin holder. Two holes, in a square of walnut a little bigger than a napkin, took glue and dowels. And a bar of walnut with larger holes slid up and down on the dowels to keep the wind from blowing the napkins away.

I think my dad suggested the design, and it was a good beginning level wood project. Two boards, two dowels, four holes and a little glue.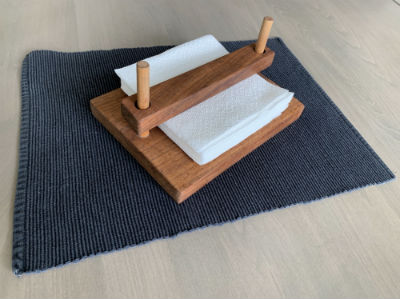 The napkin holder built by the author as a grandparent
Christmas present in 1959.


The walnut started out air-dried and rough-sawn, so I had to plane the surface smooth and cut out my parts with handsaws. Hard wood and semi-sharp saws made that a challenge.

And then the holes. Until this project, the only drills I had been cleared to use were a Yankee push drill with the bits in the handle and an egg beater drill that had the bad habit of pinching my fingers in the gears. Neither was designed for the size of holes that were needed for the napkin holder.

So I convinced my dad to let me use the corded electric drill. (We had no battery powered drills in those days. I know this is hard to believe). The drill was really loud, and the torque was hard to control, and the larger bit splintered the back side of the holes in the cross piece, but I held on and completed the boring.

A file came in handy for end-grain preparation and edge easing, and sandpaper wrapped around a block of wood served for smoothing. Then I wiped on an oil finish which, as I learned, does amazing things to walnut wood.

The grandparents seemed pleased to open their napkin holder Christmas present that year, though Grandpa may have been less than completely surprised. They put it right to use. At subsequent family celebrations the napkin holder was on their table, holding napkins.

Years later, when the household items were distributed following the passing of my grandparents, the napkin holder came to me.

I tweaked it a bit under the guise of refinishing it. A bit of extra sanding here, a little more filing there—things my ten year-old self might have done if he had had the benefit of a few more years of experience and a little more patience.

How does a youngster get started making things?

Somewhere along the way, when I asked my parents for money to buy Grandpa and Grandma a present, they said, "Why don't you make something?" and I headed down that path.

A ceramic ash tray from school art class, a candy dish made with white glue and popsickle sticks. An original hand-lettered Christmas poem inspired by Clement Moore and Dr. Seuss.

And a napkin holder in black walnut with maple dowels.

The holder still has its quirks. Pulling one napkin out tends to drag all the rest from under the hold-down bar. And the grain in the hold-down doesn't run straight from end to end but takes an angled path across and down through the piece.

Then too, the upper surface of the base isn't true but falls off to each side from the dowel line like an open book turned upside down. I don't remember that as a feature of the original design. Maybe as the wood has continued to dry a reverse cupping has developed. Or maybe, in my early days, I proved better at planing smooth than planing flat.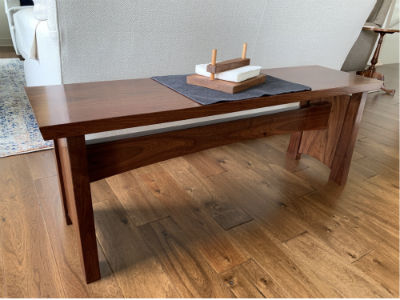 The napkin holder (1959) and the seating bench (2020).


We still use the napkin holder every day. It shares the dining space with my latest woodworking project, a four-foot-long seating bench, also in walnut.

The two objects bookend--I can scarcely believe it--60 years of woodworking. Seeing them together, the A and the Z of my projects so far, I am reminded of other letters and other projects in between: a camp box built with my dad, a mahogany boomerang carved with my grandfather, shelves built with my son, a loft constructed alongside my daughter, and more recently, a granddaughter collaboration on bunk beds for her Barbies, and a grandson team effort on a gravity-powered go-cart.

As I think on it, some of the woodworking memories most deeply etched in my recollection are of intergenerational projects like these.

Nowadays, working with one of the Grands in the shop, I imagine more of those memories are being made. For both of us.


---
Bob Rummer lives in Colorado and is a part-time woodworker. His brother, Ken Rummer, is a pastor in Corning, Iowa, who likes to make sawdust on his day off. Bob and Ken can be reached directly via email at RummerSohne@gmail.com. You can see Bob's shop and some of his work at www.JRummerSons.com.