Click on any picture to see a larger version.
Woodworkers love wood. At our monthly meeting of the Kansas City Woodworkers Guild the most popular part of the program is "Show and Tell". Members bring in projects and during the cookie break, we all walk around and ogle the work. We are drawn to pretty wood like moths to a flame—"that is beautiful, can I touch it?"

I think my first exposure to the beauty of wood was in my Grandpa Burnham's shop. Part of the secret of stringed instruments is the finish. You want a finish that is not too hard so the violin can ring, but you also need enough layers to protect the wood and bring out the beauty of the carefully selected wood. Grandpa used multiple layers of Roth instrument varnish, dyed in different hues of reds, browns, and ambers. But the truly magical thing was his drying cabinet—a used department store nut roaster with glass doors and UV lights to cure the finish. A rotisserie slowly turned the instrument around and around for days until the finish had cured enough for the next coat.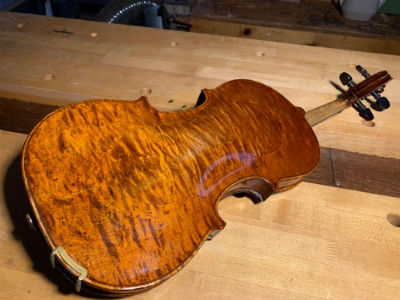 Figure 1 . One of the violins Grandpa worked on, with an unusual back that combines
birdseye and tiger maple.


Like a ballerina in the spotlight, a beautiful instrument would be slowly pirouetting under the bright lights of the cabinet. The back, the top, the ribs, the chatoyance of the figure as the lights played over the surface. I remember standing by the cabinet practically hypnotized by the beautiful thing inside. Grandpa told me about "tiger maple" and "birdseye" and "flame" before I was in grade school. Look at the wood, look closely at the incredible patterns and colors.

Reading wood is a fundamental skill of woodworkers. From a purely mechanical perspective, the grain tells us how to direct our tools when we cut or plane. The orientation of the grain affects the strength of joints as well as how the piece will shift with changes in moisture. From an esthetic perspective, the grain and figure of wood are part of the overall design of a piece. We carefully select the "best" face or bookmatch a panel to create symmetry. Some surfaces might need to be highlighted by dramatic burl figure, others are best plain. On a recent project my brother laid out parts for rails and stiles so the straight grain would be perfectly aligned with the edges of the panel. That way the figured panel in the middle would have all the attention.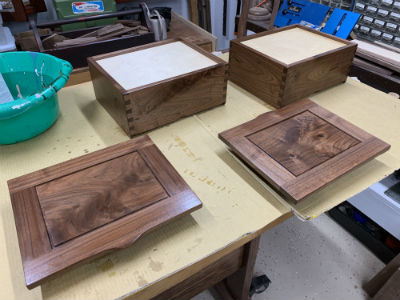 Figure 2 . Memory boxes by my brother Ken, figured walnut panels
set off by straight-grained rails and stiles.


Scientists have spent quite a bit of effort trying to understand how grain and figure develop. An excellent reference is Beals and Davis (1977, link below). Some grain patterns come from stresses in the living tree (crotch, root crown), some from environmental factors like nutrients, maybe some from disease (burl), some from genetics. But much is still a mystery. Finding a highly figured birdseye maple log is like finding a pearl in a natural oyster. The forester can't tell what will be revealed until the log is pried open into boards. A skilled sawyer studies the log and figures out how to split it out to reveal the most valuable patterns in the boards.

Beyond the science and the woodworker's knowledge of what wood grain means, there is something deeper. What draws us to wood surfaces? Psychologists and marketers have studied this for years. If we put two objects in front of someone (one plastic laminate and the other a nicely finished block of solid wood) and ask, "Which do you prefer?" - about 75% of people will say they prefer the real wood sample. This is called the "naturalness preference." In the study in the references (Fujisaki and others 2015), the researchers tested how much we rely on sight, sound, or touch to develop our sense of wood. Check out the Highland Woodworking interview with George Wurtzel (Episode 44) for a fascinating description of how much he can "see" with his hands.

The naturalness preference appears to be based on two distinct decisions. First, there are functional preferences for a piece of real wood - "This is real, therefore I believe it will last longer." I bet if you wrote down a list of practical advantages of real wood over particleboard or plastic you could fill a page. But more interestingly, there is something mysterious called an ideational preference. When researchers tell people that two samples are exactly alike (or maybe there are even advantages to an artificial alternative), a significant number of people will still prefer the natural. Can't be explained by practical advantages, but people are drawn to the real thing. In fact, there are a lot of studies that show that people have a built-in connection to natural things. And that natural things (animals, parks, real wood) actually affect the way we feel. Therapy dogs help reduce stress, a nice walk in the park lowers blood pressure. Evolutionary psychologists think it is because we have evolved from natural environments, theologians would suggest that we share a connection to a created order. Deep stuff.

Over 100 years ago, Irene Sargent was writing for Gustav Stickley's Craftsman magazine (1901). One of the ideas of the Arts and Crafts movement was that beauty should come from the materials and construction, not from ornamentation. She said, "Our eyes rest on materials which, gathered from the forests, along the streams, and from other sources familiar to us, are, for that reason interesting and eloquent. We may, in the arms of our reading chair, or in the desk before which we pass our working day, study the striking undulations in the grain of oak, ash, elm, or other of our native woods, and in so doing, learn the worth of patient, well-directed and skilled labor."

Why do we spend so much "patient well-directed labor" to finish our projects? After all, a coat of paint would be a lot faster than a French polish. Why did Grandpa Burnham put so much time and knowledge into building up glowing layers of varnish on a violin? Because wood in its natural state affects us. Some whisper of its life in the forest comes through in the grain. Some sense of comfort is conveyed by its solidity and warmth. When we, as woodworkers, get the wood selection and finish right we give the voice of the tree a chance to be heard.


References
H.O. Beals and T.C. Davis. 1977. Figure in wood. An illustrated review. Bulletin 486. Alabama Agricultural Experiment Station. Auburn, AL. 79 p.

Fujisaki, W., Tokita, M., Kariya, K. 2015. Perception of the material properties of wood based on vision, audition, and touch. Vision Research 109 (2015): 185-200. Open access article


---
Bob Rummer lives in Lawrence, Kansas and is a part-time woodworker. He can be reached directly via email at rummersohne@gmail.com. You can see his shop and some of his work at www.JRummerSons.com.