Click on any picture to see a larger version.
Editor's Note: We are excited to introduce this new column by regular Wood News contributor, Bob Rummer. You may know him best for his article, The Awesome Responsibility of Being a Woodworking Grandpa, which we first published in 2014. This column will consist of stories about things he learned from his grandpas as well as stories about sharing his woodworking with his own grandkids.

Grandpa Burnham was an aeronautical engineer back in the Golden Age of aviation. In his spare time, he built and repaired string instruments. When I was in grade school, he gave me a beautiful red violin that he called a "Pygmalion". Pygmalion is a book by George Bernard Shaw that became the musical, "My Fair Lady." If you haven't had the pleasure of seeing the movie, My Fair Lady is the story of a speech professor who takes on a project to turn a common flower girl into a lady by refining her speech. At a basic level it is a story about an ugly duckling turning into a swan. With our woodworking projects there are many that have this storyline — a transformation from plain to wow. When you strip the paint off a piece of thrift store furniture and discover it is tiger maple underneath. Or when you turn Grandma's china cabinet into a CD storage piece. Let me offer some thoughts about Pygmalion projects.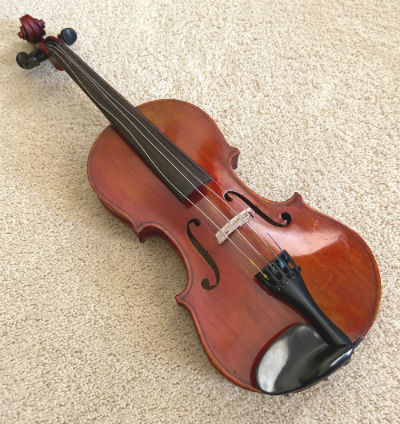 My red "Pygmalion" violin


My red violin started out as a plain factory-made instrument that Grandpa found at a yard sale or an auction. He took the ordinary instrument apart and recarved the top and back. Think about carving the complex curves of the back of a violin. There is the outside profile or curve, the inside profile, and the thickness of the wood at every point. A violin back is not uniform. It is thicker in key places and thin in others. If you get it all right the magic happens, and the instrument can sing.

Grandpa studied detailed measurements of Stradivari violins for comparison and went to work. I remember a dial indicator setup in his drill press where he could slide the top around and measure the thickness of the top to 0.001". There were aluminum arching templates hanging around his bench to check the curves. He used tiny scrapers ground from hacksaw blades to carefully remove wispy shavings. He would hold the top on his fingertips and tap on it to listen to the "ring" of the wood. Then he would shave some more. He even had a tone generator setup where he could test the resonant frequencies of the plates. In luthier-speak it's called graduation and plate tuning. When all the shaving was done and the curves faired, he reassembled it, gave it a glowing red finish and put his name on it -- "Rebuilt according to Antonio Stradivari by W.E. Burnham 1965". It is a thing of beauty and has always attracted attention.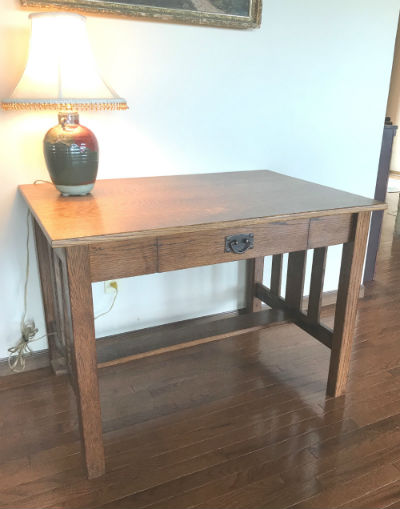 Stickley-inspired library table rebuilt from a barn junker


One of my Pygmalion projects was a table, practically black from age, sitting in my parent's barn. Just a basic 2' x 4' table with 4 legs and a skirt with a single drawer. The top had spent way too many days in heat and cold and damp — it was all warped and buckled. But it was solid oak. One of my favorite furniture styles is Arts and Crafts and I could see a beautiful library table in that old piece sitting in the dusty light of the barn.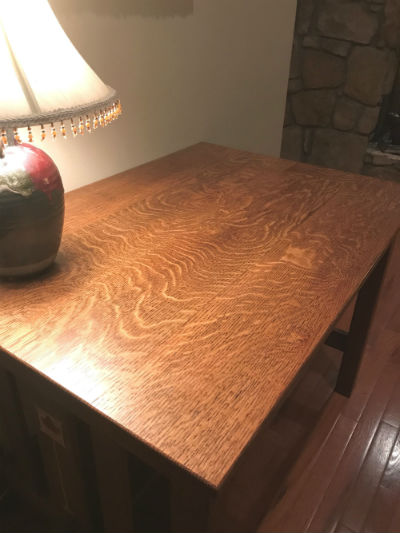 Quartersawn white oak is a must for the top


My design inspiration was the Number 661 Library Table in Stickley's 1910 catalog (p. 50, see references). Some key features that I could include were the flat, wide stretchers connecting lower rails between the legs; the three-slat ends; Harvey Ellis inlays; and the classic copper Stickley pull with the D-bail. I kept the single drawer that was in the original. While the top boards were too badly warped to go back on the top, they were easily repurposed for the slats and rails in the new ends. The only new lumber was some quartersawn white oak for the top and a piece for the stretcher. Eighteen mortise and tenon joints later — voila! A classic library table that Gustav would have liked.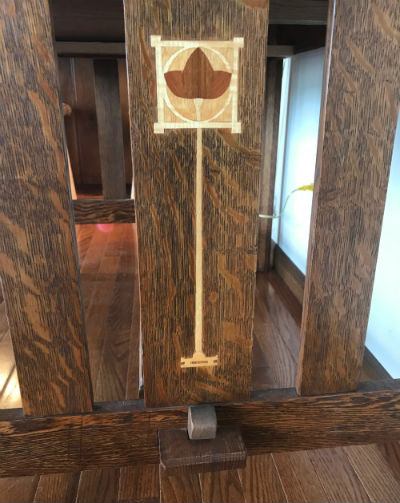 Detail of the Harvey Ellis-inspired tulip inlays


There are many other examples that we could consider — restoration projects that bring a piece back to original condition, heritage projects to adapt something that has been in the family for generations. Thinking about these highlights some general principles of Pygmalion projects.

1) Something catches your eye. You don't always see the final vision right off the bat. I think there are other things that tell us there might be something there. Things that catch my eye include real wood, solid construction, quality woods like mahogany or walnut or figured maple, or something about the structure of a piece. Grandpa's attention was caught when he saw the pretty figure on the back of the factory-made violin. What catches your attention when you see a piece of furniture or woodworking?

2) Is it worth it? There should probably be a cost calculation when you pick up a Pygmalion project. What could this become? What will it take to transform it? I am a bit of a hoarder and if I am not careful, I will fill my shop with broken things that are full of potential. With the barn table I gave it a once over and saw that it would need a new top, hardware, and refinishing — better than starting from scratch. When Grandpa picked up the violin at the auction, he liked the figure and decided it was worth taking a chance to see if it could sing.

3) Developing a vision and a plan. An interesting challenge with these projects is that you are both guided and constrained by the existing piece. Something about the original gave you an idea, but now you have to work out the actual plan and details. There are no plans in a magazine. New parts must be proportioned to fit the existing structure, joinery details have to be considered. Some of it is "reverse engineering", figuring out how the piece was put together in the first place. As I disassembled my library table, for example, I saw that the original top had been secured in place with no allowance for wood movement. Note to self — change that detail when you rebuild it.

There is something special about Pygmalion projects. They are incredibly rewarding when you are done. Obviously, they demonstrate your skill and creativity just like any of your woodwork. But these objects have also been given a new "biography" with a powerful redemption story. Destined for the trash heap, but the craftsman recognized potential and invested skill to bring the object back to life. Grandpa's violins are special because they were on the auction block for $5 and he saved them for a brighter future. When I hold my red violin, I see Grandpa's consummate skill, but I also sense his compassion and dedication to craftsmanship. I hope that someday when my grandchildren sit at the library table, they appreciate a beautiful piece of furniture but also see that I deeply cared about my craft and the material I work with.

References: Stickley, G. 1910. Craftsman Furniture. 100 p. https://archive.org/details/catalogueofcr00stic


---
Bob Rummer lives in Lawrence, Kansas and is a part-time woodworker. He can be reached directly via email at rummersohne@gmail.com. You can see his shop and some of his work at www.JRummerSons.com.