Here's My Woodworking!
By Simon Brace
Potchefstroom, South Africa

I have been a Highland Woodworking fan for many years. I discovered the store while I was studying and working in the US in Charlotte. I was based in the States for 10 years. One day I was awoken from my dogmatic slumbers on the couch by Rob Cosman's 3 minute dovetail video. My wife thought I was going through some kind of mid-life crisis when I asked for a Dovetail set for Christmas. I did not have the money nor the interest in a muscle car, and I like to make things with wood so a Dovetail set it was! I was so impressed with Cosmans' efforts that I thought I should have a try at cutting dovetails myself and the rest is history. I got hooked on hand tools and have a number of beloved Lie Nielsen's in my shop amongst a few other tools from Highland Woodworking.

My wife and I returned to Africa about 4 years ago. One of the major problems with South Africa is that there is no Highland Woodworking here.

Below is a series of photos of a dining room table project I was required to build. My first table construction was a 6 seater I built in the US out of Oak. It was an early project and a little rough. My family has since expanded and so I decided to make a dining table for my large family that can host us and another family when they visit, and maybe a few more for good measure.

My local church was looking to strip out the stage in the church hall. I offered to do the job for free and salvage the wood which turned out to be Doug Fir and Oak! The table is 3, 3x1, 2m. Sorry for the metric dimensions, I have never been able to work with the imperial. It is a stout trestle table with the blade having the wood on edge. I took the tongue and groove boards of the stage, cut the tongue and groove off and milled and put them together on edge. For the trestles I used rather stout double mortise and tenons in a through wedged tenon joint. I added some African Leadwood to the trestle for some color. This wood is ridiculously dense and heavy.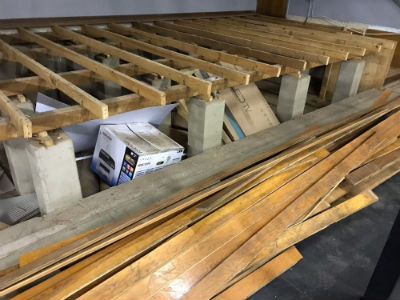 Old stage stripping out at the church hall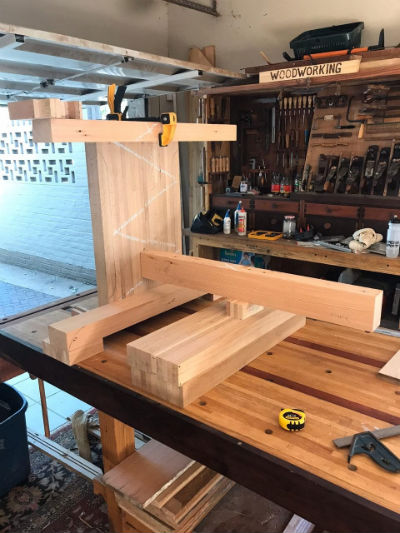 Concept stage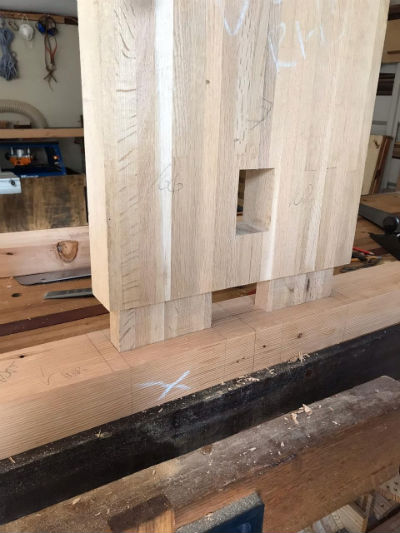 Joinery for the trestles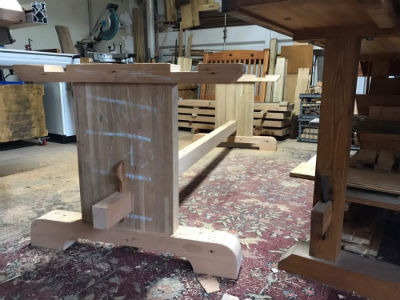 Trestles with center rail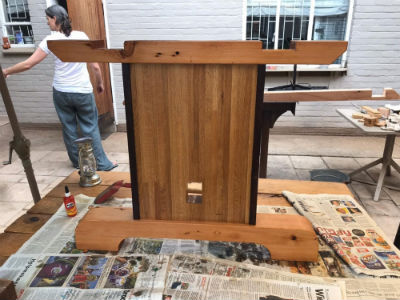 Finishing with Linseed Oil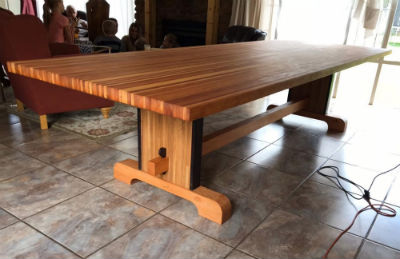 In the Lounge


Below are a few more projects I've done.








---
Simon can be reached by email at sbrace@ses.edu. You can also visit his Facebook page at Vukuzenzele Woodworking.
Return to the Wood News Online front page
Woodworking Submissions

Would you like for your woodworking projects to appear in this column? We invite you to SEND US PHOTOS of your woodworking projects along with captions and a brief history and description of your woodworking. (Email photos at 800x600 resolution.) Receive a $50 store credit redeemable towards merchandise if we show your woodworking in a future issue.

Click here to submit
your woodworking projects




Show Us Your Woodworking
Archive Gallery

Want to see more woodworking projects? Check out our gallery of past Show Us Your Woodworking Columns from previous issues of Wood News Online.



Click here to view our archive gallery



Click the images below to visit some of our most popular tool departments
| | | | | | | |
| --- | --- | --- | --- | --- | --- | --- |
| | | | | | | |
| Finishing | Books | Clearance | Festool | Planes | Sharpening | Wood Turning |
Highland Woodworking
1045 N. Highland Ave. NE
Atlanta, Georgia 30306
Tel. 800-241-6748
Email us at email@highlandwoodworking.com
Visit us on the web at www.highlandwoodworking.com
Copyright © 2020 Highland Hardware, Inc.

Errors regarding pricing and specifications are subject to correction.
SOME SALE QUANTITIES MAY SELL OUT and become unavailable at the advertised price.