Click on any picture to see a larger version.
Recently, while I was unpacking tools and setting up a new shop, I came across a collection of shop-made tools in Great-grandpa's toolbox. There were some forged pincers stamped with his initials, an old rasp that had been shaped and sharpened into a large gouge, some modified brace bits for who-knows-what purpose, a small set of curved calipers, and a crude metal handle with a plow iron attached. What was he doing? What project needed a 2" curved gouge or a special plow plane? He obviously had a forge handy - maybe I need to get a forge! But this discovery also prompted me to think about the connection between toolmaking and woodworking. I will get around to building a forge later.

One reason we make tools is to meet the special demands of unique projects. As a luthier, Grandpa Burnham made a lot of scrapers. Hacksaw blades seldom went in the trash, they were cut up and turned into tiny knives and scrapers for particular tasks. He modified his drill press to rough out body blanks and to precisely gauge the thickness of complex curves. In his shop there were drawers full of custom clamps made from dowels and bolts (you can never have too many clamps) as well as a special jig for re-hairing bows. In many cases these were not tools you could go buy at the store. Grandpa had an intimate knowledge of the woodworking tasks involved in creating instruments. He also had a knowledge of the principles of tool design and function. His specialized tools made his work more efficient and precise.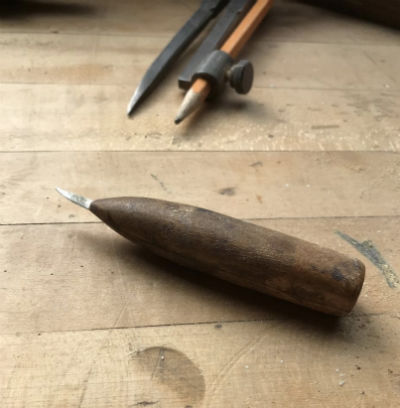 Another reason we make tools is to save money. I don't know how many times I have looked at something and thought to myself, "I can make that for half the price." When you know you have the parts, skills, and knowledge to make it yourself, why pull out the checkbook? Grandpa Rummer made some small picture frames for gifts. He needed a mini-frame clamp for square glue-ups. You can buy these for about $30 today. Grandpa took some brass fittings, nuts, and fine all-thread out of the parts bins and made his own clamp. I still use it today, plus I keep his brass fittings bin handy thinking someday I might need to create something useful.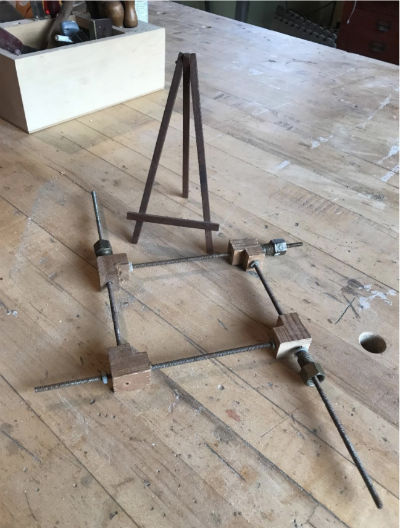 My dad was also a toolmaker. He made my first lathe (a bowl lathe) by attaching a hub and plywood disk to the shaft of an old washing machine motor. The motor was mounted to a plywood base with a guide that could secure a fixed tool rest in front of the work. You attached the blank with screws through the plywood faceplate. After sharpening some old screwdrivers into lathe tools, Dad gave me a few pointers and turned me loose to make sawdust and lots of bowls. I don't think he spent a penny on the project that was my first power tool. Later, when I got to the point where I needed to make candlesticks to go on top of all those plates, Dad bought a real spindle lathe. The washing machine motor got upgraded with a step pulley and kept on powering my sawdust production.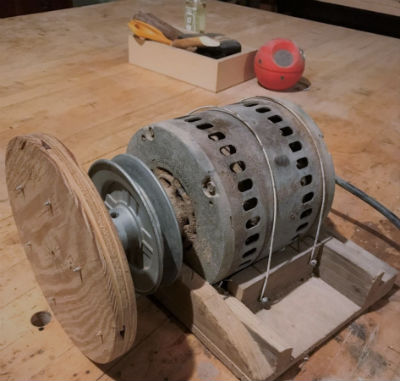 Figure 3 - My first lathe, still running 50 years later.
The Panasonic radio has been in the shop that long too.


Growing up in the 60's we were raised with a lifetime subscription to Popular Mechanics. Over the years, I read a lot of tool reviews, articles on how to use tools, tips for shop jigs, and plans for how to make your own tools. In 1947, Popular Mechanics had a two-issue article on how to build your own 10" tilting arbor tablesaw. Later, they compiled a set of projects into a book called Forty Power Tools You Can Make. Highland has a collection of toolmaking books in their store and online. Today you can find power tool plans in magazines as well as a wide variety of online resources. Make your own thickness sander (at least three different plans available online). Build your own bandsaw (I can't count the different versions out there). Build a CNC machine. There are so many plans and options out there for making your own tools that you quickly get to the point of asking, "just because I CAN make my own tools, SHOULD I make my own tools?" There's a balance between toolmaking and woodworking, making tools that will actually make your woodworking easier without spending all your time making tools is the trick.

While I don't hesitate to consider building my own tools, I do want to say something about safety. It is no surprise that woodworking power tools come with a manual that is mostly warnings. Sharp cutting devices, in-running nip points, electrical connections, and all the hazards of loose stock have caused many injuries in the shop. My junior high shop teacher showed our class the hole in the concrete block wall from a tablesaw kickback - the memory of that safety lesson is clearer than most of the actual shop work. Factory-built tools incorporate design features that reduce hazard. Factory parts are carefully engineered to withstand expected (and unexpected) loads and stresses. Homemade tools will seldom meet this level of design rigor. Is the coathanger wire holding my home-made lathe motor in place really strong enough to resist a hard catch during turning? Fifty years of work says yes but maybe I haven't had the big catch yet.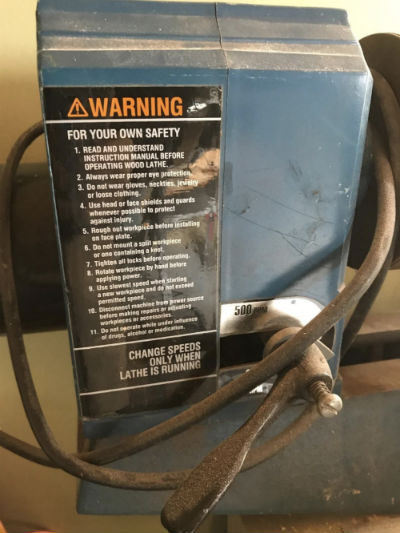 Figure 4 - How many ways can you get hurt by a lathe?


Once Dad and I made a wooden "drill press" stand for our 1/2" electric drill - a shiny silver beast with a red lightning bolt on the side. We made the various parts of the stand from solid pine lumber. I was particularly proud of the capstan mechanism we came up with to raise and lower the drill - Leonardo da Vinci would have been impressed. The drill was strapped into a fitted cradle with screen door springs holding it down. We locked it on for the test drive and slowly lowered the drill into the wood. For reference, a 1/2" drill develops over 1000 lbs of torque. I didn't really know what torque was back then.

When the drill bit entered the workpiece all that torque turned against the 1x pine bracket and the screen door springs. The drill leapt off our homemade stand flailing two door springs as it wrapped up the power cord and crashed to the floor. I think that was the last power tool we tried to make. Be safe.

Many cultures have stories of mythological master craftsmen. Daedalus for example, was known for clever designs (like wings) and skillful work. Supposedly his sculptures were so realistic that they had to be tied down to keep them from walking away. Pliny the Elder says, "Daedalus was the first person who worked in wood; it was he who invented the saw, the axe, the plummet, the gimlet, glue, and isinglass." These stories show us that the ancients considered the origin of tools important enough to warrant narrative and attribution. Tools gave humans "superpowers" and provided the means to transform our world. Mythical master craftsmen, working with their magical new tools, could invent and create in extraordinary ways.

When I think of my grandpas and great-grandpa, craftsmen working to produce beautiful carriages, musical instruments, and furniture, I realize their skill didn't just lie in a mastery of woodworking. They were also masters and makers of their tools.

References

*1948. Forty Power Tools You Can Make. Popular Mechanics Press. 96 p.

---
Bob Rummer lives in Colorado and is a part-time woodworker. He can be reached directly via email at rummersohne@gmail.com. You can see his shop and some of his work at www.JRummerSons.com.