Stories from Grandpa's Workshop
Mahogany - My Old Friend
By Bob Rummer
Click on any picture to see a larger version.
Do you have a favorite wood? One that is like an old friend on the woodrack? You pick up a board and look over its grain and colors, and you know what it will feel like to plane it or carve it. You can see in your head what it will look like with a couple of coats of oil finish. We get that kind of familiarity or intimate knowledge of wood through hands-on experience and hours in the shop. Mahogany (Swietenia) is one of my old friends.

I first met mahogany in Grandpa Burnham's shop. In the 1940's Grandpa was a partner in a propeller manufacturing company -Freedman Burnham Engineering- in Cincinnati. Their propellers were made from a lamination of Honduran mahogany and white birch. By the time I came along the propeller company was long gone but Grandpa still had a lot of aircraft grade mahogany stashed away. Once, my brother Ken wanted to build a boomerang and he asked Grandpa to help. Grandpa selected some nice boards (Dad thought they were a bit too nice for a toy) and gave some pointers on scarf joints and proper glue-up for lamination. He demonstrated how to shape a fair curve with rasps, planes, and spokeshaves. "Meet your new friend mahogany - it can be carved and smoothed in amazing ways."

I remember the project with some awe, a big (almost 3 feet from tip to tip) beautiful flying wing that was going to loop across Aunt Til's field and return to my brother's outstretched hand. The actual test flights didn't quite meet expectations and ended with a crash landing that split the wood. Fifty years later however it hangs on the wall, still looking good even with the masking tape holding it together.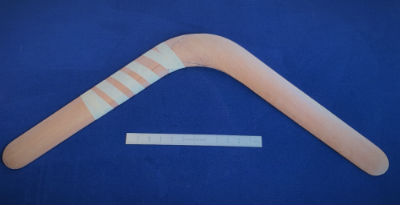 Figure 1 - Ken's Ginormous Mahogany Boomerang


When I was in high school, I was helping Grandpa build a set of bookcases for their new house. In the 70's Philippine mahogany was in style and we were cutting scrollwork on the meranti face frames. He told me all about how this wasn't really mahogany, it was too soft and splintered too easily. I learned that you must be careful about wood selection because wood properties matter. That is why Honduran mahogany made good propellers but Philippine mahogany would not.

In my forestry career I ran into my friend mahogany in Puerto Rico where plantations were established in the 1930's on the Caribbean National Forest. The local Forest Service crew was cutting up windfall mahogany into thick slabs to use for the "Welcome to the Caribbean National Forest" signs. They were going to paint it Forest Service brown with bright yellow letters. As hard as it was to see 100 bf of mahogany turned into a road sign, one of mahogany's properties is that it is moderately rot and termite resistant — good for outdoor signs.

Today Honduran mahogany is listed in CITES Appendix II (ITTO 2004). That means that international trade is controlled to ensure the species remains sustainable. Brazil was the main source for mahogany exports until 2001. After many years of unsuccessful attempts to regulate a sustainable trade, Brazil banned all exports of mahogany. Currently Peru is the leading exporter, but it faces its own problems with illegal logging and smuggling. Mahogany plantations have been established around the tropics in places like Fiji, Indonesia, the Philippines, Thailand, and Malaysia. However even these are not without controversy (things like soil effects and replacing native forest).

I recently read Jennifer Anderson's history of the mahogany trade (Anderson 2012). It is a fascinating book. Mahogany started out as a low-value product carried as ballast that was sold for dimensional timber uses. In the 1720's it was "discovered" by furniture makers and became red gold, one of the most valuable woods in international trade. Chippendale couldn't have been Chippendale without mahogany.

Behind the glamor of high fashion however was a story of exploitation and conflict. Mahogany was logged to extinction in the West Indies, chased across the northern coast of South America and into the forests of Central America as loggers tried to meet demand. Native mahogany is a rare tree (often less than 1 tree per acre of tropical forest). Logging crews scoured the woods to find and cut out the valuable logs. The cost was human as well as environmental with slave labor working in brutal conditions to supply the raw material for the luxury furniture market.

By the time Grandpa Burnham was buying MILSPEC mahogany to make propellers in 1939 it was getting hard to find high-quality Honduran mahogany in the Americas. During World War II mahogany was listed as a strategic material used in aircraft and ships with its importation and utilization highly regulated. Mahogany plantations in Asia and the Pacific can be traced back to post-WWII efforts to expand the supply of this valuable wood.

One of Grandpa's last projects was to build a Federal style dining room table out of mahogany. The design featured holly inlays and stringing with brass sabots at the bottom of the legs. He roughed out a matching set of chairs but never got to finish the project. He left a closet full of lumber at the end that got divided across the family. I passed some of it along to my son who made a beautiful Celtic harp and their family weekly menu planner from it.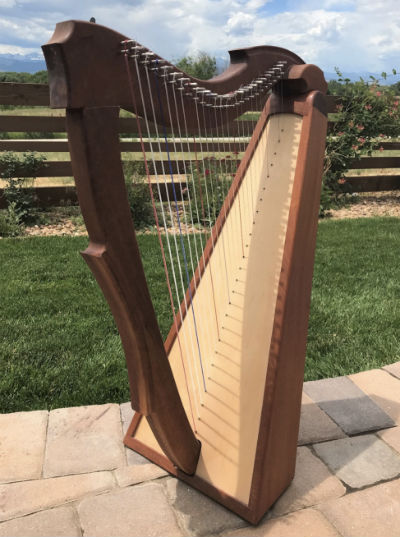 Figure 2 - Jeff's Celtic harp from
Musicmaker's Limerick plans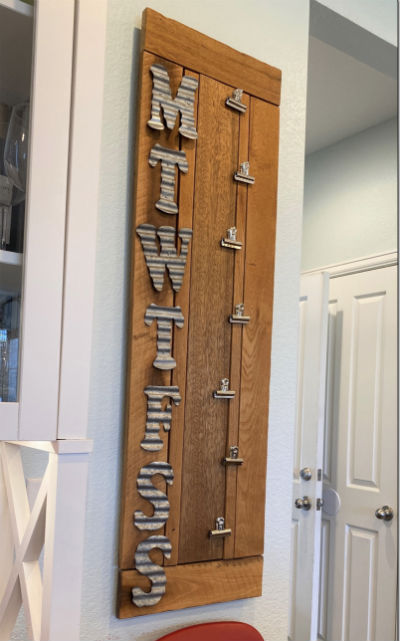 Figure 3 - The weekly menu board


As I sit here and look at the menu board, with its saw marks and glowing golden grain, I think about my old friend mahogany. The more I have come to appreciate it, the more it changes the way I approach using it in my woodworking. I am more careful about planning a project to reduce scrap. I think more about how to feature the grain or the color to highlight the beauty of this wood. I give more thought to what I will make from it. Finally, I have to share it with others so they can appreciate the story of the wood. When the grandkids are posting Tacos for Tuesday on the menu board, I can say, "Let me introduce you to my friend mahogany — he knew your great-great-grandfather."

References

*Anderson, Jennifer. 2012. Mahogany-The Costs of Luxury in Early America. Harvard University Press. 424p.
*ITTO. 2004. Making the mahogany trade work. Technical Series 22. International Tropical Timber Organization.https://cites.org/sites/default/files/common/prog/mwg/E-report.pdf

---
Bob Rummer lives in Colorado and is a part-time woodworker. He can be reached directly via email at rummersohne@gmail.com. You can see his shop and some of his work at www.JRummerSons.com.
Click the images below to visit some of our most popular tool departments
| | | | | | | |
| --- | --- | --- | --- | --- | --- | --- |
| | | | | | | |
| Finishing | Books | Clearance | Festool | Planes | Sharpening | Wood Turning |
Highland Woodworking
1045 N. Highland Ave. NE
Atlanta, Georgia 30306
Tel. 800-241-6748
Email us at email@highlandwoodworking.com
Visit us on the web at www.highlandwoodworking.com
Copyright © 2020 Highland Hardware, Inc.

Errors regarding pricing and specifications are subject to correction.
SOME SALE QUANTITIES MAY SELL OUT and become unavailable at the advertised price.