Click on any picture to see a larger version.


The other day I noticed the dust collection system wasn't working as well as it should. A glance at the cyclone showed that the can was full and backing up into the hose. Didn't I just empty that a month ago? And then I look at the offcut bin under the chopsaw—busting at the seams again. Time to make a trip to the burn pile. But before I do, a cup of coffee on the shop porch and some thoughts on the amount of waste in our woodworking. Let's take an example of a recent jewelry box project made from hickory and walnut. The box is about 4 x 5 x 8 with a solid slab lid and a lift out tray. If you add up the actual solid volume of wood in the finished product it comes to about 90in cubed, or about 0.63 bf. But how much wood really went into this project?

We should really start all the way back to the stump. The US Forest Service, Forest Inventory and Analysis program conducts regular surveys of our forests and forest industries. One of their publications is the Timber Product Outputs series (see the links at the bottom of the article) with summary information for each state on how much timber is cut, how much is processed at sawmills, and the volumes of different products like lumber and pulpwood. This example from West Virginia shows that of the total volume of wood cut in hardwood logging operations (290 million cf), about 35% was left in the forest as slash and residue. Just for comparison, data from two other states—Missouri (40%) and Kansas (28%) have similar values.

When the mills buy timber "on the stump", they estimate how much usable volume is in the tree using a scaling method. The scalers measure standing trees or round logs and guess how much rectangular lumber can be produced—the scaled volume. But how many actual board feet of rough lumber are recovered from an actual cubic foot of log? This is called the Lumber Recovery Factor (LRF). If you had 100% recovery you would get 12 bf from a cubic foot of log. A recent study (Thomas and Bennett 2017) using laser scanned log profiles found that the average LRF in hardwood sawmilling was 7.1 bf/cf. This means the best sawmill turns about 59% of log volume into roughsawn boards—the rest (41%) is sawdust, chips, and bark.

The sawmill cuts the rough lumber to a size that will insure the finished, planed, lumber will meet minimum dimensions defined by the National Hardwood Lumber Association. They leave enough material (called allowances) for some wobble in the sawing, shrinkage in the kiln, and the planing process (Steele 1984). If you have a nominal 4/4 rough board that turns into 13/16" S2S finished lumber you just put another 18% of the volume into the shavings bin.

Now the finished lumber comes into my shop in random lengths and widths. I don't buy straight-line ripped lumber so I can try and get the most out of each board. Sometimes I work from a cutting plan for the whole project, sometimes I just jump in and start cutting out the longest or widest parts from the biggest boards first. I cut to length, rip to width, cut out defects, square up ends, joint edges, flatten faces, resaw, and plane for thickness. All these operations create offcuts and waste that add up quickly. For example:

Trim to length (1" trim allowance on an 18" part) = 5%
Rip to width (3" wide parts out of 4" wide board) = 25%
Cutting for defects or figure (trim 3" around a knot in a 24" board) = 12%
Thickness planing (3/4" down to 1/2") = 33%
Oops parts = 100%?

This is a fairly common question on web forums—"What waste factor should I use?" In cabinetwork it seems like 30% to 50% is pretty common. If we add up all the lost wood along the way from stump to final project it comes to about 84% of the tree that we started with. My little jewelry box (0.6 bf) used up almost 4 bf from the tree!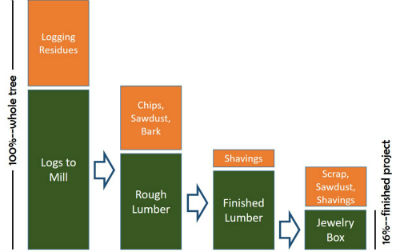 So a few takeaway thoughts on wood waste:

Waste isn't always waste if you can find a use for it. At every step in the process--loggers, sawmills, woodworkers—try to find productive uses for the scrap and residuals. Tree limbs left in the woods are important for nutrient cycling. Sawdust and chips at the mill get burned to make heat for kiln-drying. I use planer shavings for garden paths and scrap to burn in the fireplace. Is that 84% really wasted? Maybe the word should be "underutilized."
That said, at every step you want to turn as much volume into the highest value material as possible. The first best practice is to use a cutting plan. Loggers make decisions about where to start cutting the tree into logs. Sawmills choose where to put the first cutline to make boards. If you want to reduce waste in your shop, take the time to layout all the parts for your project on your wood before you start cutting.
When you make cuts—accuracy counts. Loggers leave a trim allowance (4-6" on an 8' log) in case the bucking cut isn't square across the log. Sawmills leave trim, I rough cut parts to leave some wood for final squaring and edging. Sometimes I even start by cutting to a chalk mark! If you want to reduce trim losses and avoid overcuts, take the time to mark and cut with care. "Measure twice, cut once" is for real.
Finally, have a system to store and use offcuts and smaller pieces. The hoarder approach is to never throw anything away until the pile gets too big. That is not utilization. Sort pieces by species and dimensions. Make it a habit to go to the offcut bin first to find material for small parts. Since offcuts won't often match your show faces, use these materials for internal parts. Be smart about what you keep on the woodrack for future use and what really needs to go in the scrap bin. There are lots of ideas for small piece storage systems that can help out.
If you really want to increase wood recovery, try some green woodworking. Find a project where that piece of firewood might turn into a piece of art. Take a look at the lid of my jewelry box—that beautiful piece of walnut with the bark inclusion was headed for the burn pile. Now it is the jewel of the box!
Every day I work in the shop I am blessed by the wonderful material that we get to play with. Every piece has its beauty. I feel a sense of responsibility to try and get the most out of what nature has provided. I think that is part of the joy of woodworking—taking on the challenge of finding the best in the material and making it into useful things. We win when we get more boxes and less sawdust.

References: Malcolm, F.B. A Simplified Procedure for Developing Grade Lumber from Hardwood Logs. USDA Forest Service. Research Note Research Note FPL−RN−098.
Piva, R.J. and G.W. Cook. 2011. West Virginia Timber Industry: An Assessment of Timber Product Output and Use, 2007. USDA Forest Service. Resource Bulletin NRS-46.
Steele, P. 1984. Factors Determining Lumber Recovery in Sawmilling. USDA Forest Service, Forest Products Laboratory, General Technical Report FPL-39.
Thomas, R.E. and N.D. Bennett. 2017. An Analysis of the Differences among Log Scaling Methods and Actual Log Volume. Forest Products Journal, 67(3/4): 250-257.

---
Bob Rummer lives in Lawrence, Kansas and is a part-time woodworker. He can be reached directly via email at rummersohne@gmail.com. You can see his shop and some of his work at www.JRummerSons.com.