Click on any picture to see a larger version.
Where do woodworkers get their wood? The simple answer is anywhere they can. Keep in mind woodworking is a hobby for me, not a profession, so my needs are far less. Still, there are many opportunities to get wood. For example, a farmer friend of mine knows I am into woodworking and he will occasionally call to tell me they cleared a tree row and cut down a large Osage orange (or a walnut, or a locust, or…) and ask me if I would want any of the wood. Yes, I would. Another example — a friend of mine was with another friend of his when they cut down a large holly tree and asked me if I would want any logs from it. In my reading, holly trees do not get that big so I was actually hesitant, but said of course just to get the opportunity to work with holly. My friend delivered several logs of straight-grained holly up to about fourteen inches in diameter! I had fun creating the "holly grail" and the "holly-wood bowl". One last example of this type. I was leaving my neighborhood when I noticed a guy that had just finished cutting up a downed birch (white or paper). I stopped and yelled to him "what are you going to do with the wood?" "Taking it to the dump, why, you want it?" he said. "Yes, a few logs." "Take as much as you want," he said, and I filled my truck with it.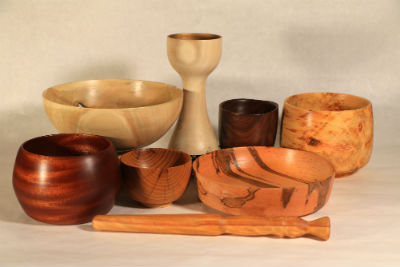 The wood to make all these items came from the sources listed within
this article. Back row, l to r: the "holly-wood bowl" and the
"holly grail"; walnut cup, and box elder bowl. Middle row, l to r:
sapele bowl, Osage orange bowl, and ambrosia maple bowl.
In front: spurtle turned from neighborhood birch.


Another source that I enjoy is attending local auctions. I often go to auctions looking for specific things, but you can find good stuff in what is called box lots — these are sometimes related but more often unrelated items thrown in a box and you bid on the entire box. I've bought boxes for a dollar, picked out the few small items I wanted, and either resold the rest privately (to someone at the auction who was after a different piece of treasure in the box than I was), or simply threw it away. At one auction, I spotted a bowl blank of ambrosia maple in a box mixed with broken Christmas tree ornaments — the whole thing really looked like junk. Because I got the box for one dollar, I am certain I was the only one there who recognized this particular treasure.

If you are savvy with social media, there is always Craig's List, Facebook Marketplace, woodworker's groups, and I'm sure many other outlets. I haven't yet bought any wood this way, but I've been tempted, occasionally.

One of my favorite sources of wood is from my own backyard. Ok, not really my yard - I have maybe a quarter acre of yard — but my property backs to unused forest. I don't cut trees down, but I will cut them up. In particular, I seek out the cherry burls that seem so prevalent in this area, but I have also harvested boxelder that had that beautiful red/orange blaze figure in it.

There are many other sources of wood including buying it from "big box" stores, lumber yards, or any one of the woodworking specialty stores. This can be the only way to get some of the foreign exotic woods (I have not seen any bubinga growing behind my house...yet). I tend to stick to domestic wood with the one glaring exception described below. I stick to domestic woods mostly because it is wood I am familiar with, but also I usually know where the wood is sourced and how it was harvested. Some exotic woods are so rare that products made from them cannot cross international boundaries (it is beyond the scope of this article, but look up guitars made from Brazilian rosewood as one of many examples).

On my bucket list of things to do was to build a boat. The next best thing was to build a kayak from a kit. I bought a kit from Chesapeake Light Craft (CLC) out of Annapolis, Maryland and took the next year and a half to put it together (this included a six month period in the middle of construction to "think about it"). The kayak uses the dark wood sapele and the lighter wood okoume, both African hardwoods. After finishing the boat, I wanted to make a paddle for it and chose white cedar from a big box store as my base. While planning the paddle, I visited my favorite lumber yard that allows me to look through their scrap piles of wood. I saw a slab of wood ten inches wide, four inches thick, and five feet long. I was thinking it was walnut (lighting was dim in their scrap area). I asked one of the workers who told me it was a slab of sapele — in their scrap pile! I bought it and used it for accents in my paddle and also turned a couple of chunks for use as handles on the kayak (and a bowl or two with plenty left over).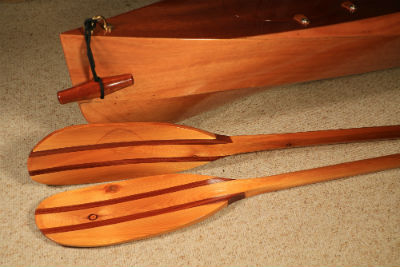 Kayak and paddles — the top of the kayak (the deck) is sapele from
the kit; the carrying handle and the dark accents in the paddle
are sapele from the lumber yard.


I think getting a few logs from a farm that cut down trees for firewood, or grabbing a few logs from a downed tree that was destined for the landfill, or getting some wood from a friend, or even salvaging wood from a scrap pile from a lumber yard or box lots from auctions are all good examples of "reclaimed" wood, but repurposed wood? What do I mean by this?

After saving money for years, my parents bought a new Pennsylvania House solid cherry dining room set — this in the mid 1960's. My two sisters and I grew up around this furniture, which included a table with three leaves, two arm chairs, 4 side chairs, a buffet, and a hutch. When the furniture was up for grabs, my two sisters had dining room furniture they were happy with, so the old family set came to me. After decades of use, a divorce, and several moves, the furniture no longer fit into my house. I stored all but the buffet (which as of writing this article is still in my dining room). Over the years, the table and two of the chairs became damaged — the two chairs damaged beyond use when they fell off a truck during one of many moves. I had an idea, but decided to run it by the sisters before proceeding. They didn't know what I had in store for it, but I merely asked them if they had any interest in the table and if they would mind if I repurposed it. They didn't seem to care what happened to it. With their rather apathetic blessing, I took two of the leaves and planed them down, cut them up, and reassembled the pieces into a clock — ok, there was much more planning and woodworking involved, but that was the short story. Every piece of wood in this clock came from the table leaf. I even kept some of the pin holes that align the leaves present in an inconspicuous place, and also kept the original finish on the thin resawed back. I wrote on the back (using a wood burner), "From table to clock". I gave this clock to my oldest sister upon her 60th birthday. It is my hope that when she looks at this clock that her mind will flood with the good memories that our family had growing up around the furniture.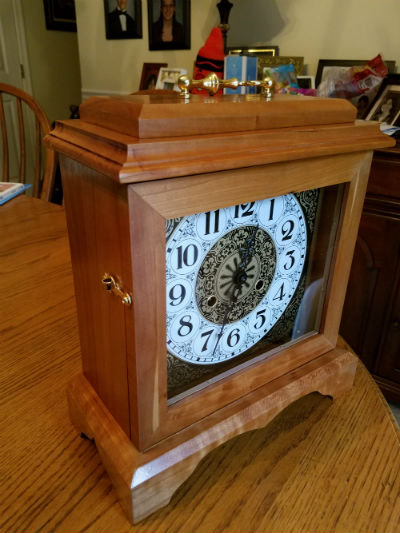 Clock — all wooden parts repurposed from old family table leaves
(as a bonus, the buffet from the same dining room set can be seen
in the background right).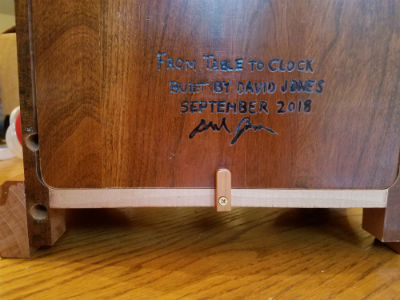 Back of clock showing writing on thin piece of wood with
original finish; two leaf alignment holes can be seen on the left.


Upon seeing the clock, my other sister said, "I can't wait to see MY clock", and it is already being designed in my head. This sister had the chore of dusting the chairs and they were Windsor braced fan-back style chairs so not an easy task. Because of this, I am hoping to cut some of the spindles from the destroyed chairs (yes, I kept them) in half lengthwise and incorporate them into the design as half-columns, but we'll have to wait and see if this is feasible. I just hope to have enough wood to make myself a clock someday.

In summary, wood is relatively easy to obtain if you know where to look, who to ask, or where to go — friends, neighbors, auctions, yard sales, mother nature, stores, internet, social media, etc. You will be surprised who approaches you with "scrap" wood they are willing to give you once word is out that you are looking for it. And don't overlook opportunities to repurpose wood. The table leaf to clock was but one example. I have a red oak wall shelf made from excess flooring from the house that my kids grew up in — I'm still thinking about what to make them out of this, but I'm sure they will appreciate it.


---
You can email David at dbjones@myactv.net.