Upgrade the Safety in Your Workshop!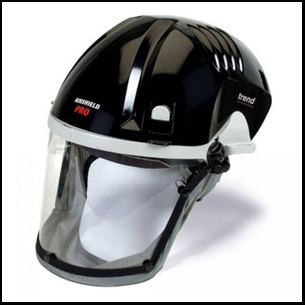 The Trend Airshield Pro is the gold standard in power respirators and the best tool to keep your lungs safe in the workshop. This is the option favored by the editors of Fine Woodworking when they rated dust masks in a comprehensive review.

The more we learn about long term exposure to airborne wood dust, the more important powered respirators become. Even with the best dust collection setups, certain operations create unrecoverable dust, which gets into the air and eventually ends up in your lungs.
Tool Review: Trend Airshield Pro

Jeff Fleisher takes the Trend Airshield Pro for a spin in his own shop. As a woodturner, Jeff creates a lot of dust and he knows that breathing it in is bad for his lungs. Even so, he was initially skeptical about the size and weight of the Trend Airshield Pro.


Click here to read what he thought after trying it out

The New Trend in Safety

Steve Johnson, the Down to Earth Woodworker, had to grind and sand some large ash slabs for a project he was working on. After the first hour of sanding using a regular dust mask, he'd had enough and decided to try out the Trend Airshield Pro.


Click here to read what he thought about it
Improve Your Workshop Safety With These Fine Tools
Click the images below to visit some of our most popular tool departments
| | | | | | | |
| --- | --- | --- | --- | --- | --- | --- |
| | | | | | | |
| Finishing | Books | Clearance | Festool | Planes | Sharpening | Wood Turning |
Highland Woodworking
1045 N. Highland Ave. NE
Atlanta, Georgia 30306
Tel. 800-241-6748
Email us at email@highlandwoodworking.com
Visit us on the web at www.highlandwoodworking.com
Copyright © 2019 Highland Hardware, Inc.

Errors regarding pricing and specifications are subject to correction.
SOME SALE QUANTITIES MAY SELL OUT and become unavailable at the advertised price.