CLASS: Four Square Woodworking - Milling and Jointing Lumber with Jay Wiggins, December 17
Unfortunately, the wood from a lumber yard is rarely flat and true when you bring it home. This class will show how to use your jointer, planer and table saw to properly dress and prepare your stock in a uniform manner so it will glue up and assemble flawlessly. You'll learn the techniques and tips to efficiently go from crooked and rough to smooth and square, while learning to read the grain for the best cutting results from your machines.

Four Square Woodworking - Milling and Jointing Lumber with Jay Wiggins, December 17
---
Highland's Upcoming Woodworking Class Schedule in Atlanta

Many classes fill up quickly, so please register now to make sure we hold a spot for you.

Dec 10 Hand Cut Mortise and Tenon
Dec 12-13 Woodworking Expanded
Dec 15 Hand Planes
Dec 16 French Polish Workshop
Dec 17 Milling and Jointing Lumber
Dec 19 Turn a Peppermill
Dec 20 Basic Bowl Turning
Jan 5 Hand Tool Sharpening
Jan 13 Sharpening for Turners
Jan 16-17 Fundamentals of Woodworking
Jan 20 French Polish Workshop
Jan 21 Milling and Jointing Lumber
Jan 23 Basic Bowl Turning
Jan 24 Beginning Turning

Classes Suitable for Teens

View Slideshows of Classes
---
At Highland Woodworking, we have a variety of vendors who put a lot of time and effort in handcrafting each of their tools that might one day end up in your workshop. We wanted to give our readers and customers a little background about where their tools are coming from and the toolmakers who are making them.
This month, we are featuring Bad Axe Tool Works based out of La Crosse, WI and owned by Mark Harrell. Bad Axe Tool Works currently specializes in saws, three of which you can find for sale at Highland Woodworking.

CLICK HERE to find out more about Bad Axe Tool Works:
---
Show Us Your Woodworking!
This month we are featuring a variety of woodworking projects made by Jennifer Root, who just got started in woodworking in Spring 2015, but it has already become a big part of her life.

CLICK HERE to see Jennifer's projects:
---
Show Us Your Woodcarving!

This month we are featuring the carving projects of William Brown, who mostly does furniture carvings, but has just recently delved into carving traditional eagles.

CLICK HERE to see more of William's Carvings:
---
Tips From
Sticks-In-The-Mud Woodshop
By Jim Randolph
Long Beach, MS

This month Jim discusses the value he sees in Festool products, and then gives a money-saving tip on creating your own hose management system for Festool Dust Extraction .

CLICK HERE to read this month's tips from Sticks-In-The-Mud Woodshop!
---
Our latest Woodworking Catalog is available to browse online!

CLICK to start flipping through it:
---
Video of the Month

Sleeved Hose



Each month we're featuring one of our many spectacular Festool power tools and highlighting it with a video product tour.




This month we're featuring a Highland Woodworking product tour of the Festool Sleeved Hose with Steve Johnson, who explains this special option you can pick for your Festool Dust Extractor.

CHECK OUT the Festool Sleeved Hose:


---
Ask the Staff

Question: I am building an oak table with 4" sq. legs. Can I use a lock miter joint on 1" stock for joining the legs? Is it strong enough?

For more details and the answer, CLICK HERE:

E-mail us with your woodworking questions. If yours is selected for publication, we'll send you a free Highland Woodworking hat.
---
LOOKING BACK:
Our Woodworking Tool Reviews from 2015

Woodworker Jeffrey Fleisher of New Market, VA contributed a tool review to each monthly issue of Wood News during 2015. We've compiled them for you here, and invite you to take a look at Jeffrey's thoughtful evaluations of these woodworking tools.

CLICK HERE to see the reviews:


---


This month, Guy Lovelace shares his tip on the reminders he leaves himself around the shop in order to work safely.

CLICK HERE to read Guy's Safety Reminders:



Do you have a 2 Minute Safety Tip you would like us to share? If so, we invite you to EMAIL US and if we use your tip, you'll get a $25 store credit!
---
Leigh Router Table Jig

Leigh's joinery jig is designed specifically for use on router tables. Able to produce through dovetails, half-blind dovetails and box joints quickly and easily, the RTJ400 offers instant adjustment of joint tightness down to a thousandth of an inch.

CLICK HERE for more info:


---
FREE SHIPPING on Leigh Jigs in lower 48 states
Our Leigh Dovetail Jigs and Frame Mortise and Tenon Jigs will turn your shop into a cabinet factory.

CLICK HERE for more info:


---
WORKBENCH SALE
Save up to $200
Several models of our ever-popular European and German workbenches are now on sale. Choose the model that fits your shop and budget.
CLICK HERE for more info:
---
---
---
Inside This Issue
Artisan Toolmaker: Bad Axe Tool Works
Video of the Month: Sleeved Hose
Winter 2015/2016 Online Flip Catalog
Tips from Sticks-in-the-Mud Woodshop
2015 Tool Reviews
Show Us Your Shop
The Down to Earth Woodworker
The Woodworking Police
Q&A: Lock Miter Joint for a 4-sided Square Leg
Poll: What Do You Do With Your Dust Collector's Output?
Blog: Holiday Wishlists
Finishing: Inpainting
Show Us Your Stuff
Show Us Your Carving
SAFETY: In Order to Use the Saw...
---
Show Your Shop!
For this popular monthly column, we invite you to SEND US PHOTOS of your woodworking shop along with captions and a brief history and description of your woodworking. (Email photos at 800x600 resolution.) Receive a $50 store credit if we show your shop in a future issue.


This month we are featuring Ira Penn's workshop in Bellingham, WA.

CLICK HERE to see more of Ira's shop:
---


By Steven D. Johnson
Racine, Wisconsin

A Woodworker's Remodeling Project

A Remodeler's Woodworking Project

Aisle Engineering

A Few Answers… Please!


This month, Steve discusses remodeling vs. woodworking and how a woodworker's remodeling project differs from a remodeler's woodworking project. He also discusses the concept that many woodworkers who stand in hardware aisles might know as "aisle engineering." Lastly, he has a few questions that he would like the answers to as one of his Christmas gifts this year.

CLICK HERE to read more:
---
---
Finishing Wood with Alan Noel
Inpainting

This month Alan shares his tips for "inpainting" a special process for doing touch-ups on your woodworking projects, furniture, and most importantly, your floors.

Here are FOURTEEN tips for Inpainting:


---
This Month on
The Highland Blog
Blog: Holiday Wish Lists

Looking for a bit of inspiration to start your own woodworking wish list for the holidays? Check out the Woodworking Wish List series on our blog, where our contributors wrote about what they are hoping to get for the holidays."

CLICK HERE to read more:


---
Woodworking Poll
What Do You Do With Your Dust Collector's Output?

In this month's poll, Jim Randolph asks "What Do You Do With Your Dust Collector's Output?"

CLICK HERE to answer our poll:


---
The Woodworking Police
By Chris Black

Wood News author, Chris Black, was recently demonstrating hand tool joinery at a tool show, when a gentleman commented that he was "cheating" on his dovetail-making. After Chris tried to explain his shortcut, he realized that he had been caught by the "woodworking police."

CLICK HERE to find out more about the "Woodworking Police":


---
CLICK ABOVE to watch our
latest Web TV episode
---
Order any of the above 4 books from us during November/December for 33% off list price.
Click here for more details and to LOOK INSIDE each of the books:
---
Our Elipse Dust Mask is great for woodworkers
For more than a decade we've searched for a worthy successor to the Dustfoe, the most popular dust mask for woodworkers that we've ever sold, but unfortunately was discontinued by its manufacturer. We've finally found it in the Elipse P100 dust mask.

Now Available in Two Sizes:


---
Instantly access any article ever published in Fine Woodworking,
for only $69.99
This brand new 2015 edition of this DVD archive contains every article published in the 250 issues of Fine Woodworking magazine over the past 40 years. Easily search and view an entire generation's worth of woodworking wisdom.

Order now to save $30 off the $99.95 list price:

---
CLICK HERE for more details:
Lake Erie Toolworks Wooden Vise Screws
We are delighted to now stock these traditional-style wooden vise screw kits for workbenches. They are massive wooden hardware solutions that are impressive both in their good looks as well as their highly-satisfying performance. Diameter of the screw thread is a hefty 2-1/2"! We currently offer Lake Erie's Premium Wagon Vise Screw Kit (pictured above) as well as their Premium Wood Vise Screw Kit, which is suitable for leg vises, face vises and tail vises.
CLICK HERE for more info:
---
Rikon Universal Mobile Base, only $49.99
Find more space in your workshop by mounting some of your big tools onto these handy steel mobile bases. After moving a machine into position, you can lock it firmly in place by flipping the mobile base's two quick-action levers, allowing the tool to rest securely on adjustable rubber leveling feet. Fits up to 31" x 31" square or a 14" x 35" rectangle. Handles up to 400 lbs.
Limited supply available
---
New Carving Tool Set by Record Power with Quick Start Guide and DVD
This is a great value for the woodworker or woodturner who wants to add the craft of woodcarving to their skill set. 12 numbered, carefully-selected tool patterns are integrated into a step-by-step quick-start project guide, greatly simplifying and accelerating the learning process for fast results.
CLICK HERE for more info:
---
Woodpeckers OneTime Tool
Saddle T-Squares
Woodpeckers Saddle T-Squares accomplish two layout tasks other squares simply can't. First, you can carry your pencil line across and down two adjacent edges without moving the square. Second, the Saddle T-Square allows you to mark lines perfectly parallel to the edge of your stock. Available in 4 sizes, 4", 6", 8" and 12", as well as metric equivalents.
Order Deadline is
Dec. 21, 2015:
---
NEW Festool TXS T-handle Drill/Driver
Festool has just released a T-handle version of their compact drill/driver, the TXS, an alternative to their very popular CXS compact drill that features a D-handle design. Weighing just under 2 lbs., the superb balance of the TXS makes it a delight to hold and use, and it sports the innovative design features we've come to expect with all Festool products.
CLICK HERE for more info:
---
NEW Festool Centrotec Installer's Set
The Festool Centrotec Installer's Set is back and better than ever! Festool has adjusted the kits to fits the needs of most American craftmen. (They added square drive bits!) As ever, it includes a huge collection of Festool drill and driver bits to meet almost every need. You can drill holes (in inch sizes!) and drive screws (Phillips, Square Drive & Torx). You can even drive nuts and bolts with the socket adapters.
Available for a LIMITED TIME ONLY:
---
NEW Festool KAL-2
SysLite II LED Worklamp
The Festool KAL-2 Syslite II is the next step in jobsite lighting. The Syslite II casts a brilliant, white (5,000 kelvin) light across a 170° wide zone - enough to light most workspaces without creating an annoying glare. A single charge keeps the light shining brightly for more than 4 hours, or even longer when paired with a Festool battery. You can also plug it directly into a power source for unlimited continuous service.
CLICK HERE for more info:
---
SAVE $84 with our
Tormek T-7 Package Deal

For a limited time we are including, FOR FREE, a handy rotating base worth $57, as well as a protective machine cover worth $27 with your Tormek T-7 purchase. If you've been wanting a Tormek T-7 to streamline sharpening in your shop, now is the time to buy!

Offer ends Dec. 31, 2015:

---
Save $505 on our Sjobergs Elite 2000 Workbench
The Sjobergs Elite 2000 is among the finest workbenches made anywhere. For a limited time our special package deal includes along with the bench, a 6-drawer storage cabinet that mounts beneath the benchtop plus a 3-piece accessory kit, all at a savings of more than $500 off the regular price.
Offer ends Dec. 31, 2015:
---
Save $105 with our
Mirka DEROS Sander
FREE Goods Offer
For a limited time receive 105 sanding disks FREE with your purchase of the award-winning Mirka DEROS brushless random orbit sander.
CLICK HERE for more info:
---
Rikon 14" Bandsaw
Now only $699.99 while current supplies last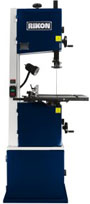 Our most popular 14" bandsaw is now on sale for the exceptional price of $699.99 while our limited sale quantity lasts. The Rikon 10-325 is powerful (1-1/2 HP motor), strong (steel frame construction), accurate (double bearing blade guides) and a genuine pleasure to use, with full 13" resaw capacity and a 5-year warranty. This is an incredible value.
---
Flexible Arm Magnetic LED Work Light
Here's an excellent way to cast a powerful light wherever you need it in your shop. Switch-operated magnet mounts to any ferrous surface. 28" flexible arm allows easy aim.

CLICK HERE for more info:


---
WOOD SLICER Testimonial
I recently purchased a 3/4 inch Wood Slicer blade. It certainly is everything you claimed it to be. My 18 inch bandsaw always frustrated me. I was never sure if it was the blade, the fence, or the guides. The saw now performs as it should, at a much lower decibel than before. The blade set-up instructions are informative and well written in layman's terms. Thank you for a quality product. — Dennis



Get Yourself a Wood Slicer: