CLASS: Router Basics with Jim Dillon, January 31
Did you get a router for the holidays and aren't quite sure what to do next? Then our router basics class is for you. Jim will begin by discussing router anatomy, bit selection, operational safety, preventative maintenance and basic tasks you can to with your router. He'll also provide information about using a router table and highlight some of the varied and useful jobs the router can accomplish. Feel free to bring your router to class to have any questions answered about its specific controls and features.

Router Basics with Jim Dillon, January 31
---
Highland's Upcoming Woodworking Class Schedule in Atlanta

Many classes fill up quickly, so please register now to make sure we hold a spot for you.

Jan 9 Hand Cut Dovetails
Jan 13 Sharpening for Turners
Jan 20 French Polish Workshop
Jan 21 Milling and Jointing Lumber
Jan 24 Hand Cut Mortise and Tenon
Jan 30 Intro to Marquetry
Jan 31 Router Basics
Feb 2 Hand Planes
Feb 6 Beginning Character Carving
Feb 13 Basic Bowl Turning
Feb 22-25 Cabinetmaking Basics
Feb 27 Beginning Turning
Feb 28 Natural Edge Bowl Turning

Classes Suitable for Teens

View Slideshows of Classes
---
Show Us Your Woodworking!
This month we are featuring a variety of woodworking projects made by Paul Burri, who rarely makes anything "bigger than a breadbox" but likes to make more unusual and unique things.

CLICK HERE to see Paul's projects:
---
Show Us Your Woodcarving!

This month we are featuring the spoon carvings of Robert Wagenseller, who carves spoons of all different shapes and sizes out of various kinds of wood. He has carved over 500 of these spoons during his lifetime and doesn't plan on stopping anytime soon!

CLICK HERE to see more of Robert's Carvings:
---
Tips From
Sticks-In-The-Mud Woodshop
By Jim Randolph
Long Beach, MS

This month Jim discusses shop lighting and different sources for it, as well as a money-saving tip on ways to improve light "reflection" to help make your shop brighter.

CLICK HERE to read this month's tips from Sticks-In-The-Mud Woodshop!
---
Our latest
Woodworking Catalog is available to browse online!

CLICK THE IMAGE
TO BEGIN
---
Video of the Month

Festool Kapex Sliding Compound Miter Saw


Each month we're featuring one of our many spectacular Festool power tools and highlighting it with a video product tour.




This month we're featuring a Highland Woodworking product tour of the Festool Kapex Sliding Compound Miter Saw with Steve Johnson, where he takes a hard look at the features of saw, and addresses the question: "Is it worth the extra cost compared to ordinary compound miter saws?"

CHECK OUT the Festool Kapex Miter Saw:


---
Ask the Staff

Question: Some finishes may react with other finishes. I was wondering if I could use lacquer on top of danish oil or wiping varnish?

For more details and the answer, CLICK HERE:

E-mail us with your woodworking questions. If yours is selected for publication, we'll send you a free Highland Woodworking hat.
---
BOOK REVIEW:
Hand Planes in the Modern Shop
by Kerry Pierce
Review by
J. Norman Reid
Delaplane, VA



This book's title somewhat understates the breadth of its contents. It certainly does cover the uses of handplanes of all sorts in the woodshop, be it a hybrid shop or one totally free of powered machinery. But the book offers far more than that. It's a feast of information about handplanes that ranges from types of planes and their uses to buying, restoring, collecting and troubleshooting.

CLICK HERE to read more:


---
TOOL REVIEW:
Record Power 12-Piece Carving Chisel Set

By Jeffrey Fleisher
New Market, VA


If you've ever wanted to get started in woodcarving, then you'll want to check out this review of the Record Power 12-Piece Carving Chisel Set with Quickstart Guide and DVD. Jeff explains what comes with the set and then describes his experience using the included tools and following along with the accompanying DVD.

CLICK HERE to read Jeff's review:

CLICK HERE to find out more info on Record Power 12-Piece Carving Chisel Set:


---


This month, Gerry Anger has a woodworking safety tip on the installation of a separate power switch for your woodworking equipment.

CLICK HERE to read Gerry's Safety Tip:



Do you have a 2 Minute Safety Tip you would like us to share? If so, we invite you to EMAIL US and if we use your tip, you'll get a $25 store credit!
---
Leigh Router Table Jig

Leigh's joinery jig is designed specifically for use on router tables. Able to produce through dovetails, half-blind dovetails and box joints quickly and easily, the RTJ400 offers instant adjustment of joint tightness down to a thousandth of an inch.

CLICK HERE for more info:


---
FREE SHIPPING on Leigh Jigs in lower 48 states
Our Leigh Dovetail Jigs and Frame Mortise and Tenon Jigs will turn your shop into a cabinet factory.

CLICK HERE for more info:


---
WORKBENCH SALE
Save up to $200
Several models of our ever-popular European and German workbenches are now on sale. Choose the model that fits your shop and budget.
CLICK HERE for more info:
---
---
Inside This Issue
Women in Woodworking
Book Review: Hand Planes in the Modern Shop
Online Flip Catalog
Video of the Month: Festool Kapex
Tips from Sticks-in-the-Mud Woodshop
Tool Review: Record Power 12-Piece Carving Chisel Set
Show Us Your Shop
The Down to Earth Woodworker
Project Idea: Karate Belt Display
Beginner's Approach to Making a Workbench
Video: Blue Spruce Toolworks
Q&A: Reacting Finishes
Poll: What clothing do you wear in your shop?
Blog: Woodworking Resolutions
Finishing: Curlin Burls and Swinging Flames
Show Us Your Stuff
Show Us Your Carving
SAFETY: Power Controlling Switch
---
Show Your Shop!
For this popular monthly column, we invite you to SEND US PHOTOS of your woodworking shop along with captions and a brief history and description of your woodworking. (Email photos at 800x600 resolution.) Receive a $50 store credit if we show your shop in a future issue.


This month we are featuring John Labie's workshop in Tallahassee, FL.

CLICK HERE to see more of John's shop:
---


By Steven D. Johnson
Racine, Wisconsin

Demo Days – A Woodworker's Remodeling Project, Part 2

A Challenging Fit – A Remodeler's Woodworking Project, Part 2

The Millennial Generation – What Does It Mean For Woodworking?

Can't/Don't, Never Have, No Talent Wood Carving!


This month, Steve continues his discussion on remodeling vs. woodworking by introducing the STARR formula for demolition. He also explains how he gets the "perfect fit" for the installations of his new bathroom vanity project that he has been working on. Steve also brings up the topic of the Millenial Generation and how it has affected woodworking (think IKEA). Lastly, he has found a new love in woodworking that he never thought he would enjoy - carving.

CLICK HERE to read more:
---
Women in Woodworking
Katie Jackson

By Andrea Ramsay
Seattle, WA


This month, Andrea spends a day in the shop with Katie Jackson, who is is an "inspiration, a do­er, active in building community, mentoring and teaching others" in the craft of woodworking. Katie is also finishing a book, Hand-Built Outdoor Furniture: 20 Projects Anyone Can Build , to be released in April.

Katie's project for the beginning woodworker is a Shaker Pegboard Shelf project, which she discusses how to make within the article.

CLICK HERE to read Katie's story:


---
---
Finishing Wood with Alan Noel
Curlin' Burls and Swinging Flames

If you've ever had the pleasure of dealing with flame cuts or burls on antique furniture, I'm sure you are well aware of the challenges these beautiful cuts have to offer. Although they can be a challenge to glue back down, there are a couple of tricks to keep these veneers in place.

Here are 11 tricks:


---
This Month on
The Highland Blog
Blog: Woodworking Resolutions

Every year we invite our bloggers to share their resolutions, specific to their woodworking goals for the new year. Click the link to read their woodworking resolutions and send us an email if you have any of your own!

CLICK HERE to read more:


---
Woodworking Poll
What clothing do you wear in your shop?

In this month's poll, Jim Randolph asks "What clothing do you wear when you're working in your shop?"

CLICK HERE to answer our poll:


---
Project Idea: Karate Belt Display

By Forrest Bonner
Huntington Beach, CA




Like all grandfathers, Forrest Bonner enjoys making woodworking projects for his grandchildren. This month, Forrest creates 2 Karate Belt Displays for his granddaughters to show off all of the belts they have learned, including their junior black belt!

CLICK HERE to read how he made them:


---
Beginner's Approach to Making a Workbench

By Max Pierson
San Francisco, CA




I'm a beginning woodworker. Like you, I want to make things, beautiful and functional things that will last. And like a lot of beginners, one of the first big projects I tackled was a workbench, because everything is easier when you have a sturdy, horizontal surface to work on. I'm publishing the plans for this bench for your downloading enjoyment, so this article is more intended as a collection of helpful tips and lessons learned, rather than a step-by-step.

CLICK HERE to read more:


---
CLICK ABOVE to watch our
latest Web TV episode
---
HIGHLAND VIDEO:
Product Tours and Demonstrations available on our YouTube Channel!

Check out the great product tour videos and demonstrations on our YouTube Channel . Our video product tour woodworkers demonstrate some of our most popular products for your benefit in these tours.
---
Click below to watch Matt Cremona show off several different hand tools from Blue Spruce Toolworks, including their Set of 4 Dovetail Chisels, Joiner's Knife, and the 1 Ib. Round Mallet.



Are there any products or demos you'd like to see in a YouTube video? If so, we invite you to EMAIL US and let us know what YOU would like to see!
---
Order any of the above 4 books from us during January/February for 33% off list price.
Click here for more details and to LOOK INSIDE each of the books:
NEW Lie-Nielsen Side-Clamp Honing Guide
Lie-Nielsen has turbo-charged both the design and quality of the long lived, economy made, side-clamp style honing guides. Impeccably crafted from stainless steel, this L-N guide has a bronze bearing for long life. A finely threaded main screw precisely moves the guide's standard jaws for clamping to the edges of your irons up to 2-3/8" wide and for chisels as narrow as 1/4". A bronze knurled knob with driver slot lets you snug the jaws in place. Unlike honing jigs with a wide wheel, this jig's narrower wheel makes it easy to steer the jig with finger pressure, should you want to add camber or ease the outside corners of your irons.
CLICK HERE for more info:
---
Rikon 18 inch Bandsaw 10-341
Now Only $999.99
Limited Quantity Available at This Low Price

Rikon's model 10-341 18" bandsaw offers greater capacity than other bandsaws in this price range. It has everything you could want in a serious bandsaw - 19" x 17" table with a 45 degree right tilt and -1.5 degree left tilt, Quick-release fence, 13" high by 17-1/2" wide cutting capacity, quick-release blade tension, double bearing blade, sight window in the hinged blade guide, two 4" dust ports can be attached to your dust collection system, and much more!

CLICK HERE for more info:


---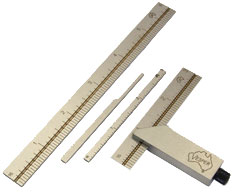 Exquisite Vesper
Double Square

For years we have tried to persuade Chris Vesper to wholesale his famous tools to us so we could make them easily available to our customers. At last he has agreed to sell us one of his most popular tools, the Vesper Double Square. A true pleasure to use, the odds are great that this versatile pocketsized square will become the handiest tool in your shop.

CLICK HERE for more info:


---
Woodpeckers OneTime Tool
MT Center Gauge and Doweling Jig
Shortly after Woodpeckers released the popular MT Center Gauge a couple years ago, customers were clamoring for the perfect accessory — a Doweling Jig. So a few months later, Woodpeckers offered the companion tool. But as OneTime Tools, many woodworkers missed out owning the complete kit. Now you can order the horse, the carriage or the whole shebang.
Order Deadline is
Jan. 11, 2016:
---
Universal Mobile Base, only $49.99
Find more space in your workshop by mounting some of your big tools onto these handy steel mobile bases. After moving a machine into position, you can lock it firmly in place by flipping the mobile base's two quick-action levers, allowing the tool to rest securely on adjustable rubber leveling feet. Fits up to 31" x 31" square or a 14" x 35" rectangle. Handles up to 400 lbs.
Limited supply available
---
Our Incomparable New
Bad Axe Hand Saws

Bad Axe's goal is simple: To make handsaws like those from a traditional 19th century American sawmaker's shop. In our opinion, they have wildly surpassed that goal in creating these handsome to the core, heirloom quality handsaws. Bad Axe handsaws cut beautifully, tracking to your cut lines with uncanny precision. Their effortless, drift-free sawing, will increase the accuracy of your work; delighting experienced hand tool users and exciting newcomers who have struggled getting accurate cuts using ordinary handsaws.

CLICK HERE to see all of our
Bad Axe hand saws:


---
Rikon 25-130H HSS Helical Head Planer
Rikon's new 25-130H 13" thickness planer with helical-style cutterhead is a beefy benchtop unit designed to perform reliably either at your workshop or job site. The unit comes with 26 two-sided HSS indexed cutting inserts arranged in straight rows in a staggered pattern around the cutterhead in a way that greatly reduces noise as well as improving chip removal compared to planer knives mounted in a conventional cutterhead. Note that the cutting edges are NOT positioned at a shear angle to the stock on this cutterhead.

CLICK HERE for more info:


---
Festool Centrotec Installer's Set
The Festool Centrotec Installer's Set is back and better than ever! Festool has adjusted the kits to fits the needs of most American craftmen. (They added square drive bits!) As ever, it includes a huge collection of Festool drill and driver bits to meet almost every need. You can drill holes (in inch sizes!) and drive screws (Phillips, Square Drive & Torx). You can even drive nuts and bolts with the socket adapters.
Available for a LIMITED TIME ONLY:
---
Our Elipse Dust Mask is great for woodworkers
For more than a decade we've searched for a worthy successor to the Dustfoe, the most popular dust mask for woodworkers that we've ever sold, but unfortunately was discontinued by its manufacturer. We've finally found it in the Elipse P100 dust mask.

Now Available in Two Sizes:


---
Rikon 14" Bandsaw
Now only $699.99 while current supplies last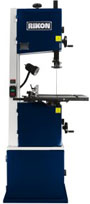 Our most popular 14" bandsaw is now on sale for the exceptional price of $699.99 while our limited sale quantity lasts. The Rikon 10-325 is powerful (1-1/2 HP motor), strong (steel frame construction), accurate (double bearing blade guides) and a genuine pleasure to use, with full 13" resaw capacity and a 5-year warranty. This is an incredible value.
---
Flexible Arm Magnetic LED Work Light
Here's an excellent way to cast a powerful light wherever you need it in your shop. Switch-operated magnet mounts to any ferrous surface. 28" flexible arm allows easy aim.

CLICK HERE for more info:


---
WOOD SLICER Testimonial
Several weeks ago I purchased a 1/2" X 105" Woodslicer bandsaw blade from your company for my Grizzly G0555 band saw with riser block. I have used this saw set up per Carl Bilderback's 2006 article in Popular Woodworking. I cannot be more pleased with this blade's performance! I have read all of your set up instructions and comments about the Woodslicer and find them all true except for one item. You fail to mention that this blade seems to self feed. Happy, Happy in Troy, OH -Jerry



Get Yourself a Wood Slicer:



---
CLICK HERE for more details: