Here's My Woodworking!
By James Gilbody
Bozeman, MT
My name is James Gilbody and I've been living in Bozeman, Montana for 6 years after retirement. I am now 72 years old and my interests are very wide. I have never had formal training in any woodworking projects but I have had lots of help from others that would share their knowledge. That is the best you can do for another friend. My first item I made as a kid was a wooden knife from scrap redwood. It was about 12" long and carved with our pocket knives that we all carried.

In the 60's and 70's I spent a lot of time involved in black powder longrifles. I have made about 8 to 10 since that time. The latest is a replica of the Jim Bridger Hawken that he carried. His rifle is now in the Montana Historical Society Museum in Helena, Montana. Using photos of that rifle was a great help. This project started with a lot of research, transferring drawings to a maple blank and using the bandsaw to begin the shape. His rifle, of course, was maple but not of such curly maple, so I did take liberties. That's the good part of making one that you like. This rifle weighs 11 pounds with a 58 calibre barrel.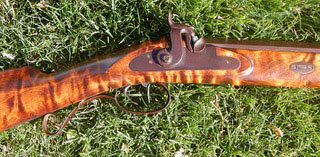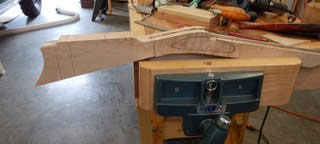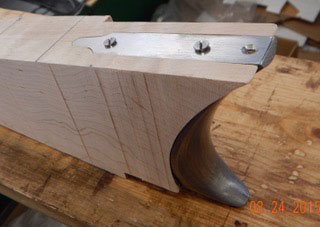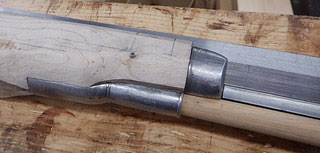 Sometime around 2000 I became interested in pen making. I have made around 60 and have sold most of them or given them as gifts. They are a lot of fun because you can make a set (pen and pencil) in a weekend and then they are done. All of the metal hardware and inner tubes can be purchased from Highland Woodworking . The pens below from left to right are: A flourish pen for Spenserian lettering in purple dyed box elder. A rollerball pen in Rosewood burl. A ballpoint and pencil in Black Cherry acrylic. And last a rollerball in Scarlet Black acrylic. This last one I will not sell because I spent way too much time filing 6 flats on the body and cap lengthwise.


I have never had a work bench until after having the shop built when we moved to Bozeman in 2011. I must have studied many different types before deciding to build my own. Nothing I found weighed enough for me. Also I wanted a little bit of a higher work top. This bench is 7'L x 24"W x 34"H and weighs 433 pounds. The top is recycled oak flooring from an old hotel surrounded by maple. The vise jaws are also made of maple. The lower assembly is beetle kill pine from the Bozeman area. I buy it rough cut from Neil Wilbert of Beetle kill Boards, Bozeman, MT. He burned in his beetle logo after I finished the legs. The legs are finished size 4-1/2" x 5-1/2". Cutting those through tenons takes some time. All of my interior trim (doors, window sills) in the shop are made from the beetle kill pine.


The stepback hutch was made in 2002 after seeing a great article in American Woodworker. I showed it to my wife and she decided that would be her Christmas gift for that year. I have made many wall display cabinets for her and her sisters. That's five sisters. The hutch is in two sections to ease moving. Wood is oak with interior framing in poplar. The height is 7 feet. All of the windows are individual pieces and the handles are deep violet glass.


I have always loved the vintage outboard boat motors from the 40's - 60's but never could afford to buy any. Nowadays I just don't want to spend the going rate. These motors are about 5-3/8" tall. The boat is 19" long. I downloaded images off the internet of real miniature motors and sized them on my printer. The copies were then stick glued to basswood and band sawed out. See the disassembled picture and notice the sawed block in the upper left. The metal looking parts were made from cut out brass, soldered and covered with Bare-Metal foil. The decals were ordered off the internet and are NOS decals from the 50's period. The black on the handle is shrink tube. The model functions as designed by moving up/down and left/right but does not run. The propeller is reproduction purchased. I made the stand and stained it to look as it would in a well used shop.



This model yacht is probably the most fun project that I have done. The actual boat sat on a trailer near my house with a FOR SALE sign on it. Every time I passed it I admired the architecture and time period it must have been from. Possibly 30's and 40's. One day I decided to take pictures and a few measurements just in case I wanted to model it. Measurements were basic as I could not get in the boat. One week later and it was GONE. So started a year long project to make it. Because the boat was 40' long the photos enlarged well. My scale is 1' to 1" so my model is 40". Getting the shape of the hull was the hardest. It is complete with radio control with two Dumas 12 volt motors. The entire hull was finished with fibre glass for strength before painting. Because I lived in Montana, winter moved in and I had to wait until the next spring to paint. All of the wood planks on the deck are individual pieces with thin strips of black plastic between them. CA Glue worked great for that. This was my first scratch built model.




The Lionel train layout is made up of prewar (1930's) trains and accessories. All of the structures on the table are vintage except for the many pine trees, people and vehicles. The train engine and cars were restored as it did not run and was in bad condition when I bought them off eBay. I made the table from beetle kill pine with tapered legs. The entire size is only 4' x 6'.


My last project here is an articulated pull toy for children. It was made from scrap wood pieces. The plans were from Woodworker's Journal.


Right now I am in the basement working on a 36" wingspan 1958 Piper Tri-Pacer model plane.

If anybody has any questions please feel free to contact me .


---
James can be reached directly via email at jamesgilbody@att.net .
Return to the Wood News Online front page
Click the images below to visit some of our most popular tool departments
| | | | | | | |
| --- | --- | --- | --- | --- | --- | --- |
| | | | | | | |
| Finishing | Books | Clearance | Festool | Planes | Sharpening | Wood Turning |
Highland Woodworking
1045 N. Highland Ave. NE
Atlanta, Georgia 30306
Tel. 800-241-6748
Email us at email@highlandwoodworking.com
Visit us on the web at www.highlandwoodworking.com
Copyright © 2017 Highland Hardware, Inc.

Errors regarding pricing and specifications are subject to correction.
SOME SALE QUANTITIES MAY SELL OUT and become unavailable at the advertised price.