Here's My Woodworking!
By Jim Hall
I became interested in woodworking at a young age. My dad was a carpenter and a cabinetmaker and he taught me a lot. I grew up helping him on some of his jobs. After getting married I worked at several jobs that didn't always involve working with wood.

When I was about 30 years old I started acquiring my own shop tools. At this time I was working for the local public school system as a maintenance man. I retired from that job at the age of 60. In this job I built a lot of cabinets and classroom furniture.

I am now 76 years old and since I retired I have been able to work on my own projects as I please. I have a 16'x24' wood shop where I have built a lot of furniture for my house and other items for my children. At this time I am interested in the 18th century furniture styles.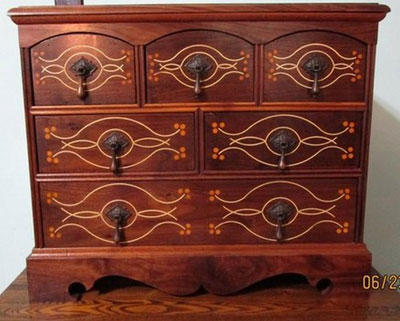 This spice box is made out of walnut with pine as the
secondary wood. The string inlay is holly. The box is 18" tall,
by 21-1/2" wide, by 12-1/2" deep.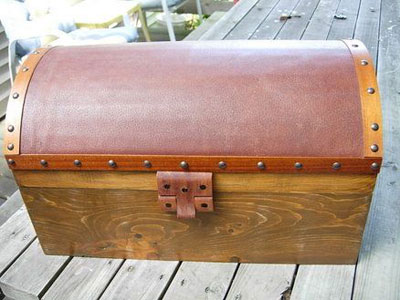 Leather top chest with wooden hinges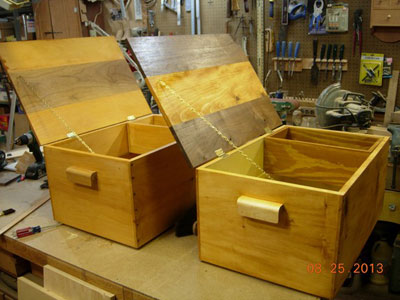 Storage boxes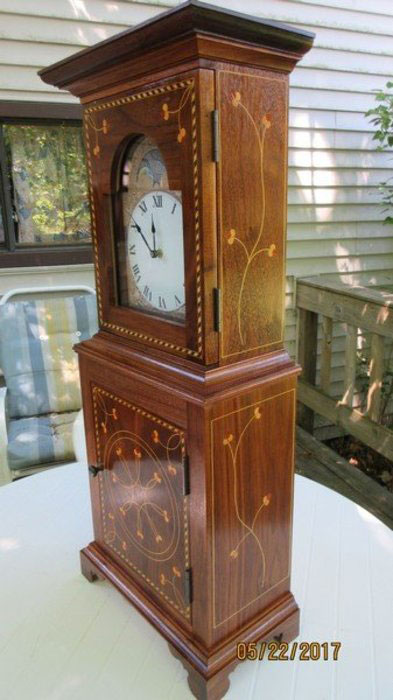 Clock built based on Glen Huey's design.
Made out of line and berry on walnut.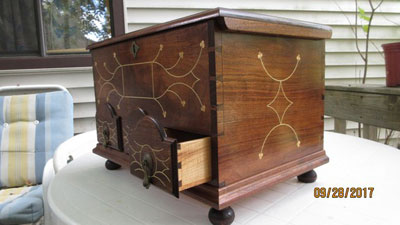 Chest built based on a copy of an original piece built by Glen Huey.
Made out of line and berry.
---
Jim can be reached directly via email at jl-hall@charter.net.
Return to the Wood News Online front page
Click the images below to visit some of our most popular tool departments
| | | | | | | |
| --- | --- | --- | --- | --- | --- | --- |
| | | | | | | |
| Finishing | Books | Clearance | Festool | Planes | Sharpening | Wood Turning |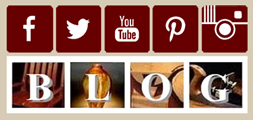 Highland Woodworking
1045 N. Highland Ave. NE
Atlanta, Georgia 30306
Tel. 800-241-6748
Email us at email@highlandwoodworking.com
Visit us on the web at www.highlandwoodworking.com
Copyright © 2017 Highland Hardware, Inc.

Errors regarding pricing and specifications are subject to correction.
SOME SALE QUANTITIES MAY SELL OUT and become unavailable at the advertised price.