Click on any picture to see a larger version.
It's that time of year again when you are asked by spouses and friends "What would you like for a holiday gift?" It would be nice to put that $400 plane or handsaw on the list but if you do, you will probably end up with a pair of socks! Therefore, I took inventory of my shop and made a list of very useful tools that every woodworker should have but are 'small-ish' and relatively 'inexpensive-ish.' I use these items all the time in my shop but you never think about them until you need to do a specific job.

Here they are in no specific order.
Gimlets
Gimlets are used when you need to bore holes in hard-to-reach spots or to bore pilot holes for very short screws. I use them mainly when I am mounting a set of hinges and I want to create a threaded pilot hole for brass screws. Ever have one break-off when you are screwing them in for the first time? Gimlets solve that problem. The threaded tip pulls the gimlet into the hole while the auger body pulls chips out.

General Tools Steel Protractor
As a woodworker you are always setting or measuring angles. The General Tools Steel Protractor is made of stainless steel and features a lockable pivoting arm and an etched head with right and left reading 180 degree scales. The arm is 6 inches long and has a locknut to keep it set to a specific angle. It has many uses around the shop. The obvious one is to draw a specific angle across the face or edge of a board as shown above.

I also use it to set up and confirm the angle of honed blade edges on my chisels and plane blades.

Hamilton 4" Marking Gauge
I have been using the Hamilton Marking Gauge made by Jeff Hamilton for many years because of the wide fence with recesses on the back, which provide a very comfortable grip. I also like the fingernail grind blade that pulls the gauge into the wood while scribing a line. The craftsmanship of the tool is exemplified by the black-cherry hand-rubbed oil/varnish finish, brass inlays and locknut, dovetail beam construction and a hand honed blade. The size is also perfect to fit into your shop apron and always have close at hand.

Shenandoah Birdcage Awl
The Shenandoah Birdcage Awl was designed for both beauty and functionality. Ideal for starting and drilling holes, the awl's shaft is hand forged and twisted from O1 steel. The tip is sharpened for starting and boring holes which the square shank then widens through repeated twisting. The shape of the handle fits nicely into the palm of your hand to provide a firm grip. Each awl handle is hand turned from a solid block of Padauk, a wood valued for its toughness and stability, as well as its rich color.

Steel Center Square
If you've ever needed to find the center of the end of a dowel, a round bowl-blank for woodturning or the center of a square stock you will appreciate using this Steel Center Square. This tool does one job but it does it very well. The square is made from heavy gauge steel with a blade about 1/8 inch thick and a right-angle handle that is just under a half-inch thick. The handle rests solidly against your stock and you can easily draw a line along the blade. Rotate and repeat a few times and it easily marks the center point.

Self-Centering Drill Bits
Have you ever marked the center of a hole for a butt hinge, removed the hinge and then drilled the hole only to find that it moved slightly off center? Then when you screwed the hinge in place it was slightly off from where it should have been? These Self-Centering Drill Bits will drill a hole exactly centered in the hinge hole. A retractable nosepiece automatically centers the drill bit within screw holes in hinges and results in a perfectly aligned hole. A variety of drills are available for pilot holes for screw size #3 through #14.

Countersink Pilot Set
The Countersink Pilot Set is a great set of little drill bits for drilling both a hole and a perfectly aligned countersink, simultaneously. The drill bit is held in place with a set screw and can be adjusted for various length holes. The drill bit set features non-tapered hex-shank drill bits sized at 3/32", 7/64", 1/8" and 9/64". The hex-shank can be used with hex-shank holders to speed up bit changes.

ProCarpenter 16' Left & Right Tape Measure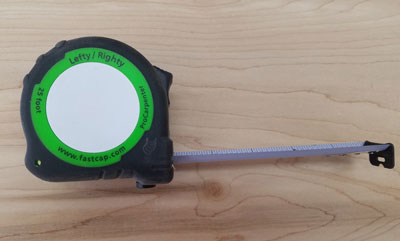 Everyone has tape measures laying around the shop but this one is always the first one that I grab. FastCap's ProCarpenter Tape has features that make it useful for the woodworker. Some of these include a lever action belt clip, pencil sharpener, dual locking system, erasable notepad, heavy-duty 1-inch blade and a rugged compact case. The tape is 30 percent thicker than most other tapes which translates into a longer reach when extended. It has markings down to 1/16 inch and my favorite thing is that every 1/8 inch increment is labeled 1/8, 1/4, 3/8, 1/2....I even bought one for my son so I can stop getting the phone call with him asking about cutting a board that is 2 tick marks under the 6"!

It's called the Left/Right because it is a Left & Right Reading Tape that has standard measurements along the top and bottom edges with numbers that you can read from either side. You can hook it over either end of a board and read the measurement without having to read the numbers upside down.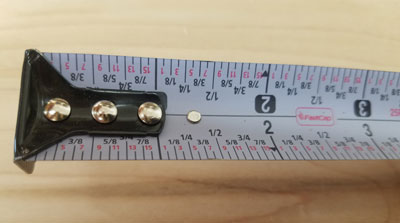 Boeshield T-9 Rust and Corrosion Protection
Boeshield T-9 Rust and Corrosion Lubricant has been around for a long time and is still the standard by which other lubricants are compared. It was developed by Boeing Aviation for long-term protection of aircraft components. It is a spray on lubricant that coats and protects steel, aluminum and especially cast iron which you most likely have plenty of around your shop. I use it on my tablesaw, planer, jointer, and bandsaw table, among others. It works by penetrating into the metal's surface, displacing any moisture present and drying to a waterproof film. I spray it on and wipe it down with a soft cloth.

Beeswax
If your handplanes seem to drag while using them, you need some Beeswax in the shop. Just put a few 'squiggle' lines down on the sole of your plane and it will glide right across that board! I also have a brick of beeswax that I drag a screw across to give the threads a little lubrication prior to screwing it into a pilot hole. They seem to just glide into place. Don't use soap, which will rust your screws.

Camellia Oil Spray Lubricant
While on the topic of lubricants and waxes, another great product to have around the shop is Camellia Oil Spray. I use Camellia Oil after honing all my chisels and plane blades to prevent any surface rust or corrosion. I also have a soft cloth with Camellia Oil that I keep in a plastic bag so that I can wipe down my tools after using them all day to remove any oils from my skin. It's a lightweight oil that is odorless and non-staining. I've also found that it doesn't seem to affect glue-up or finishing.

Wixey Digital Protractor
While the General Protractor I mentioned earlier is great for marking boards, I find the Wixey Digital Protractor great for tool setup and measuring the inside of cabinet (carcass) corners during construction. The large, 1/2 inch LCD display is very easy to read and it measures to the 1/10th of degree resolution. Magnets are recessed into the edges of the arms to help the protractor maintain position on your cast iron tool surfaces and along the surface of metal blades.

When building a large cabinet I measure the diagonals of a box to test for squareness but I also like to check the corners as well. Although I have used a Combination Square for this, I really like using the digital protractor because it gives me an exact reading of how close the joint is to 90 degrees.

Woodworker's Wall Chart
I thought I would end with a fun item, Woodworker's Wall Chart. I have one hanging on the wall in my shop and it has been there for so long that it has faded quite badly! The chart measures 23" x 34" and is printed on heavyweight paper. It is packed with information every woodworker can use including inch/decimal equivalents, drill sizes, pilot screw hole sizes, polygon angles, bandsaw blade cutting radiuses and much more.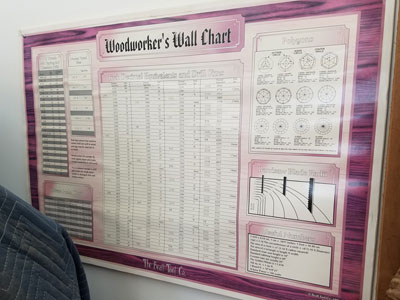 As you can see, my chart has faded pretty badly
I hope you've gotten gift ideas for some useful tools to have around the shop. It's amazing to me how I never think about most of these until I get into a situation where I need a tool for a specific job and they end up making my life so much easier.

I would like to wish everyone a very happy and safe holiday season!


---
Jeffrey Fleisher has been a woodworker for approximately 20 years and a professional woodworker for the past 6 years. He is the president of his local woodturning club, the Woodturners of the Virginias and past president of the Northern Virginia Carvers. You can see some of the furniture he has made at www.jeffswooddesigns.com . He can be reached by email at furnmkr@gmail.com