Here's My Woodworking!
By Phil Dail
Meridian, MS

My name is Phil. I'm 39 years old and live with my wife and four boys in Meridian, Mississippi. I spent the last 25 years as an auto mechanic and finally was just so burnt out I couldn't do it anymore. I turned to woodworking because my father is a carpenter and so was my grandfather.

At first I thought it was just going be something that would make me a few bucks but as it turns out I had a knack for woodworking and people really liked the stuff I was making and before I knew it I had more orders than I could handle. I get more satisfaction from woodworking then I ever got from fixing cars and I hope to pass on everything that I've learned to my boys so they can have the enjoyment of taking nothing and making really nice stuff.

I've made everything from bird houses, planter stands to a bench made from a head board lined with cedar that I'm currently trying to finish up now. There are times that I sit in my shop and I just stare at the wood and I think of how many hundreds of things it could be turned into.

Here in Mississippi we have what's called the longest yard sale and my wife and I went to it recently and I bought seven hand planes. They need to be restored but that's okay, I'm looking forward to doing that. I also bought a very old draw knife. My wife asked me, if I already have all of this stuff in the shop, all of these power tools including a planer, why did I need this antique stuff? I responded by telling her that I want to learn every aspect of woodworking and that includes not only how to use power tools but how to make stuff with my hands like they did a hundred years ago. So I look forward to the many years to come and the fact is I have a deep yearning inside me to learn as much as I can.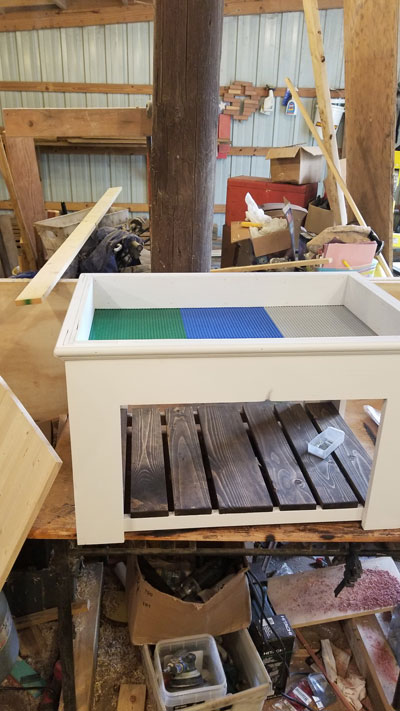 Lego table for my boys
---
Return to the Wood News Online front page
Click the images below to visit some of our most popular tool departments
| | | | | | | |
| --- | --- | --- | --- | --- | --- | --- |
| | | | | | | |
| Finishing | Books | Clearance | Festool | Planes | Sharpening | Wood Turning |
Highland Woodworking
1045 N. Highland Ave. NE
Atlanta, Georgia 30306
Tel. 800-241-6748
Email us at email@highlandwoodworking.com
Visit us on the web at www.highlandwoodworking.com
Copyright © 2018 Highland Hardware, Inc.

Errors regarding pricing and specifications are subject to correction.
SOME SALE QUANTITIES MAY SELL OUT and become unavailable at the advertised price.