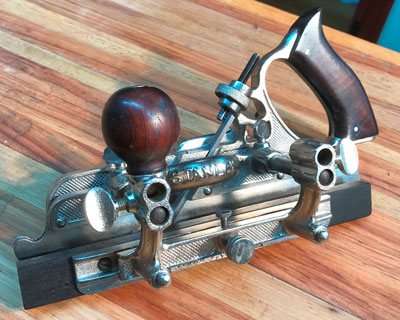 Should Old Tools
Be Replated?
I just put new nickel plating on a vintage Stanley #45 combination plane. Judging from the commentary I see on old tool websites I am now a heathen, an imbecile, or a tool butcher. Before you judge me, let me go through the "why" and "how" of replating an old tool.
Book Review: The Woodwright's Shop
This month's book, The Woodwright's Shop by Roy Underhill, is a classic, as is of course Roy himself. But it's more than a guide to working timber into useful things; it's an essential guide for anyone desiring to live close to nature, as well as a spellbinding adventure into the craft of woodmanship for us all.
Tool Review: Arbortech
Ball Gouge
The Arbortech Ball Gouge is a carving tool that is designed to create small concave surfaces in wood. The cutter is just the right size for shaping small carvings, bowls, spoons and chair seats. The surface it creates looks like a hand-cut surface from a chisel and mallet. You can easily sculpt a shape with a high degree of control.