Here's My Woodworking!
By John Meyer
Meridian, ID
I am a retired chiropractor who had very little experience in woodworking prior to my retirement. In fact I'm one of those guys who measured twice and still cut twice. At age 65 I started to take a serious interest in woodworking. I scoured through magazine articles, internet websites and watched videos and YouTube programs. Like most beginners, I purchased inexpensive equipment only to learn their limitations. I slowly replaced my equipment with better quality tools. What a difference! I sold my seldom used travel trailer and converted my 19'x45' RV garage into a woodworking shop.

My first project was a Danner Revolving Bookcase that I made for my wife. I was impressed with this bookcase when I first saw one at the Bodie Ghost town in the Sierra Nevada's back in the 90's. When I came across an article with plans to make one, I decided to give it a try. I'm glad I did, the bookcase came out fantastic! I learned how to glue oak boards together to make 4x4's, and flat boards for shelves. I also learned how to measure twice and cut once.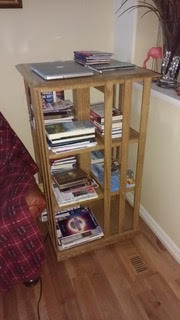 My next project was for one of my grandsons who plays the guitar. After seeing some guitar chairs on a website, I calculated the dimensions and made one out of mahogany and white ash (a lot of splinter with that ash). With this project I learned angle cuts and spline cuts in order to make curves for the seat and foot rest. I also learned the importance of sharp tools and how to make handmade mortise and tenon joints.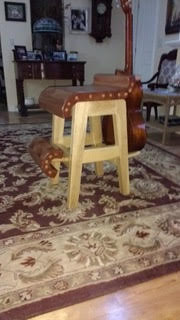 Another grandson wanted a desk. I was inspired by a picture of an architect's desk that an unknown craftsman made for the Museum of the Rockies. Its curved legs and wood nuts and bolts assembly was an instant hit with my grandson. Again, there were no plans available, so I drew out my plans and made my calculations based off other desks. I used maple and cherry. Using a 1 inch maple dowel, I fabricated threaded bolts and nuts. I even made a wooden wrench to tighten the nuts onto the bolts.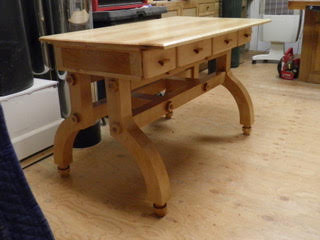 Next, my daughter wanted a small oak table to go with a set of antique oak chairs. I wanted to learn how to make a round "pie top" table with a round skirt. For this project I purchased an instruction video. I learned that my router table could double as a jointer.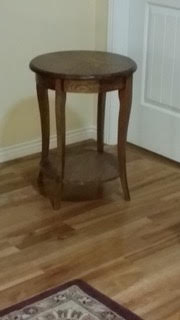 By this time, woodworking was getting a lot easier. My third grandson asked for a chess board table. After reviewing several (and their cost), I settled on an Arts and Crafts style base to be married to a square box with drawers for the chess men. Again, no plans, but I was able to calculate dimensions. I made a template out of hard board, which I have been able to use to make multiple chess tables. The first chess table was made out of walnut and the latter two were made of red oak.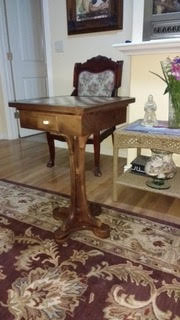 In between the 1st and 2nd chess tables, I tackled Gustav Stickley's poppy table. In one of the woodworking magazines, Robert Lang wrote an interesting article with plans. I had found a supply of African Mahogany from a private party, so I started. This small table required all of the skills I learned to this point. It came out nicely. I'll make another one in the future to go with the two Morris chairs I plan to start soon.


| | |
| --- | --- |
| | |
I must admit, at first I was intimidated by a project. The cost of the material itself probably scares most of us, so I started to look for material at locations other than just wood retailers. I looked on websites where people would advertise personal property for sale. I found red oak, walnut, and mahogany there. I visited second hand hardware stores such as Restore. There I purchased lighter stock that I use for jewelry boxes. Yet there are still times where I just have to bite the bullet and pay more to get the unique material, such as birds eye maple.

As I gain more experience and see my successes, my apprehension to tackle a new project is no longer there. It has given way to a mindset that is seeing how to do the job unto its completion.


---
Return to the Wood News Online front page
Click the images below to visit some of our most popular tool departments
| | | | | | | |
| --- | --- | --- | --- | --- | --- | --- |
| | | | | | | |
| Finishing | Books | Clearance | Festool | Planes | Sharpening | Wood Turning |
Highland Woodworking
1045 N. Highland Ave. NE
Atlanta, Georgia 30306
Tel. 800-241-6748
Email us at email@highlandwoodworking.com
Visit us on the web at www.highlandwoodworking.com
Copyright © 2018 Highland Hardware, Inc.

Errors regarding pricing and specifications are subject to correction.
SOME SALE QUANTITIES MAY SELL OUT and become unavailable at the advertised price.