Click on any picture to see a larger version.
The news this month has been full of the Amazon rainforest on fire. In case you missed it, satellite data show over 80,000 fires in the Amazon so far in 2019 and #PrayforAmazonas has become a trending hashtag. Worldwide concern prompted the government of Brazil to put a moratorium on land-clearing fires for two months. With all the serious press coverage, maybe you are feeling a faint tinge of guilt as you look at that piece of Brazilian cherry sitting in the corner of your woodshop. Let me try and convince you (and me) to buy more tropical wood.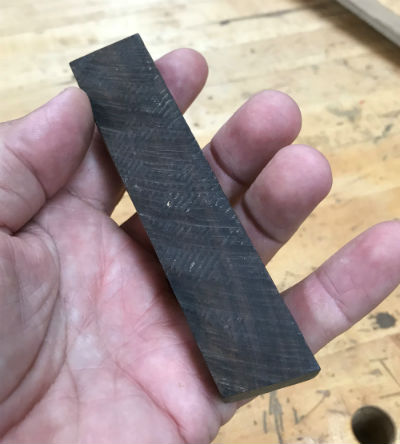 A small piece of African blackwood, one of the most expensive woods in the world,
listed in CITES Appendix II.


First, the bad news. Tropical forest exploitation is a serious problem. INTERPOL estimates that 15-30% of all wood traded globally is illegally sourced. In some tropical countries, estimates are that as much as 90% of their timber is illegally harvested. A lot of that illegal trade operates through transnational criminal enterprise, just like drug trafficking. Unregulated timber poaching has pushed some woods to endangered status and an international treaty bans their trade. As species become rarer their price goes up leading to a race to harvest the last, most valuable mukula tree in Ghana. In Africa, the phrase, "Blood Timber" is associated with illegal logging that supports rebel groups and contributes to ethnic violence. With an incredibly complicated supply chain to get that board to your shop from a jungle in South America—how do you know whether your piece of lumber involved fraud, bribes, corruption, or even murder? Check out the IUFRO report in the references if you want to read the spy thriller details. Yikes! So how can I justify using rare tropical woods in my projects? When I worked for the US Forest Service, I had the opportunity to work on forestry projects in Puerto Rico, Brazil, Ecuador, and Guyana. Tropical forests are incredibly diverse, full of wonders (a tree sloth hanging from a vine, parrots calling, plants growing on plants, dark waters spreading through the jungle in the flood season), breathtakingly beautiful places. Tropical forests are also where we get some of the most beautiful and exotic woods, from pernambuco to bigleaf mahogany. And that was the really the aim of our work in tropical forests—can we save the forest by using it?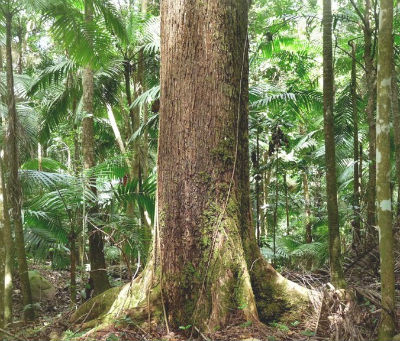 A planted mahogany in Puerto Rico, 3-4 ft in diameter by age 70.


The central problem is how to keep tropical forests as forests (sustainability). The easy answer (keep people out) is elitist and impractical. At a conference on tropical forests I heard the Minister of Natural Resources for Malaysia call out developed countries—basically he said, "you cleared and exploited your forest resources to develop your countries, how can you tell my people to live in the trees?" Fair point. The primary reason for land-clearing fires in the Amazon is to convert forest to ranches and subsistence farms. When the forest has no value, trees are cut down and burned just to get them out of the way. The people are simply looking for a way to make a living to support their families.

The real solution is to find ways that tropical forests can contribute to sustainable economic development. In Ecuador, the Pinchot Institute and their partners created Ecomadera—a community- based sustainable forest management enterprise (see the article about a Growing Timber Business). The idea is that if the local population depends on jobs and income that are forest-based they will help ensure their tropical forest stays forest. The Ecomadera project includes a local wood-processing facility that improves the recovery of higher-value products and provides employment. Tropical forest management teams measure the forest and develop sustainable harvesting plans. One of the success stories at Ecomadera is using balsa plantations as a tool to restore cleared forest areas. The balsa grows quickly and provides shade for other tropical trees to develop. Ecomadera harvests the balsa within 10 years and produces a composite material used in the construction of lightweight high-tech things like wind turbine blades and racing yachts. All those wind farms you see driving down the road--use balsa wood from Ecuador. Through a U.S. affiliate, Whole Forest, Ecomadera sells tropical hardwoods for flooring and high-end furniture. These products from sustainably managed tropical forests generate income and jobs that sustain the local community.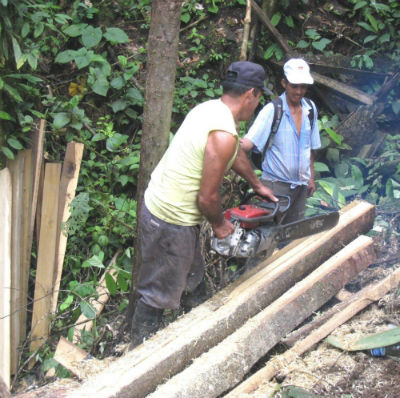 A small landowner in Ecuador cutting logs into boards in the forest with a chainsaw.


But how do we know our Brazilian cherry comes from sustainable management? In the U.S., timber imports are subject to the Lacey Act. This is a federal law that requires importers to declare source and verify that products are legally harvested. Importers must take due care to make sure they know the trail of the wood back to the place it was cut. In Guyana we worked with the Forestry Commission to review their national sustainability plan. Guyana signed an agreement with Norway to protect their tropical forests in exchange for economic investment. This required them to develop a national plan to manage and monitor tropical forest harvesting. GFC carefully maps all harvest units and marks specific trees for removal in any cutting cycle based on a forest prescription that will sustain the forest. Each tree is tagged with a barcode on the log and the stump. Log trucks are stopped and checked to make sure timber is from legal operations. If logs get processed into lumber in Guyana, there is another set of tags and checks. The system is designed to counter illegal timber traffic by creating a traceable supply chain from stump to export. Guyana's system is just one approach to provide verifiable timber. There are other systems around the world that certify forest operations or show that the wood is from non- forest sources like stumps or reclaimed timber. These systems give timber buyers a way to track your boards back to the stump.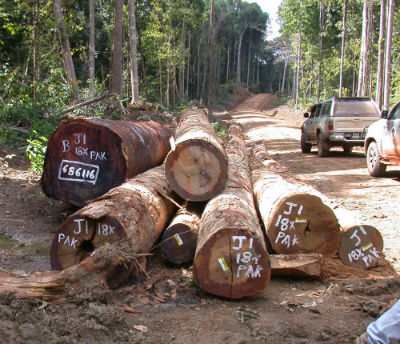 Tagged logs in Guyana sitting at roadside to be loaded for transport.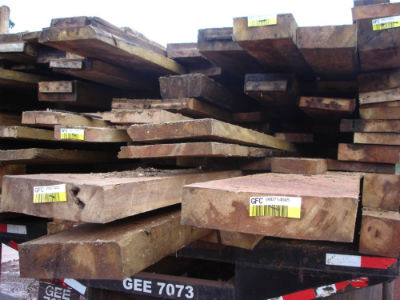 A load of lumber in Guyana with tracking barcode tags.


This short essay can't begin to touch the complex issues of tropical forestry and international timber trade. The two examples here don't illustrate all tropical harvesting, they were picked to make a point. So how can your woodworking save tropical forests?

1. Buy tropical hardwoods. Supporting tropical forest markets provides incentive to keep forests intact, encourages reforestation efforts, and creates forest-based jobs. If you want to boycott something to save the rainforest—think about things like palm oil and beef.

2. Educate yourself about the species that you are using. What countries do they come from? What is their conservation status? What is the level of illegal logging in that country? There are so many different tropical species and each one has its own unique story. Learning more about the wood you are using will also give you a deeper connection to your work. Check the online Wood Database listing to learn about properties and uses.

3. Use some lesser-known tropical woods.With so many different kinds of tropical trees, it is a problem if we only use a few of the signature species. Sustainable forestry needs to have markets for a wider range of wood colors and types. That is why WholeForest makes their tabletops and flooring in a varied pattern.

4. Ask your wood supplier about their certification or sustainability practices.Are they the actual importer? How do they source their wood? Many tropical hardwood suppliers have reliable suppliers or special sources that they have developed and they are happy to tell you about them. You can be 99.9% confident that legitimate wood brokers are being careful about their supplies. Read about the criteria for FSC certification so you understand what it takes to show sustainability. If we care about forests let's make beautiful things that show off the wonders of wood. Be proud of your Brazilian cherry and tell your friends and neighbors how you are saving the Amazon.

For more information:

*Kleinschmit, Mansourian, Wildburger, and Purret. 2016. Illegal logging and related timber trade—dimensions, drivers, impacts, and responses.. IUFRO World Series Vol. 35, Vienna. 148 p.
*Johnson, 2016. How a growing timber business revived a forest..
*WholeForest. WholeForest.
*Tropical Forest Update. Int'l Tropical Timber Organization. Quarterly report. https://www.itto.int/tfu/balancing_act/.

---
Bob Rummer lives in Lawrence, Kansas and is a part-time woodworker. He can be reached directly via email at rummersohne@gmail.com. You can see his shop and some of his work at www.JRummerSons.com.