Review: Bessey Auto-Adjust Toggle Clamps
Ever need a third hand? Fingers getting too close to a moving blade when using a jig? Well, Bessey's Auto-Adjust Toggle clamps are the thing you need to solve those problems....and many more!
Click here to read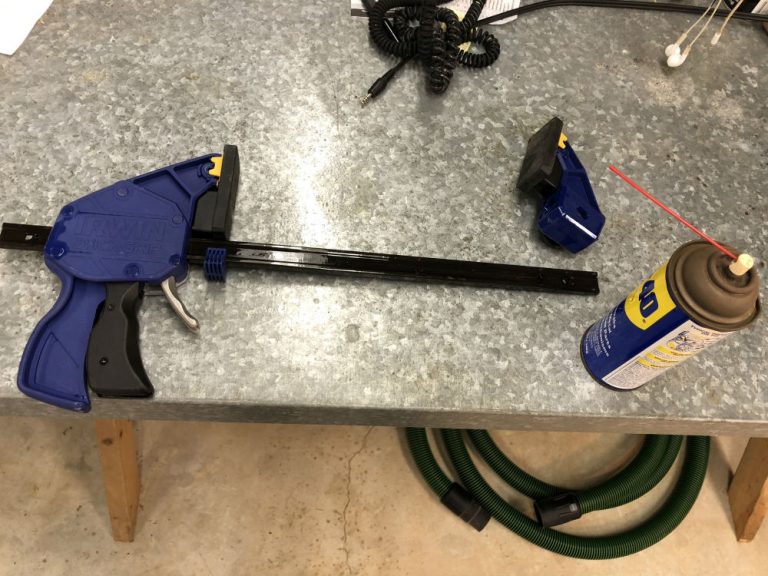 Clamp Cleaning
Earlier this year, Jim Randolph offered his method for cleaning a really dirty clamp after one of his got dropped in the bayou in his Tips from Sticks in the Mud column.
Click here to read
Building a 5S Compliant Clamp Rack
Steve Johnson, the Down to Earth Woodworker, offers a design for a 5S compliant clamp rack that is space-smart, easy to clean and adaptable.
Click here to read
Toggle Clamps
Morton walks you through some uses for Toggle Clamps, and offers several solutions these clamps offer that will make your woodworking easier.
Click here to watch
Quick Action Bar Clamps
In this short video, Mike Morton demonstrates the easy to use Quick Action Bar Clamps.
Click here to watch
Bessey Strap Clamps
Take a look at the incredibly useful Bessey Strap Clamp, as Mike Morton walks you through its setup and use.
Click here to watch