Here's My Workshop!
By Art Fahie
Bar Mills, ME

Having to deal with smaller, more confined areas can put the squeeze on anyone's efforts when it comes to woodworking. When dealing with 8' long boards, it's probably not the best thing to have 7' ceilings! While I lucked out on ceiling height, the interior of my shop is just under 10' wide x 17' long. The question is how do I squeeze all the "goodies" into such a small place and still have room to build anything? It's not as hard as you think, it just takes some planning, something most woodworkers are pretty good at.

As with most shops, mine is based around the area I use for my tablesaw and router, the difference being that such a small space doesn't really allow the cutting/ripping of full-sized boards. The answer for me was a simple one. As my shop is a stand-alone building in rural Maine, I designed it with an 8' slot, measuring about 8" high, just enough room to handle (with some discretionary judgement) an almost full-sized piece of plywood. The material is simply placed on the saw and heads-out through the opening to the outside of the building. This approach literally cuts the amount of space required for such a cut in half!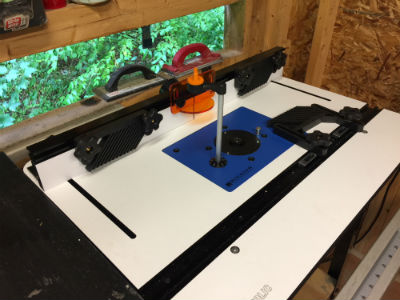 The slot behind the router table and tablesaw allows sheet goods to
exit the building during cutting.


By recessing the lighting between the 2x4's in the ceiling I can actually squeeze a vertically positioned 8' board into the building without damaging anything.

Using space wisely also insured a place for my battery powered tools. I use the Ryobi line because of the simplicity of how they've approached utilizing their entire line of batteries, with the batteries being universal regardless of how old or new of a tool you are using.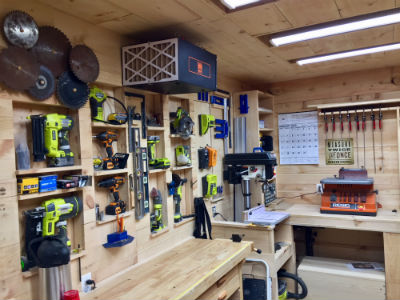 Building recessed shelving between the 2x4 studs of the building
gave me an attractive and easily accessible area to store my
battery powered tools.


Despite some pretty small interior dimensions I've been able to utilize pretty much every tool I'd ever need for future projects. Admittedly, I'm not focusing on building bookcases or dining room furniture, so this layout might not work for everyone! This is a shop I cannot afford to outgrow... so yes, boxes, cutting boards and "finer-scale" projects will probably occupy most of my efforts, but, as I've already built some cabinetry for my wife's hobby room, who knows what this little shop has in store!


The tablesaw slot has had insulation placed in it to help with the cold Maine winters. Wall space is essential for jigs, clamps and hand tools. The miter saw has an enclosed downdraft table built into it, as well as a "heated" refrigerator that's used to keep paints and glue warm during the cold season!


I'm a big fan of the Harbor Freight workbenches, so much so that I have two of them. Although they are normally positioned on opposite facing walls, by mounting them on 3" wheels they can be repositioned to provide a 40" x 60" workspace, or placed end to end will give me a full 10' long table! Of course they can also be placed as shown above to provide one easy to access work area. Installing T-track into one of the surfaces added more versatility without taking up any additional space!



A couple of simple draw slides can add versatility to almost any area. As I don't rely on my jointer as much as many of my other tools, bending over now and then to square something off is no big sacrifice. Nobody said working in a small area is the most convenient way to go!


A little planning can result in a much bigger shop than you might think!






---
You can email Art at artfahie@yahoo.com.
Return to the Wood News Online front page
Click the images below to visit some of our most popular tool departments
| | | | | | | |
| --- | --- | --- | --- | --- | --- | --- |
| | | | | | | |
| Finishing | Books | Clearance | Festool | Planes | Sharpening | Wood Turning |
Highland Woodworking
1045 N. Highland Ave. NE
Atlanta, Georgia 30306
Tel. 800-241-6748
Email us at email@highlandwoodworking.com
Visit us on the web at www.highlandwoodworking.com
Copyright © 2019 Highland Hardware, Inc.

Errors regarding pricing and specifications are subject to correction.
SOME SALE QUANTITIES MAY SELL OUT and become unavailable at the advertised price.