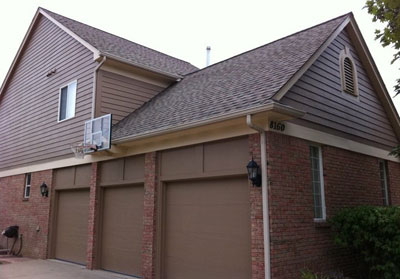 The two bays furthest from the house make up the shop… the bay closest to the house is
an entry way that holds a metal working bench, vise, my lathe and a
Clearvue CVMAX cyclone dust collector.


My name's Brian and I've been a hobby woodworker in South East Michigan for nearly 20 years. My shop takes up roughly a 2 car garage at 17'x20' and spills over into the 3rd bay (where I have a metalworking workbench and a Clearvue CVMAX cyclone dust collector). Keeps the noise down and I put the air compressor in the attic for the same reason. I've recently upgraded most of the Grizzly machines in my shop. I've been "investing" in Festool for about 7 years now and I absolutely love using their tools. I went to great lengths to ensure I had the best dust collection possible so my lungs will allow me to continue doing what I love until I'm old and gray.

I grew up near Cleveland, OH, and my dad, John, worked in skilled trades in an automobile stamping plant. From as early as I can remember, I helped my dad work on rental property that he owned. He was a jack of all trades and fixed whatever needed fixing and I learned a lot, despite not wanting to help as a kid. As I got older I became more and more amazed that my dad could fix anything, any problem that came up: construction, concrete work, welding, plumbing, electrical, roofing, broken furnace, you name it, no problem. I tagged along to the hardware store and handed him wrenches as he needed them, unknowing at the time that I was actually learning.

I'll never forget standing in the basement of one of the rental properties and him saying, "See Brian, if we jack up the floor with this bottle jack right here and add a steel support pole, we can level out the floor in the living room." I was amazed. Next thing I knew we were digging a hole in the basement and pouring a footer to hold the load. This was before the internet and the endless wealth of knowledge to be found online. He just always knew what to do next.

As I grew up I was given more challenging assignments, and seeking my father's approval meant everything to me. Through example, he taught me what work ethic meant and demonstrated quality in everything he did. This spilled over into my school work and paid dividends in my studies.

Fast forward to college… while writing my master's thesis in mechanical engineering my roommate and I wanted a better sounding stereo system. We spent the next few weekends driving 90 minutes to his dad's workshop to make speakers. Building those speakers that we both enjoyed was a very satisfying accomplishment that resonated with me as I finished up school. My roommate Jonathon passed away in a motorcycle accident the next summer, but what we shared building those speakers I will have forever.

Once I moved to Michigan to start a career in the automobile industry I immediately built a workshop in my garage (with the help of my dad, of course). Just like when I was a kid, my dad said, "See Brian, if we cut the two-car garage door in half and brick up a column right here, then the noisy shop will be further from the house." Just like 10 years earlier he knew the best solution to the problem, and step by step our vision came to life (when did he learn how to lay brick?). Over the last 15 years my dad has helped me work on the house when him and my mom come and visit every May from Arizona. No matter what project we tackle, I know with his help that anything is possible!

I am a woodworker and it's my passion, being an engineer is just what I do for a living.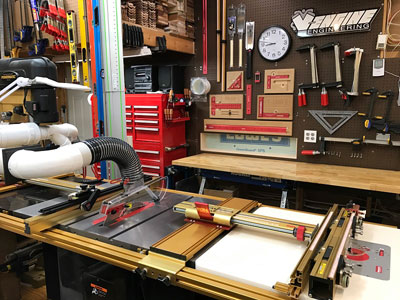 Sawstop Tablesaw with an Incra LS-TS Fence and an Incra LS Super System Router Fence
with a Woodpeckers Router Lift and Milwaukee Router. I've also got extra wood storage
in my 4x8' loft. A few old Craftsman toolboxes with Harbor Freight storage containers
make for great small parts storage.



Below you can see the "PVC tree", or "Octopus"… I made every attempt to use 2, 45 degree wyes instead of 90 degree where possible, but sometimes you run out of space. This is a 6" ASTM 2729 thin wall "sewer and drain" pipe. I used 8" for the main truck line and where I had to I dropped down to 4" (but used multiple branches to keep the flow up). No, it's not grounded, my research on the topic suggested it's not necessary and I have not had any issues to date.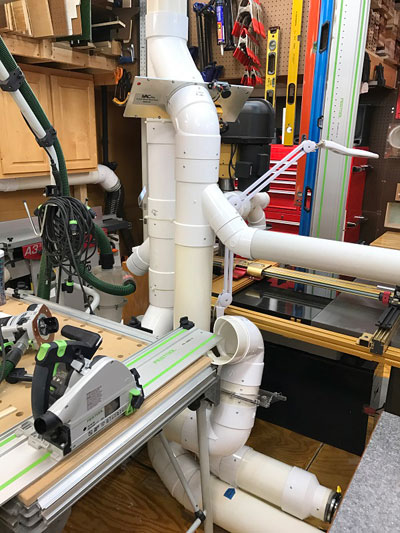 Here is a better view of the PVC tree… you can see a 6" automated blast gate from iVAC in
this pic along with some routing to pick up dust that escapes the Festool TS 55 Track Saw .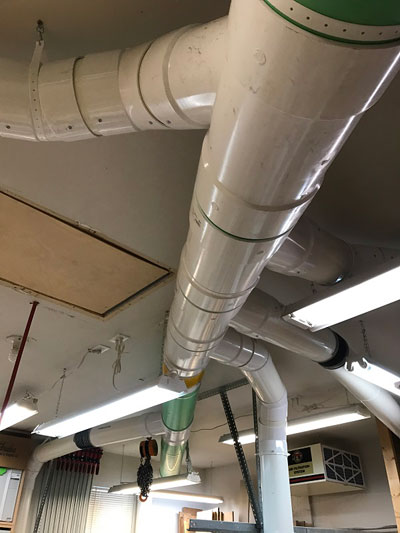 Here is the 8" main trunk line with 6" drops. Finding the rafters in the ceiling and
supporting this monster was a challenge and took way longer than I expected.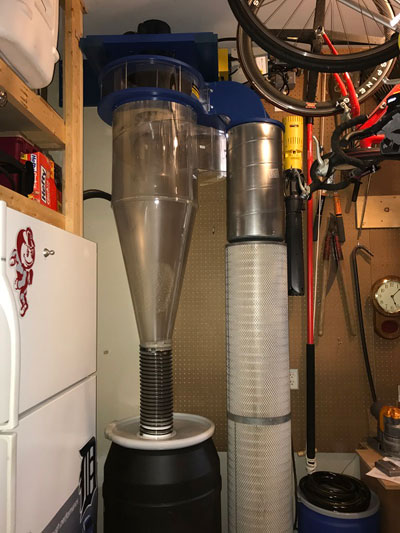 Clearvue CVMAX hanging on the other side of the shop wall.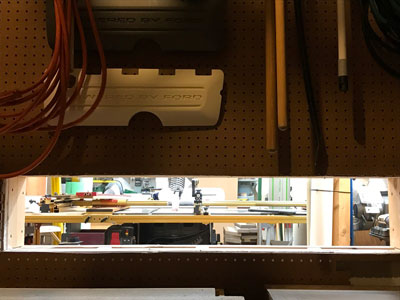 I cut a slot in the wall to run longer stock through the tablesaw. I can handle 9' boards.
Anything longer or full sheets of plywood get broken down outside with the TS55 or in the
3rd bay of the garage.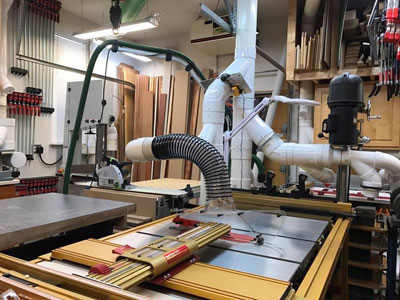 Here you can see an assembly bench that doubles as an outfeed table (and is adjustable
in height for the assembly of both large and small items).


The west wall has two windows with natural light and Ikea 18" cabinets to hold all my Festool tools inside their systainers. Two sanders, a bandsaw and my sharpening supplies reside on old cabinets I've collected over the years and have full extension pull out drawers. Eventually, I'll make matching drawer fronts. You can also see plenty of vertical wood storage. Good dust collection on the sander took some careful planning but turned out great.



Also on the west wall you'll find a MiniMax 20" bandsaw. The garage door can be opened if stock that is longer than 6 feet needs to be cut. This was another tool that required thoughtful planning to collect all the dust from it. It performs well. Another iVAC automated gate is on this machine. You can also see my collection of Bessey K-body Clamps that I've been adding to the collection for at least 15 years. Yes, I have all the clamps I need.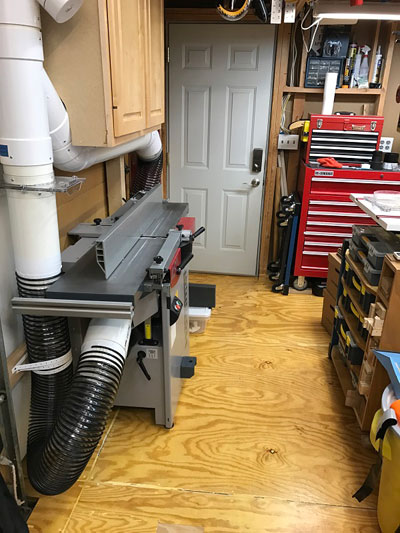 The north wall has the Hammer 12" jointer/planer on it. The door can be opened into the
3rd bay for 9ft boards to pass through.



My Powermatic drill press with a Woodpeckers table, anchor the corner of the middle island. A homemade rack holds more medium parts storage. You can see a mini cyclone that's hooked up to a Festool CT36 that sits under my Festool MFT .


The south wall holds my Festool Kapex and all of the old kitchen cabinets I pulled out of my house. The hood around the miter saw works very well and another Festool CT 26 offers automatic start up and extra suction through the small pickup hose on the tool.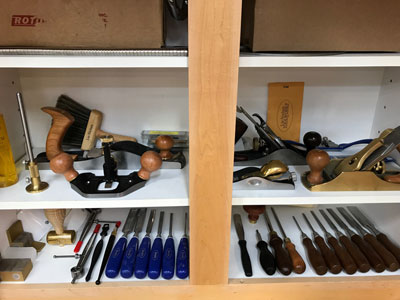 My hand tool cabinet


So far I've used my woodshop for home improvement, finishing my basement, a new kitchen, most of the first floor and a new deck. I plan to start building actual furniture very soon. I dream of a bigger shop in retirement but have to make do with 340 square feet for now. Thanks for checking out my shop and happy woodworking!


---
You can email Brian at bboyer2@ymail.com . You can also take a look at his YouTube channel .
Return to the Wood News Online front page