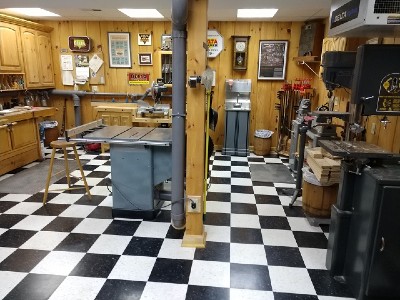 When my wife and I built our existing house in 2005, I decided that rather than constructing an out building for a workshop, I was going to utilize the available space in our walkout basement. My workshop in our previous house was in the 2 car garage where I shared space with our vehicles, not the best for either my vehicles or my woodworking. The main objection I had with a separate out building with a workshop and storage for yard and garden equipment was because I didn't want to provide the necessary utilities and HVAC necessary to make it a complete independent workshop along with the added cost of keeping it heated and cooled. The existing basement provided me everything I needed along with HVAC and utilities plus a half bath right down the hall. All I needed to do was frame it in, insulate it, hang some lights, wire it and put in a sink for a quick clean up.

As soon as we moved in I laid out space for the workshop and started construction with the usual stud walls, wiring and insulation. Not wanting to hang drywall or plywood/OSB for a number of reasons, some structural and some cosmetic, I decided to cover the walls with random width ship lapped siding cut from local pine that I dried and milled. Two advantages of the ship lapped siding is I can hang numerous items directly on the siding without having to locate studs and I can remove a piece or pieces to access pipes or add wiring without destroying the piece as if they were tongue and groove.

The shop is just less than 450 square feet. Lighting is currently provided by 30 T8 LED 6000K Cool White bulbs which replaced the same number fluorescent bulbs I originally installed. I installed four 120 volt receptacles and one 220 volt receptacle every 4 feet along two of the walls and four 120 volt receptacle outlets similarly spaced on the other walls. With the exception of my table saw, all of the stationary machines are old vintage machines which I restored. All the benches and cabinets were built by me with the exception of the Union Machinists Chest which I purchased and restored.

Entering the workshop (see first picture above), the first 3 machines you will see on the right are a 1952 Boice Crane 8 speed 2309 band saw, a 1967 Delta 15-015 drill press and a 1972 Delta 46-525 12/16 inch variable speed lathe. Immediately in front is a SS sink with a base I made with MDF and modeled after a Delta cast iron machine base. Next is my Delta table saw, the only stationary machine I purchased new. The front wall holds my plane till and miscellaneous Delta and Stanley signs and a picture of the Studley Tool Chest.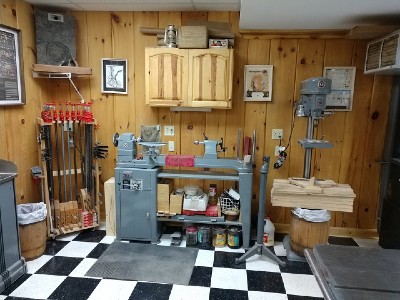 The drill press, lathe and clamp rack



Above is a picture of my miter saw, router table and the overflowing plane till, which is overcrowded and begging for a redesign/rebuild. The small drawers in the miter/router station house router bits and accessories with the exception of the middle drawer in the right hand cabinet which is only a drawer front and provides access to my router via magnetic catches. The Delta signs, two of which light up, are reproductions created from old Delta advertisements. The clock, which I built, has a Rockwell logo etched in the glass.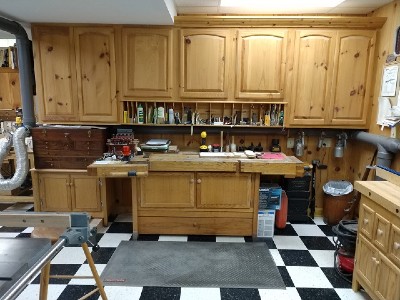 Work bench, tool chest, and wall cabinets for storing hand held
power tools, paint, reference books and miscellaneous items.



On the upper left hand side of the wall is a fold out drying rack which in addition to providing space for painted projects to dry also serves as a rack for holding drawings, hats or whatever. Below is my 1972 Delta 8" jointer with cast iron base. The base served as a model for my sink base shown in a previous picture. In front is a 1974 Delta 22-101 13"x5" planer. Against the back wall on the right is a 6" grinder with power hone.


Above is my 6"x18" Craftsman metal lathe and restored Union Tool Chest. Next to the breaker panel is an electrical box for a rotary phase converter. Below that is a dust collector. The CNC is a newer toy I've been learning to use for a few months now and will be contributing to a new project I've just started working on.


Heading back to the shop entrance provides a view of the two machines that were out of the frame in the very first picture of this tour. On the right is my 1946 Delta scroll saw and next to it is a 1930's 10" Walker Turner band saw that I modified, allowing it to be dedicated to cutting metal, with a belt guard I constructed reflecting the same era.

And that's it, the 50 cent tour of my shop. It certainly isn't as large as some of the other workshops featured in this column and yes there are a few machines I would like to have room for, but it's comfortable and for now it fits my needs.

I like to think my woodworking has come a long way since my parents started me on this journey when they bought me a Dremel Scroll Saw, 66 years ago. Along the way I had a great High School shop teacher who further directed me toward this hobby. Although at the time he was just trying to give me some direction, period. That said I believe it has been my desire to build and construct the projects that I found interesting and challenging while inspiring me to improve on my skill set that has allowed me to advance in this hobby. Plus, I have a terrific wife who issues me these challenges whenever she finds a picture of a piece of furniture she would like to add to our house If you haven't noticed all of my stationary machines are from the 1930's through the 1990's.

When I began building projects there were many I couldn't tackle because of the lack of having the proper machines. Buying new, quality machinery for me, who like many of my contemporaries was paying a home mortgage, a car payment or two, and college tuition for a couple of boys, had little extra money to invest in costly new quality machinery. Old machinery would occasionally show up in want ads at affordable prices but without knowing the good machines from the lesser quality machines, making a decision as to which one to buy was difficult. I did bite the bullet and purchase my first vintage machine, a 14" 8 speed Boice Crane band saw that the previous owner used to cut up venison! Paid all of $75 for it, got it home and cleaned it up, replaced a couple of bearings and used it. About 15 years later I did a complete mechanical and cosmetic restoration of the machine, complete with new decals on the front and back. Other machines followed. Some were purchased via online auctions and others direct from the owners who wished to pass the machines on to someone who would use them since they no longer did. All have stories like my jointer that was featured in one of the early OWWM calendars. And the Boice Crane band saw that Fine Woodworking featured in an article a few years back about vintage machinery.

As time passed I continued to acquire more machinery and I came to find this great internet group consisting of like minded individuals that was founded as a public service to amateurs and professionals who enjoy using and/or restoring old vintage woodworking machinery. OWWM and VintageMachinery are sister sites. From their knowledgeable members sharing information on restorations to their vast library of old machinery manuals, it is arguably the best site of its type on the internet. Anyone looking to outfit a workshop with quality vintage machinery or just restoring an older machine should check out the site(s).

Sorry I digressed from my workshop tour but I think I would be remiss if I didn't mention OWWM/VintageMachinery which along with businesses like Highland Woodworking have added so much to this hobby of mine. Maybe I should call it a journey.


---
You can email Daniel at danswartz@comcast.net.