Click on any picture to see a larger version.
The directions on the can of stain said to apply with the grain, wait 5-15 minutes and then wipe off the excess. I had barely covered the buffet top with stain when I realized the "excess" was turning into tacky goo. Yikes!!! What the heck was going on? A quick check of the thermometer on the wall showed the problem — the shop was pushing past 100 degrees. These are the Dog Days of Summer, and this summer is breaking records. Kalispell, Montana, just west of Glacier National Park, topped the 100-degree mark in June. When you can fry an egg on your tablesaw it makes me think about two things: 1) should you use cooking spray on your tablesaw when you fry eggs, and 2) how do we manage temperature in the woodshop?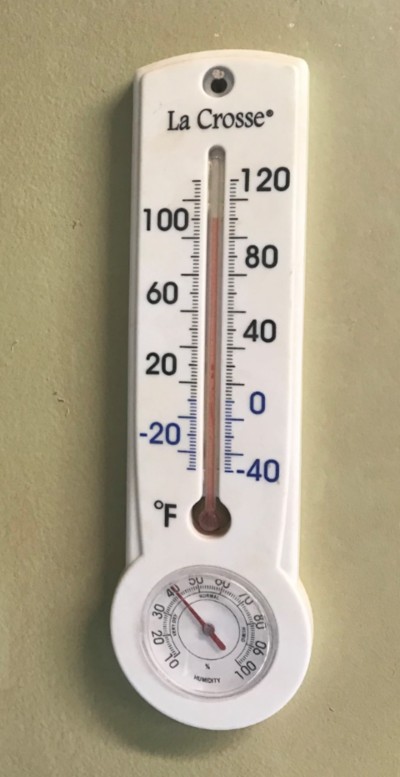 Figure 1. The shop hits the
century mark by 2PM.


I have had garage shops, basement shops, metal shed shops, and single-purpose woodshops. In every one of them I have had to figure out how to manage temperature. Low temperatures make it hard to work through gloves and puffy coats, plus you have the challenge of many finishes and glues below 50. At the other extreme, high temperatures are physically draining and speed up drying times for finish and glues.

I think temperature management in the shop starts with the shop building itself to minimize energy demand. In last month's episode of The Highland Woodworker, Scott DeWaard showed off his east Tennessee woodshop built with strawbale walls that have an insulation value of about R-25. High ceilings help vent excess heat and the low thermal mass of his tin roofing is cooler than a shingled roof. Finally, a white stucco finish reflects heat and keeps his shop cool in the summer and warm in the winter. If you have an efficient building design, heaters and/or AC don't have to work as hard. Grandpa Burnham's shop in Wichita (hot and humid Kansas) was similar to Scott's. He built a 20 x 40 concrete block building (lots of thermal mass) and painted it white. He used a silver-ish paint to semi-block out the windows on the west side of the building. We always thought it was because of the top-secret projects he was working on, but I suspect it was probably more about managing heat and glare. He also planted sycamore trees to shade the west side of the shop.

Grandpa Rummer's woodshop was in the basement of their big four-square, and it was probably the coolest place in the house staying about 60°-70°F year-round. He built a "heat pump" by pumping cool well water up through a radiator/fan contraption that was connected to the ductwork in the basement. One of those not-safe-for-kids caged fans provided some air movement and he was quite comfortable at his benchwork.

Basements, shade trees, insulation, paint color, all those features of your shop are critical in managing temperature. When you get past the basic design of your shop space, you can deal with temperature by adding some power tools — fans and HVAC systems. Our shop in Alabama was a metal shed deep in the woods behind the house. Summertime meant opening all the windows and the sliding door and setting up a box fan to move some air. Pretty basic, somewhat effective. Grandpa Rummer was a master of fans. He had caged oscillating fans to blow on you, he had a squirrel cage blower salvaged from a furnace sitting on the floor, and he had a box fan set up in a window to exhaust air from the house and pull cooler evening air in. Check out Scott's shop again, he has fans sitting in windows just like Grandpa.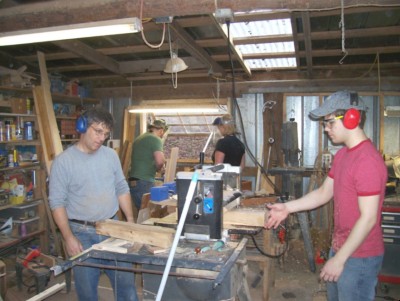 Figure 2 . Sweating it out in Alabama.


When we moved to Kansas and I had a chance to build a new shop, temperature management was high on my list. Colder winters and hotter summers motivated me to install a heat pump when the shop was built. It was amazing how much that affected the working environment in the shop. Temperature was never a problem.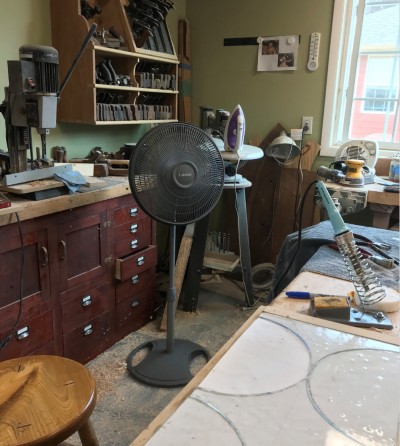 Figure 3. Floor fan and screened windows provide air movement
in Berthoud, CO.


Now, in Colorado, my latest shop is back to an un-conditioned space. We have about 6 months of the year that are short-sleeve pleasant and just a few spells of bitter cold or brutal heat. So I opted to insulate the shop building but not install HVAC. I have large windows and a roll-up door and an oscillating fan near the bench. If Grandpa worked this way, so can I! After this summer's weather however, I am re-thinking that approach. Maybe I should add attic venting to help clear out hot air? Or invest in benchtop cooling fans? Maybe a through-the-wall heat pump like my brother Ken has in his shop in Iowa.

Another way to deal with heat in the shop is timing. Schedule heat-sensitive tasks for the cooler parts of the day. In the west, when summer weather raises fire danger, forests implement industrial fire restrictions. Loggers must be out of the woods by 1PM because of the risk of starting fires in the heat of the day. This is called a "hoot owl" schedule — you go to work at O-Dark-30 in the cool pre-dawn and you head to the house by lunchtime.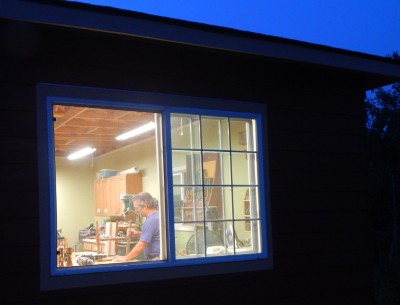 Figure 4. Hoot owl shopwork. Cool evening breezes
and wide-open windows.


You can do the same thing with shopwork. Work in the morning, go in the house for the afternoon, and then head back out to the shop for another couple of hours before bedtime. Last week, when temperatures were bumping 100, I worked hard to do all my staining and finishing right after breakfast. I also had to be aware that my open time for glue-ups was going to be shorter in the afternoons.

If you must work in the heat (deadlines don't wait), then be aware of heat stress (see reference) and consider measures to be safe in the shop. Heat stress occurs when your body can't shed enough internal heat through sweating to keep your insides cool. Some things that can help:

Air movement - Generally air movement around your body increases the rate of evaporative cooling through sweating. Grandpa having a fan blowing across his bench is a prime example.

Personal cooling devices - There are many gadgets out there including cooling bandanas, cooling vests, neck wraps, and even evaporative coolers you can hang around your neck. All of these things increase cooling beyond basic sweating using a combination of high-tech materials and evaporative heat transfer.

Hydration - Staying hydrated is critical. Your sweat comes from the water you drink and if you don't stay hydrated your sweat production can drop. I try to keep an insulated mug of ice water in the shop on hot days.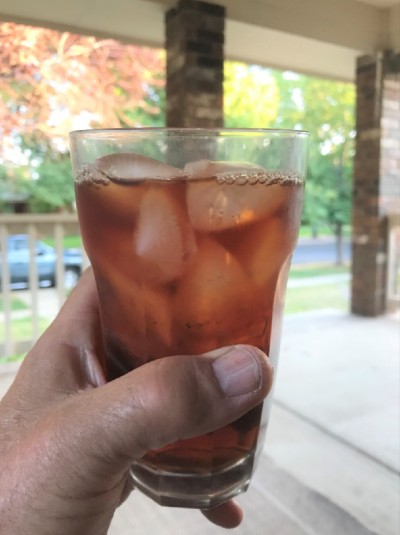 Figure 5. Peach tea on the front porch makes a
good hydration break.


Recovery cycle - Your body manages internal heat through a complex process of blood flow and sweat production regulated by the hypothalamus thermostat. When your body can't keep up, heat stress builds. When you get out of the heat, your body catches up and core temp drops. Grandpa Burnham had a small office off his shop. It was finished out and had a window AC unit. In the summertime, when the shopwork got too hot, he could pop into the office for a cool down. Consciously think about taking a break every hour or so.

As I sweat through July in the shop and try and figure out better solutions for temperature management, I have also been reflecting on all the craftspeople that toiled away before HVAC was even an option. When craftspeople of the past come up in woodworking circles, we often celebrate their skills and craft knowledge, we talk about how their hand tools were finely honed precision instruments. But we often overlook the fact that they worked through some truly brutal conditions. Their work was masterful, but it was also physically demanding. Add in heat (or cold) and long hours — their craftsmanship is even more impressive.

Great Grandpa Rummer was a carriage builder in Winfield, Kansas in the early 1900's. In this fuzzy picture he is standing in the door of his shop with a customer. Summer in Kansas, the shadow from the buggy wheel in the dusty street suggests it is almost noon. His shop is crowded with work in progress and the back door is open for some cross ventilation. Short sleeves, suspenders and heavy boots. It was probably a nice break to step outside for the photograph. Wiping just a tiny drop of sweat from my forehead, I raise my peach tea — "Here's one for you Great Grandpa."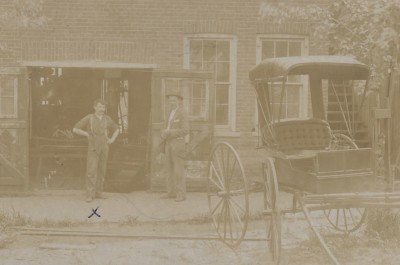 Figure 6. John Rummer, carriage builder, 2 doors down from the
Opera House in Winfield, KS on a hot summer day.


References

Rummer, B. 1997. Working safely in summertime heat. APA Tech Release 97-R-39. 2 p.


---
Bob Rummer lives in Colorado and is a part-time woodworker. He can be reached directly via email at rummersohne@gmail.com. You can see his shop and some of his work at www.JRummerSons.com.