Here's My Workshop!
By Douglas Gillie
Halifax, NS, Canada

I got interested in woodworking some 55 years ago when my father bought me a Rockwell Beaver cast-iron top tablesaw which I still use on a daily basis. My mother and father both encouraged me. I specialized my woodworking interest and became interested in woodturning about 10 years ago. I started with a Jet midi lathe, sold it and replaced it with a Delta lathe. I started out making pens and then moved on to make bowls, pepper mills, lamps and wood turned clocks.

My shop measures 18 x 10 feet. I had a two car garage that I took half of to build my shop. I built the shop myself, doing the framing and insulation of the walls and ceiling. I framed out the door, which was my first attempt at installing a door and it ended up not being as hard as I had thought it would be. I installed laminate for the workshop floor.

I heat my shop with a Big Buddy propane heater, which will heat my shop to 65 degrees in about 10 to 15 minutes, I only heat it when I am in the shop. My shop has a dust filtration system that I installed running off a shop vacuum and I have a Jet ceiling unit to filter the air.

I have all of the equipment I need to do woodworking and woodturning, I mostly just do woodturning now. I have two lathes, a Delta midi and a Craftex full-size lathe. I use a Nova and a Talon chuck to hold the wood on the lathes.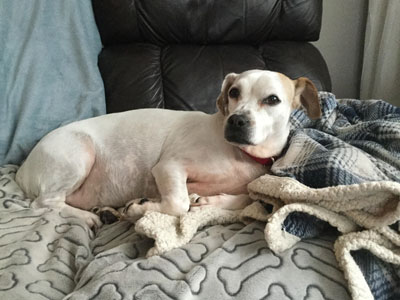 Callie my guard dog/security system
---
Return to the Wood News Online front page
Click the images below to visit some of our most popular tool departments
| | | | | | | |
| --- | --- | --- | --- | --- | --- | --- |
| | | | | | | |
| Finishing | Books | Clearance | Festool | Planes | Sharpening | Wood Turning |
Highland Woodworking
1045 N. Highland Ave. NE
Atlanta, Georgia 30306
Tel. 800-241-6748
Email us at email@highlandwoodworking.com
Visit us on the web at www.highlandwoodworking.com
Copyright © 2018 Highland Hardware, Inc.

Errors regarding pricing and specifications are subject to correction.
SOME SALE QUANTITIES MAY SELL OUT and become unavailable at the advertised price.