Here's My Workshop!
By Eddie Howard
Apex, NC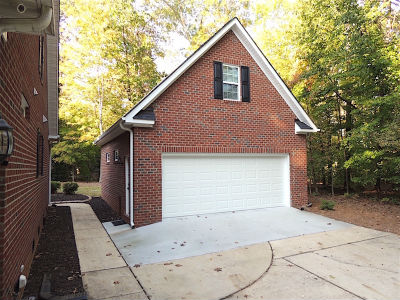 Click on any picture to see a larger version


I'm retired now and have been doing light woodworking off and on since I was 11 or 12. The first thing I remember building was rabbit boxes. I didn't have new nails or material and my dad had a lot of old bent nails and lumber from a building he had torn down so I straightened nails and use the old lumber to build my rabbit boxes.

Since retirement I decided I wanted to get more serious about woodworking and I've wanted a shop. I finally got my wish and my detached garage/workshop was just recently completed this year. It's a 24'x 28' two car garage. I designated the right half for my woodworking shop. Although I will use the left side at times for cutting sheet goods with my track saw, etc, I plan to keep the left side clear so I can pull a vehicle in if I want too. We'll see how that goes...

I used a shop planner to design the layout of the shop area. It was tweaked a few times before I came up with this final layout that's pictured.


I know a brick shop seems a little extreme but since the garage is right next to our house my wife and I wanted a brick exterior to match the house.

I wanted to finish the inside myself since I was capable of doing so, plus I needed to save as much as possible on the build, especially since we went with brick veneer.

I framed underneath the stairway and closed off the garage from the attic space, plus insulated the walls and ceiling before installing the drywall. I am using the space under the stairway to house my dust collection system. I had a mini split HVAC system installed after everything was finished.


After a couple months I had finished the inside of the garage itself but still needed to build an out-feed/work table plus a miter saw station and pipe my dust collection system. I originally built the cubbies on both sides of the miter saw station and later decided to add cabinets above those.





The cabinet that my planer and sander sit on was originally an old kitchen cabinet section with 2 doors and 2 drawers above them. It was a little too tall plus I wanted drawers instead of doors so I cut down the height and replaced them both with 6 deep drawers.


I just finished making my drill press table and a crosscut sled for my table saw.


I used James King of Kings Fine Woodworkings design to build my crosscut sled.


Below is my 45 degree and spline jig. I have to give credit to a video I saw on Youtube for this idea. Works great! It will see plenty of use with the Crosscut sled.


Looking forward to getting to work on some new projects now that the shop is done.




---
You can email Eddie at ehow53@gmail.com.

Return to the Wood News Online front page
Click the images below to visit some of our most popular tool departments
| | | | | | | |
| --- | --- | --- | --- | --- | --- | --- |
| | | | | | | |
| Finishing | Books | Clearance | Festool | Planes | Sharpening | Wood Turning |
Highland Woodworking
1045 N. Highland Ave. NE
Atlanta, Georgia 30306
Tel. 800-241-6748
Email us at email@highlandwoodworking.com
Visit us on the web at www.highlandwoodworking.com
Copyright © 2018 Highland Hardware, Inc.

Errors regarding pricing and specifications are subject to correction.
SOME SALE QUANTITIES MAY SELL OUT and become unavailable at the advertised price.