Here's My Workshop!
By Jeff Street
Livonia, WA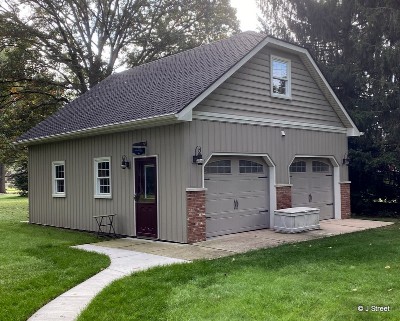 On my first day of retirement, ten years ago, I started planning my dream shop. The completed shop was featured in the December 2012 Issue of Wood News Online. I would like to share the results of my build/design decisions now that I have lived with it for a few years.

The shop truly has been a dream. Building furniture is my hobby and I spend quite a bit of time there. I invested significant time in planning the build and I think I got it mostly right. I had several years of shop and woodworking experience prior to this build which greatly helped the planning process since I had a good order of operation routine established. There is little I would change if doing it again. Here is what I like and what I wish was different.

Overall Construction

The shop is 24x30ft. I wish it was bigger but I had to negotiate with the city to get it this big. I got the height I wanted for unfinished 2nd floor storage but gave up running water. A one gallon carton provides enough water to clean a glue brush.

2x6 walls allowed for excellent insulation. The shop added about 25% to my overall heated footprint with the house but only added 15% to my heating bill. The overhead sealed gas fired radiant tube heater has been both efficient and comfortable. I keep it heated to 60 degrees all Winter (S.E Michigan).

Ten foot ceilings. It is so nice to stand a long board on end or turn a sheet of ply without worrying about headroom. For some reason I decided not to add a roof over the entry door. That was a mistake. A few times I have had to stand in the rain to unlock the door. I know, just add it now. The inside is finished in drywall and painted a light color. Some think it is over finished for a workshop but it sure makes a pleasant place to spend time. You can see in the pictures that the walls are lined with SlatWall. I love this stuff. I have infinite flexibility to hang tools and re-arrange if needed. I personally believe SlatWall is easier to configure than homemade French cleats. While the main tool layout has not changed I have moved clamps and other tools around as my collection grew.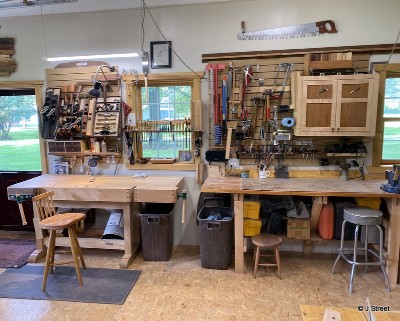 A few years ago I swapped out the original overhead fluorescent bulbs for LEDs. I was able to use the original fixtures and remain happy with the initial placement and resultant light.

The shop is serviced with a 100 amp supply. I gave my electrician a list of all my tools and motor size for each. Although I am an engineer, I left the circuit box design to the pros. Good choice. Each of the main tools is on a separate circuit with plenty of general purpose outlets around the shop. I have yet to have a reason to make any electrical changes. One nice thing to have had that I did not add was an exterior power receptacle. I have simply used an extension cord for those few times I needed power outside.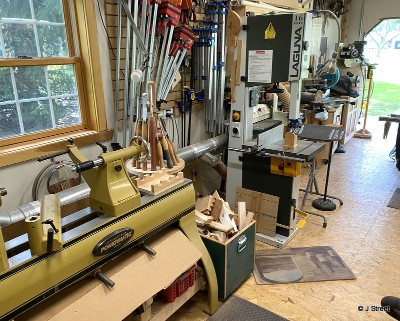 The shop service is fed from the house with a buried cable (100ft run). In hindsight I should have run a return 110v line for a 3-way light circuit as well as a Cat5 cable. I ended up using a remote X.25 switch so I can turn on the exterior lights from the house. I also had to get a new WiFi access point with a good antenna in the house to get internet access in the shop.

Dust Collection

Many of my machine tools are along one wall for easier dust collection. However, the table saw, jointer, and planer are in the center of the room. I made the decision to bury the dust runs under the cement slab and keep my overhead clear. I used 6" PVC underground and metal pipe above. I have been very happy with that choice. Some folks expressed concern over accessing a buried tube in case of a clog. I have never had a clog in 10 years. No tubes dropping from the ceiling and no runs to step over. The placement of the runs is fixed but my layout has worked well and I have not had any desire to change. The underground dust runs have turned out to be my favorite design choice and I highly recommend it to anyone building a new shop.

Wood Floor

The shop is on a cement slab. I put a DriCore floor over the slab. This turned out to be another good choice. The wood surface is easy on the knees and very forgiving for the occasional but inevitable tool drop. It has even held up well supporting my 700lb lathe. I used a standard wood floor poly finish that has held up. A non-slip additive in the poly finish has kept the floor from being slippery when coated in dust. My only complaint is trying to find an individual screw if dropped. I usually have to resort to a magnet sweep to find small parts.

Changes

Most of the changes have been minor. Almost all of them driven by tool acquisition. My original plan protected space and power for a lathe. Several years ago I added a Powermatic 3520B lathe. It fit right where it was planned and there was a dedicated 220v circuit waiting for it. By the way, it is a beautiful lathe. I love the variable frequency drive for speed control. I did add an additional dust port when I bought a Jet16/32 drum sander. The sander is a great tool when making shop sawn veneer. Having each tool on a separate gated final dust run means no extra time and effort moving dust hoses. Just flip a gate.

I rebuilt my hand tool till a couple of years ago. The main goal was to keep my most used hand tools within easy reach when seated at the bench. This included using some space in front of the window. Tools over the window is not an original idea on my part but I like it (thanks Chris Schwarz).


The surface planer has stayed in the same place but I built an 8ft bench to put it on. Extra surface area to work on is always nice and I was able to mount an adjustable outfeed roller. There are two new shop cabinets underneath plus small clamps within easy reach on the endcap.


The back of the shop was reorganized slightly to accommodate a few additional commercial parts storage cabinets I inherited. I added a few shop built cabinets as well. I built a tall narrow cabinet for the lathe accessories. I built a couple of rolling cabinets for the machine side. One for the chop saw and one for my Tormek sharpening machine and finishing gear.


Some days are too hot and many too cold. Being able to open the two overhead doors on those few nice days is a treat. I debated having a single door to preserve some wall space but having the ability to open both doors easily overrides a little lost wall space.

Summary

The general theme of the review has been that I have been very happy with the shop design and build. I spent hours and hours thinking thru layout options, reviewing other shop setups (thanks Wood News), and talking with everyone I knew. That planning resulted in my dream shop.


---
You can email Jeff at jsteet@ameritech.net.
Click the images below to visit some of our most popular tool departments
| | | | | | | |
| --- | --- | --- | --- | --- | --- | --- |
| | | | | | | |
| Finishing | Books | Clearance | Festool | Planes | Sharpening | Wood Turning |
Highland Woodworking
1045 N. Highland Ave. NE
Atlanta, Georgia 30306
Tel. 800-241-6748
Email us at email@highlandwoodworking.com
Visit us on the web at www.highlandwoodworking.com
Copyright © 2021 Highland Hardware, Inc.

Errors regarding pricing and specifications are subject to correction.
SOME SALE QUANTITIES MAY SELL OUT and become unavailable at the advertised price.